Shutterfly's caught our attention with their Shutterfly On-Demand Photo Prints. So, as we do, PhotoWorkout ordered a batch of these on-demand photo prints to find out if they are any good. Our mission is to review all major and best photo printing services online.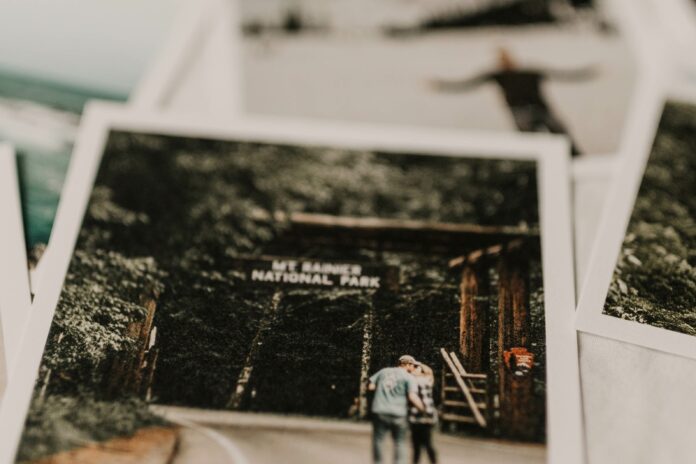 Shutterfly On-Demand Photo Prints Review
Product Options

User Interface

Image Quality

Price
Summary
Shutterfly is one of the largest US photo printers for good reason. They're quick and easy to use and come at an extremely reasonable price. Though professionals shouldn't expect perfectly color calibrated images, they're good enough to get the job done for most of us.
When you buy through links on our site, we may earn a commission at no cost to you. We evaluate products independently. Commissions do not affect our evaluations.
A Convenient, Intuitive Photo Solution
Being one of the most recognized names in the photo industry certainly comes with perks. Namely, Shutterfly has resources and partnerships at its disposal smaller companies lack.
One of the company's greatest assets is its accessibility. If you don't feel like waiting for your prints through snail mail, guess what?
You don't have to.
Instead, you can pick them up at your local CVS, Walgreens, or Target photo centers*. The convenience of this is unbeatable. No other service gets your personal prints ready within a matter of hours.
Does Convenience Come At The Cost Of Quality?
At the same time, you wonder about the consistency in the quality of Shutterfly's prints. It's unlikely employees manning the printers at these chains are seasoned professionals enlisted by Shutterfly.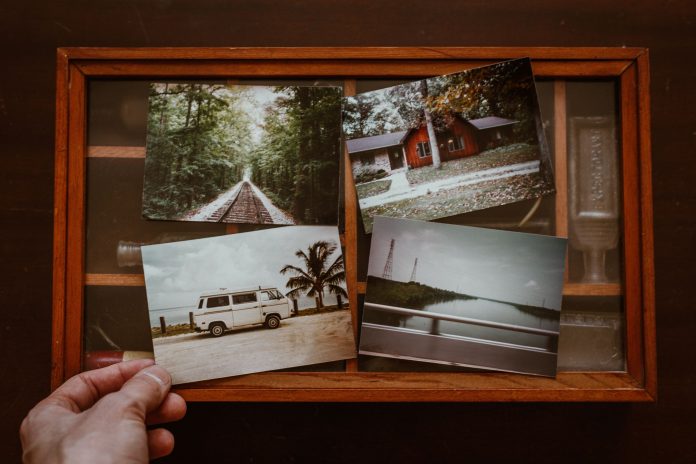 Regardless, Shutterfly is perhaps the easiest option for those looking to get physical prints made of their favorite moments.
Of course, this may not make much of a difference for tech-savvy photographers. But, amateurs and hobbyists looking for the simplest solution will appreciate the lengths Shutterfly has gone through to make their product accessible.
*This offer only applies to glossy 4×6″ prints. Matte, pearl, and cardstock finishes, as well as larger photo sizes, must be shipped. In addition, some stores have limits on how much they'll let you print.
RELATED POST: Vistaprint Photo Book Review
Reinventing your Images
As soon as I uploaded my photographs, I was presented with an offer. Shutterfly took my 20+ images and generated them into a custom 8×8 photo book.
Shutterfly's pop-up offered the option to preview the product or simply add it to my cart.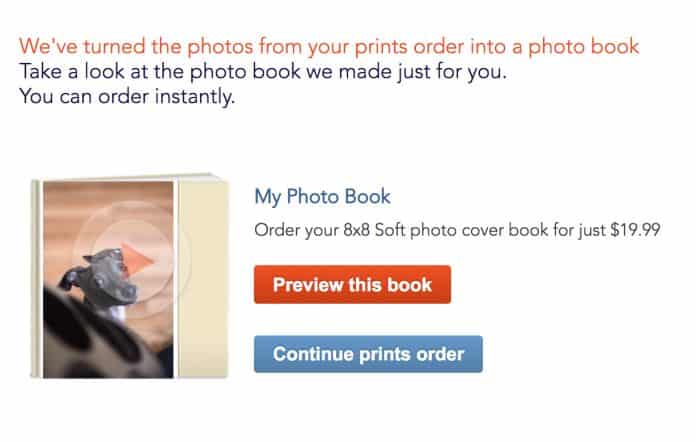 As experienced Shutterfly users know, the site has a wide variety of photo novelties for sale.
The next time I visited the site, samples of everything from mousepads to keychains suddenly appeared featuring my personal images.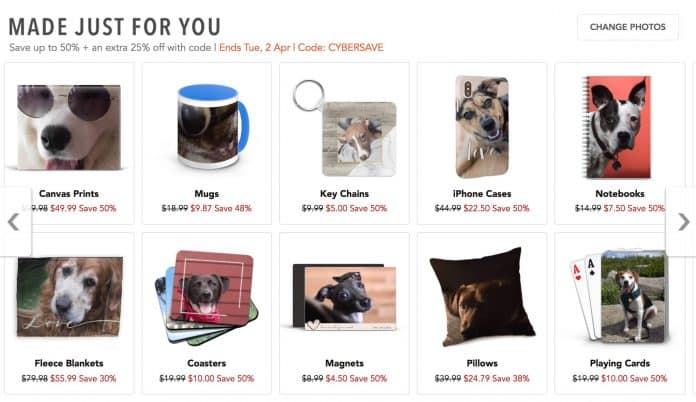 If you're intent on getting prints, this may be something of a nuisance. After all, offers to buy more becomes tiresome quickly. However, for many users, Shutterfly's suggestions open a lot of creative possibilities.
No matter how it's sliced, it's a great marketing move on their part. Even if only a fraction of customers opt in for a photo book, it's a tantalizing way to get customers exploring pricier options.
Lasting Memories for Low Prices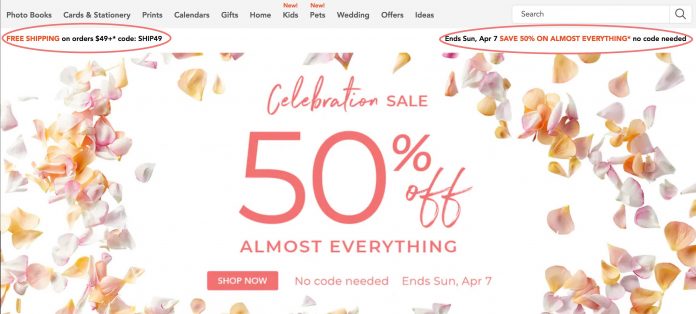 On the surface, Shutterfly on-demand photo prints fall somewhere in the middle of competitor prices. It's not the least expensive option, but there are plenty who charge more.
This is especially true in the case of larger prints. For example, a 20'x30″ photograph is priced under $25. That's a great price for a print that size.
However, additional offers make Shutterfly one of the most frugal choices available to a photographer on a budget…
Shutterfly Promotional Offers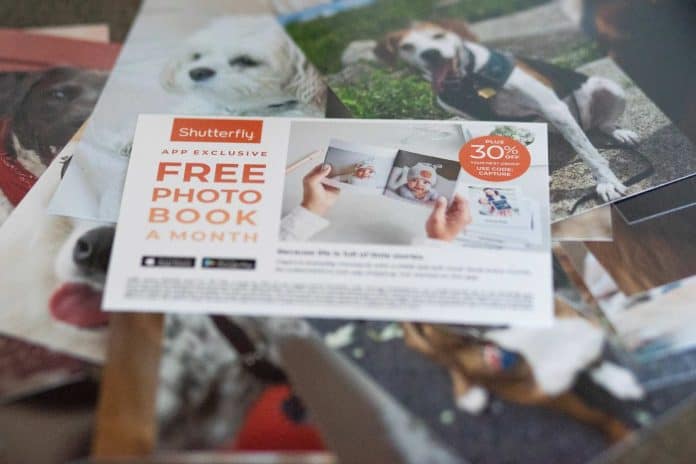 Shutterfly offers plenty of promotions to keep down costs for customers. A few can be found beneath the navigation menu along the top edge of the site. Sometimes, deals related to your order are automatically applied without having to type in an offer code.
In addition, those planning on printing a large number of photographs can opt into one of Shutterfly's prepaid print plans.
Here's how it works.
Generally, a 4×6″ print costs 15¢ each.
With a prepaid bundle, the cost comes down to 9¢ per photograph.
Frequent shoppers can opt into the annual print plan and save even more. For $29.99 per year, users save 30% off on all print sizes. There are no limits in place. For those producing en masse, the deal quickly pays for itself.
My Shutterfly On-Demand Photo Prints Order
So what did I receive? And, more importantly, did it live up to expectations?
I won't spend time harping about user experience or wait times. I've already touched on the subject in our Shutterfly canvas review.
I will say Shutterfly does an excellent job of making its services intuitive and easy to use. For every individual image, I was provided with a variety of size and finish choices.
Although I kept everything uniform this time around, I was happy to see how easy it was to make adjustments.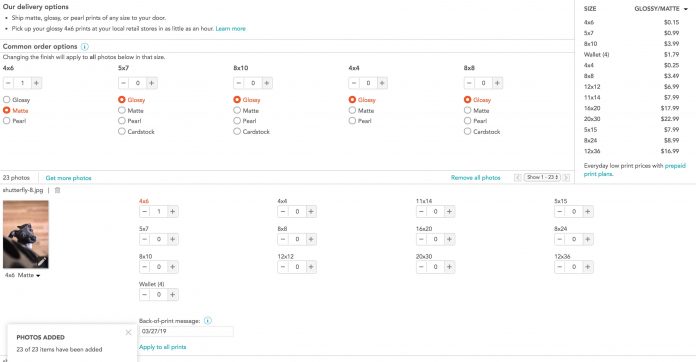 When I went to check out, a free shipping coupon automatically applied to my purchase. In turn, my 25 4×6 prints only cost me about $4. My order arrived in a timely fashion just a few days later in a bright orange envelope.
Upon arrival, my photographs looked pretty good. I opted for the matte finish on my prints, which gave my shots a nice luster that's a bit more smudge-resistant than the average glossy print. So far as I could tell, there weren't any problems with pixelation or over-sharpening.
The envelope did an effective job at shielding them from damage as there were no physical defects that I could see.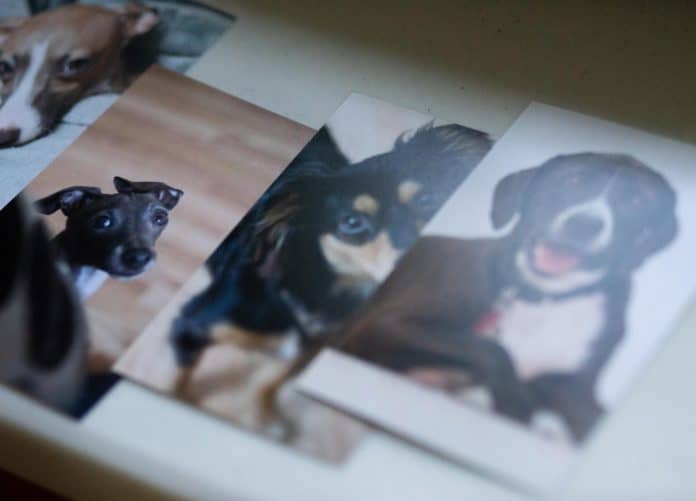 What I Didn't Love About My Shutterfly On Demand Photo Prints
My main gripe has to do with the color quality of my images. I found a significant portion of my prints had greenish tints to them. Honestly, an everyday customer may not take issue with (or even notice) such a detail.
But, it's enough to drive a seasoned pro mad. What's more, it brings up some alarms about how things might be run behind the scenes. Perhaps their printer isn't properly calibrated. Maybe there isn't a person there to catch print problems before or after the image file is sent to print.
So, yes, there were a few hiccups in my Shutterfly experience.
But, overall, I think the service's pros outweigh the cons. They may not be the perfect prints. But the lack of hassle when ordering and the price point makes superficial flaws a bit more forgivable.
RELATED: Best Photo Printers Under $400
Is Shutterfly On Demand Photo Prints Worth It?
Shutterfly on-demand photo prints are well worth any photographer's while. So long as they keep their expectations realistic.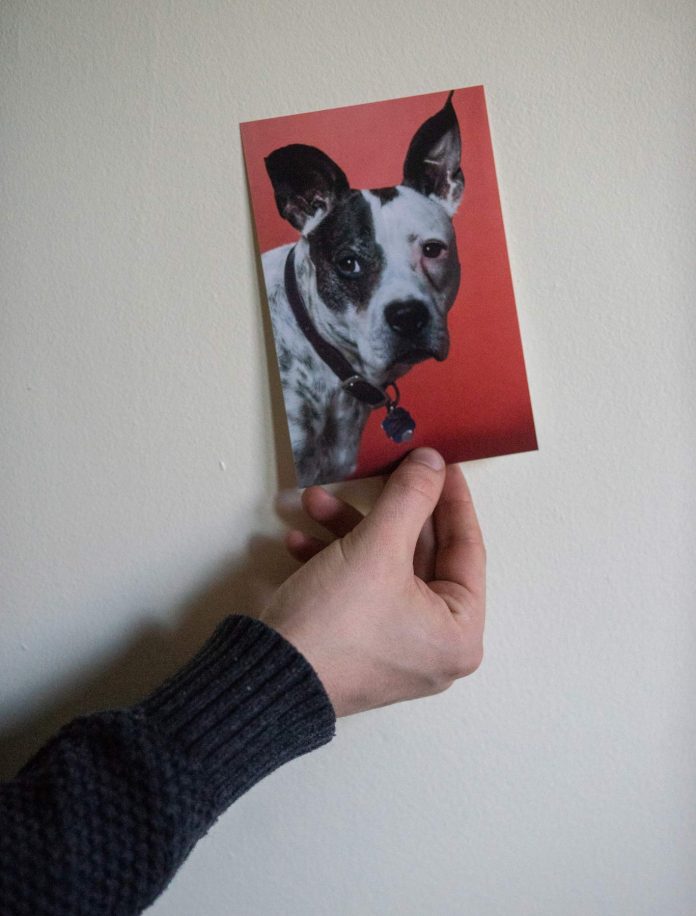 Shutterfly always abides by certain quality standards. However, if you're expecting someone to carefully review and calibrate each file, you may be disappointed. But Shutterfly deals in mass quantity. The company likely doesn't have the time or manpower to provide extremely customized service.
The site's wide reach isn't all bad. They have an abundance of clients and which allows them to offer competitive print prices. What's more, national chains work together with Shutterfly to make prints accessible and quicker to produce. It's a win-win situation for everyone.
In short, Shutterfly is a name you can rely on for fast service and decent quality. Sometimes big companies get sloppy with their products, sacrificing good looks for convenience and product versatility. Even after years of service, Shutterfly continues to deliver the prints that customers first fell for.