Digital photo frames are great for having a constantly updated set of photos on display in your house. They even make great gifts for family and friends. Regardless of what you choose to do with your digital photo frame, having the best on the market is essential!
Choosing the right frame comes with considering a host of factors. Ideally, you want a large size, high-resolution display. For easy updates, a WiFi-enabled frame is a must. And general storage capacity and storage medium should also be considered. Finally, you want a frame that fits the decor of the room/building you intend it to be used in.
The Best Digital Photo Frames: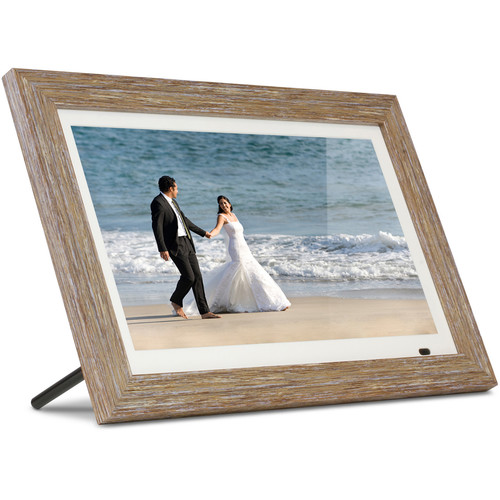 The beauty of this ingenious display device is that it looks traditional despite powered by modern technology. This is a digital photo frame. But looking at it, it is impossible to tell.
The best thing about this is the frame is interchangeable. You can swap the default distressed wood frame for a mahogany or walnut look depending on the décor of the room.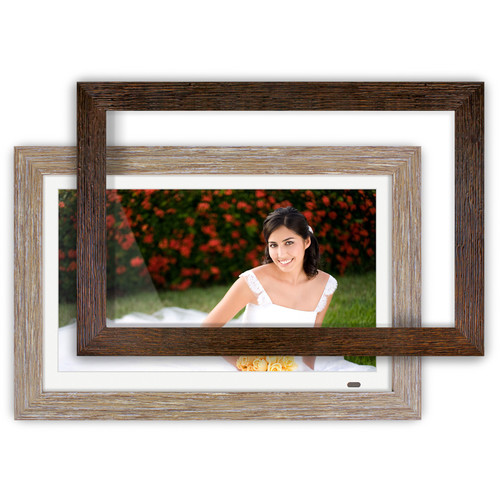 The Aluratek frame has a number of things we like.
First, it has an internal storage capacity of about 8 GB and that should be more than enough for at least 350 high-resolution digital photos to be stored and displayed.
Second, this photo frame has an SDHC card slot. It is compatible with a maximum storage size of 32 GB, therefore further extending the total capacity to store and display your favorite digital photos.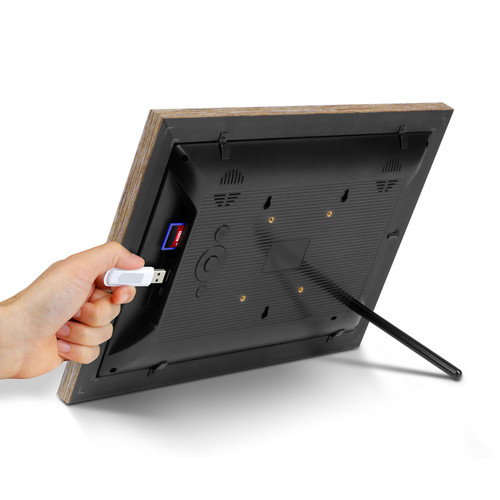 Additionally, there is a USB 2.0 Type-A port that allows you to plug in a USB flash drive or an external hard drive and have almost a limitless number of images be displayed.
The 13.3" display has a Full HD resolution which means your images appear very sharp when they are viewed on this bright and big LCD screen.
An added bonus is that this frame comes with a bunch of transitions preloaded for a better viewing experience. You also receive a remote control to use with the frame.
Related Post: Best Photo Printers
This is a highly rated digital photo frame. The display size is 10.1″ which is very good in terms of displaying your best images and for keeping your memories refreshed at all times.
A beautiful feature of this frame is the built-in background music mechanism. It can play your favorite music as it cycles through your images.
The display mechanism is customizable. That means you can choose to view 1, 2, 3 or 4 images to be displayed at the same time.
The one feature that probably would be an issue with some users, though you can easily overcome that, is the absence of internal storage. That said the photo frame accepts SDHC cards (maximum 32 GB). You can also use MMC, USB flash drives and other storage options.
The box comes with a remote which allows you to control the functionalities of the digital photo frame sitting from the comfort of your favorite couch or when lying on your bed.
This certainly is one of the best digital photo frames you could get at this price.
Related Post: CanvasPop Custom Sized Canvas Prints
Digital Photo Frame, 10 inch Digital Picture Frame HD 1280x800 16: 10 Full IPS...
With Background Music:You can download your favourite music to the SD Card, so when you enjoy the outlook you can get into...
Wide Compatibility:Device supports USB drive,MMC, SD, MS, SDHC (up to 32G).You can plug in card above, and you can get the...
· HD IPS DISPLAY:This 10.1 Inch Digital Photo Frame comes with high Resolution 1280*800 IPS display (16:10), superb...
Multi-Functions: Instantly on once connected to power,The ips photo frame digital show different...
Sincere Gift to Your Beloved Ones:Keep the wonderful memories in the 10 inch photo frame digital.Every cherished moment will...
The Atatat frame, just like the Tenswall photo frame above, is a highly rated digital photo frame. It has a number of interesting features. To start off, the display is pretty large at 17.3″ with full HD resolution. The frame also has a background music playing system which enhances the viewing pleasure when you are reminiscing old memories.
There are a number of controls on the photo frame such as toggle music on/off, slide show, playback, and brightness adjustment. The system also comes with an auto-rotate mechanism for easy switching from landscape to portrait mode and vice versa.
But the most interesting of all features is the motion sensor. The display automatically turns on when someone is within 3 meters of it. This saves a considerable amount of power when no one is around to see. Of course, you can also turn off the feature to make it more suitable for you.
The maximum plug and play storage you can use is 128GB which is significantly higher than some of the other digital photo frames that we have listed here. And you also get a remote for operating the basic functions from a distance.
Related Post: Saal Photo Prints Review
Atatat Digital Picture Frame 17.3 inch with Motion Sensor, 1920x1080 FHD Screen,...
【1920x1080 High-Definition】17.3 Inch Full HD Screen, 1920x1080P high resolution, adjustable screen brightness, 16:9 wide...
【Motion Sensor Frame with Desktop Stand & Wall Mount】With built-in high-sensitivity motion sensor, the frame can auto-on...
【Breakpoint Play & Photo Slideshow】The digital photo frame has unique breakpoint play function. It will continue to play...
【Auto-Rotate & More Functions】This digital frame will automatically correct the orientation of your photos to display...
【Easy to Use, Plug and Play】No need to install any software, just insert the sd card/usb stick (up to 128GB, not...
There is something special about a big bright digital photo frame. Sure there are plenty of designs available in smaller sizes but when it comes down to capturing the imagination of the viewer nothing does it better than the larger sizes. And that is precisely why we have tried to curate a list that contains predominantly the larger sized frames, which we feel is a basic parameter for being counted as one of the best digital photo frames.
The 15″ display is very large and gives a great viewing experience even from a distance. The display offers a resolution of full HD. One thing that we like about the Pix-Star is the decent 8 GB internal memory that comes with it. So, basically, even if you don't plug in a MicroSD card you would still be able to put your favorite images on a slideshow.
That said, there is the option to plug in an USB stick and SDHC card. Even SDXC cards are also supported. And you could also share images via the mobile app that is compatible with both Android and iOS platforms. So, you could basically be anywhere in the world and the images would seamlessly get shared with the Pix-Star digital frame.
Your loved ones could be there with you without physically being with you. How convenient is that?
This feature alone makes it one of the best photo frames that you could gift to your loved ones. And just as well you could also share images directly from the frame to anyone in the world.
Just like the Atatat above, the Pix-Star also comes with a motion sensor that turns the display on or off depending on the presence of movement within a distance. This saves a considerable amount of energy when the device is not in use.
Related Post: Gifts for Photographers
Pix-Star 15 Inch Wi-Fi Cloud Digital Photo Frame FotoConnect XD with Email, Online...
Amazing photo and video viewing experience: 15 inch LED display, 1024x768 pixels, 4:3 ratio. Easily manage the frame remotely...
Easy set-up: Wi-Fi enabled (2.4 GHz only, 5 GHz network not supported). Set up in a couple of minutes. 8GB internal memory...
Video and photo sharing by email or via the Pix-Star app (iOS and Android) on your smartphone. The perfect gift to share...
It goes both ways! Send pictures from your frame to an individual or several email addresses directly from the frame. Friends...
Display your social media photos by accessing online photos from Facebook, Instagram, Dropbox, one drive, Flickr, Google...
The MRQ has a 15.6″ display size with a full HD resolution. The size and display quality make this a great choice for rendering high-res images. The photo frame also doubles up as a clock and a calendar, which is a great addition! Like many of the other frames we've discussed, you also have the option to play background music from this one as well!
Just like some of the other best digital photo frames the MRQ photo frame comes with a motion detection sensor mechanism. This saves a considerable amount of energy by turning off the display when there is no one within 2.5 meters. As soon as it detects someone within that distance the system turns on again.
This frame features a unique auto-rotation system too. A remote control is also provided meaning you can make all the adjustments to the display without fiddling with buttons on the frame itself.
One downside to this frame is that it lacks WiFi functionality so you won't be able to share your images and videos remotely. Also, the frame has no internal storage meaning external storage is the only option. That being said, external memory is supported in the form of a USB drive as well as an SD card. Up to 32 GB is supported.
MRQ 15.6 Inch Digital Picture Frame Native 1080P Display Photos with Auto-Rotate,...
15.6 inch Full HD Digital Picture Frame IPS Display Native 1920 X 1080P high resolution IPS screen with 16:9 Aspect Ratio...
Desktop Stand & Wall Mount: In addition to the desktop stand, it also comes with a set of wall mounting brackets, opening up...
Multiple Functions: MRQ digital photo frame supports multiple format pictures/videos/music play and features multiple...
Energy-saving Motion Sensor: Automatically turns on to display the most recent photos & videos when you are approaching and...
Notice about Auto-rotate function: Not all format support auto-rotated function. But if you download a picture from a...
This company makes some of the best cloud-enabled photo frames in the business. This is one of the smallest photo frames we've chosen at 9″. This size is better suited to be used as desktop photo frame rather than a wall-mounted one. But with that said, you can always mount it on a wall and create a beautiful photo wall.
The interesting thing about this unit is the dual-screen. You have the standard 9″ screen and an additional 5.5″ display screen. This dual-screen setup allows you to display your favorite photos on one and use the other side to display the weather or a calendar.
The other features include an option to play background music, touchscreen properties, and motion sensor. The frame comes with 16 GB of internal storage.
But the best thing about the BSIMB 9″ Digital Photo Frame is the cloud-based image display option. It works via a smartphone app that is compatible with both Android and iOS platforms.
Built-in WiFi ensures that the digital photo frame is able to connect to a network and then on to your cloud account.
BSIMB 16GB 10.1 inch WiFi Digital Photo Frame Digital Picture Frame Dual Display...
[Upgrade Screen Display]The digital picture camera can be Full display like normal frame,it also can be Duel display,you can...
[Instant WiFi Sharing]Instantly receive photos and videos with Wi-Fi network (NOTE: Only works with 2.4GHz,but 5GHz&Hidden...
[Large 16GB Storage] Built-in 16GB memory empowers a huge capability of storage,send photos or videos via...
[High Definition IPS Touch Screen] With the 16:10 aspect ratio on a 1280x800 pixel screen, the picture/video/music on the...
[Multiple customized settings and functions]Multiple customized settings to meet your different needs, such as Auto On/Off,...
What is the best size for digital photo frames?
Digital photo frames come in a large number of sizes. But the best ones are usually between 3 x 5" and 10 x 12". These offer optimum viewing depending on how further or closer you are to them when viewing the images. That said there are some very large sizes with full HD resolution. These can be expensive but look stunning.
How many photos can a digital photo frame hold?
This will depend on the internal storage capacity of the digital photo frame as well as whether it supports external plug and play storage options.
How do you upload pictures to a digital frame?
The best digital photo frames will have multiple options to upload photos to them. By default, they should have some internal storage options. A secondary option is an SDHC card slot. Some digital photo frames even have the option to plug in a USB 2.0 flash drive or an external hard drive via a USB 2.0 port. Finally, a WiFi connection allows the ultimate convenience to upload and view photos.
What are the best digital photo frames?
The best digital photo frames are the ones that come with a minimum display of around 9". They should have a remote control, should be WiFi-enabled and with both internal memory and the option to plug in an external storage option. We would also recommend the remote sharing option where you can share images from anywhere in the world.
Can you leave a digital photo frame on all the time?
You could leave a digital photo frame on at all times. But it does not make sense to do that if the product does not come with an auto on/off sensor. This sensor will detect when there is no motion in the room and turn off the display after a time gap. The same way the sensor will turn on the display when it detects movement inside the room.
Rajib is an avid travel photographer and an overall shutterbug. He loves to test and review new photography gear. He has been writing about cameras and lenses for over 10 years now. You can consider him as your "master guide" here at PhotoWorkout.
---
As an Amazon Associate we earn from qualifying purchases. Certain content that appears on PhotoWorkout.com comes from Amazon. This content is provided 'as is' and is subject to change or removal at any time.