If you are serious about vlogging or filmmaking, you need a high-quality microphone. Oftentimes, the built-in microphones in smartphones and cameras are average at best. To get outstanding audio quality, you need to invest in the best wireless microphone for vlogging.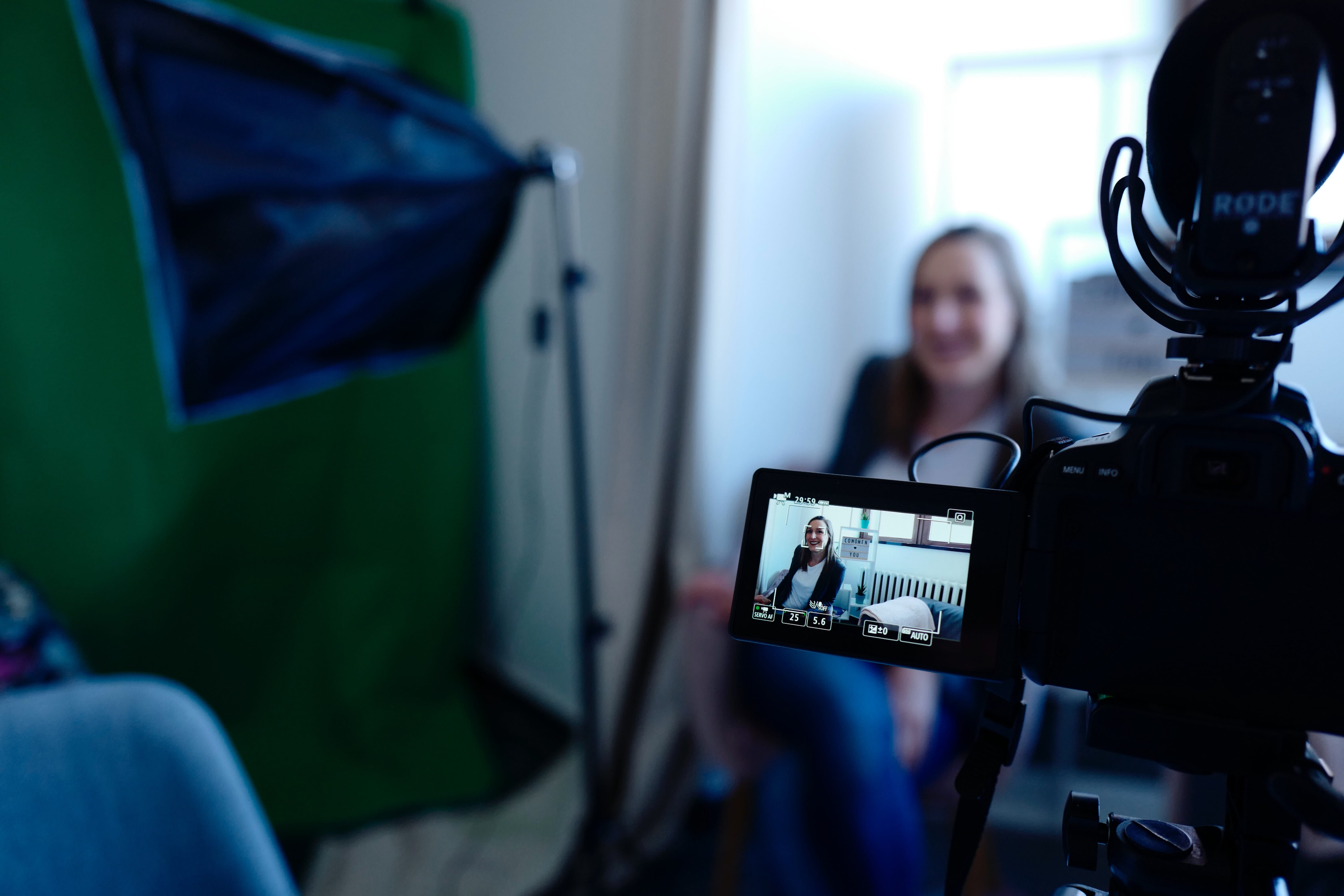 When you buy through links on our site, we may earn a commission at no cost to you. We evaluate products independently. Commissions do not affect our evaluations.
1. Rode Wireless GO II
Our Pick
Best for interviews and indoor vlogs
The Wireless GO II gives you everything you need to start audio vlogging.
Pros
Compact and durable components
Great battery life
High-quality microphone
First up is a microphone setup from Rode, a leading company for all things audio. The Wireless GO II is a wireless microphone system that is compact and provides a complete solution including the transmission box, receiver, and microphone.
We like the stylish and compact design of the different components. For example, the transmitter is a stylish compact black box design that is easy to use. The different components also feature clips so you can attach them to your clothing.
In terms of specifications, the Rode Wireless GO II offers 2.4GHz digital transmission with 128-bit encryption. It features a 3.5 mm connector for connecting external audio devices and there are also USB and dedicated iOS ports for increased connectivity with all your devices.
This wireless microphone system has a rechargeable lithium-ion battery with an output of seven hours of continuous recording. For almost any videographer, seven hours should be more than enough to get all your audio for a series of videos.
Overall, the Rode Wireless GO II provides a complete solution and is the best wireless microphone for vlogging for those who don't want to buy a separate transmitter.
2. Comica CVM-WM100
Also Great
A comprehensive wireless system
The Comica CVM-WM100 is a brilliant system that has easy to use transmitters and receivers.
Pros
High-quality noise-cancelling microphone
Great transmission distance of up to 100m
Easy to adjust transmitter units
Cons
The transmitter units are not the smallest
Similar to the Rode mic discussed above, the Comica CVM-WM100 is also a complete system with wireless transmitters, receivers, and a full microphone setup. It has a working distance of up to 100m without any loss of quality or volume. To set the devices up, it also has real-time audio monitoring so you can adjust the settings and get the audio perfect for the recording situation.
The transmitters are relatively compact and can easily clip onto clothing or fit inside your pocket if you want to conceal them. The receiver will comfortably fit on the hot shoe of a DSLR camera which is great for linking up the device for easy, simultaneous audio and video recording.
Both parts of the system are battery-powered and require two AA batteries. Included in the basic package you also get a 3.5 mm to 3.5 mm cable, a 3.5 mm to XLR cable, a noise diffuser, and a carry case to store the different components in.
3. Neewer 57-Channel UHF Wireless Lavalier Microphone
Versatile and easy to use
The Neewer wireless microphone system looks great and is highly portable for on-the-go vlogs.
Pros
Simple design and a clear LCD screen
Lapel microphone is easy to attach
USB charging
Cons
Not as long distance as some other models
The Neewer 57-Channel UHF Wireless Lavalier Microphone is a fantastic setup that is easy to use for vlogging.
Both the transmitter and receiver are compact and feature handy mounting options. The transmitter can easily attach to clothing, while the receiver can insert into your camera hot shoe. This is a great system that can be used with a range of different devices, from dedicated vlogging cameras to smartphones.
The unit offers 57 channels to work with and operates on a 570-606 frequency. This means it will avoid any high-frequency interference. You can also expect fantastic sound quality from this device.
We also like the user-friendly design and the fact that the devices can be charged via USB. This is the best wireless microphone for vlogging if you want a simple setup, or plan to record on multiple devices like a smartphone or DSLR.
4. Westshell 2.4GHz Wireless Microphone System
Great for quick non-prepared vlogging sessions
This microphone system is easy to setup and allows you to vlog with minimal effort and preparation.
Pros
Stylish and compact system
Great transmission distance with no interference
High-quality lavalier microphone
Cons
The volume control can be hit and miss
The Westshell 2.4Ghz Wireless Lavalier Microphone System is a comprehensive package meaning you can start vlogging immediately. It includes a transmitter, receiver, microphone, and a variety of connecting cables.
The transmitter and receiver boxes are small, stylish, and compact. You can easily clip them onto your clothes, or mount them onto a DSLR camera, for example. You can also easily change the frequency to connect the devices using the buttons on the exterior.
The system transmits on an open 2.4GHz wireless band, however, you can also select eight internal channels to avoid any interference. The range of the devices is 200 ft/60 m. This is perfect for most vlogging scenarios and offers flexibility without compromising on audio quality.
5. Movo WMX-1 DUO
A comprehensive mic setup
The Movo WMX-1 Duo has a great transmission range and high-quality audio.
Pros
200 ft/60 m transmission distance
Includes various 3.5 mm connectors
Stylish and compact components
Cons
Will need an adapter to work with newer iPhones
Next, we have a popular audio equipment manufacturer, Movo with the, WMX-1 DUO. This wireless lavalier microphone system can be used with multiple devices including Android and Apple smartphones, DSLR cameras, and camcorders.
It is regarded as a universal wireless system and therefore is one of the most versatile products on this list. The microphone provides excellent audio quality via its upgraded RF chipset, and transmissions are made on a 2.4GHz frequency. It also has a great transmission distance of up to 200 ft/60 m.
The box includes 2x transmitters (both of which have belt clips), a receiver, shoe mount, two lavalier microphones, a variety of 3.5 mm cables, and a hard case. It's a brilliant package and will provide you with a reliable and easy-to-use microphone setup for vlogging with more than one speaker.
6. Relacart MiPassport
Best for outdoor vlogging
The MiPassport has a great design and will allow you to create quality audio in outdoor settings.
Pros
OLED screen for easy management
Great battery life for transmitter and receiver
Automatic channel selection
Cons
Not the most discrete microphone
The Relacart MiPassport is another compact wireless microphone system that is great for travel vlogging or outdoor interviews and documentaries. The receiver has a built-in adaptor that makes it compatible with most DSLR and mirrorless cameras, smartphones, and other audio electrical equipment.
For transmission, this system operates on the 2.4GHz ISM global frequency band. It also should reduce any outside interference and clutter noises. To ensure the best quality sound, the system will also choose the best channel depending on the circumstance.
We also like that the devices have an OLED screen so you can easily manage the settings. The mini device also has a rechargeable battery, and both the transmitter and receiver can work for up to five hours on one charge. You should also be able to set this system up easily as the devices will automatically pair within two seconds.
7. Deity Microphones Wireless Lavalier Microphone System
Great for quick access in unexpected vlogging situations
This Deity wireless system offers a compact solution that is easy to use for vlogging.
Pros
Transmission distance up to 300 ft/90 m
The devices pair in 2 seconds
Includes three lavalier microphones
Cons
The transmitter and receiver may not be the most durable
The Deity Microphones Wireless Lavalier System works for vlogging with a variety of devices including iPhones, cameras, and laptops.
The lavalier microphone is of excellent quality and has a simple and discrete clip so you can attach it to your clothing. This is thanks to the upgraded noise-reducing technology. You also get three microphones included in the basic package giving you lots of options for hooking up multiple speakers.
We also like how easy this system is to use. The pairing system of the transmitter and receiver activates via a single button and should only take two seconds to pair. In terms of transmission, it has a maximum distance of 300 ft/90 m without any distortion or feedback.
8. BALILA Wireless Lavalier Microphone System
Best for superior sound quality
This BALILA system offers superior quality with a durable metal microphone.
Pros
Metal omnidirectional microphone
Easy to use transmitter and receiver
Noise cancelling technology for audio
Cons
Not the smallest transmitter and receiver
The BALILA Wireless Lavalier Microphone System is a complete package with a transmitter, receiver, lavalier microphone, carry case, and a range of cables.
It has everything you need to provide audio for your vlogging sessions. You can also expect superior sound quality thanks to the UHF digital wireless technology. The audio is processed using noise-canceling technology, and there should be a 0s transmission delay. In terms of range, the system works up to 100 ft/80 m.
The mic receiver has a standard 3.5 mm connection and should work with any smartphone, DSLR camera, tablet camera, or laptop. We also like that the lavalier microphone is made from durable materials and has an omnidirectional sound pickup. Finally, the transmitter and receiver are also easy to use and have a large display screen so you can monitor the settings.
Which Wireless Microphone for Vlogging Is Right for You?
As you can see, there are some fantastic wireless microphones available. But which is the best choice for you? This depends on the purpose, and how you intend to use the microphone.
For example, if you want to create interviews or documentaries, something like the BALILA Wireless Lavalier Microphone System could be a better choice. Alternatively, if you are mainly vlogging, something like the Westshell 2.4Ghz Wireless Lavalier Microphone System could also make the perfect option.
---
As an Amazon Associate, we earn from qualifying purchases. Certain content was provided "as is" from Amazon daily and is subject to change or removal at any time.