If you are serious about vlogging or filmmaking, you need a high-quality microphone. Oftentimes, the built-in microphones in smartphones and cameras are average at best. To get outstanding audio quality, you need to invest in a good wireless microphone for vlogging. We've narrowed down the best lavalier mics to make sure you get amazing sound quality no matter where you're filming.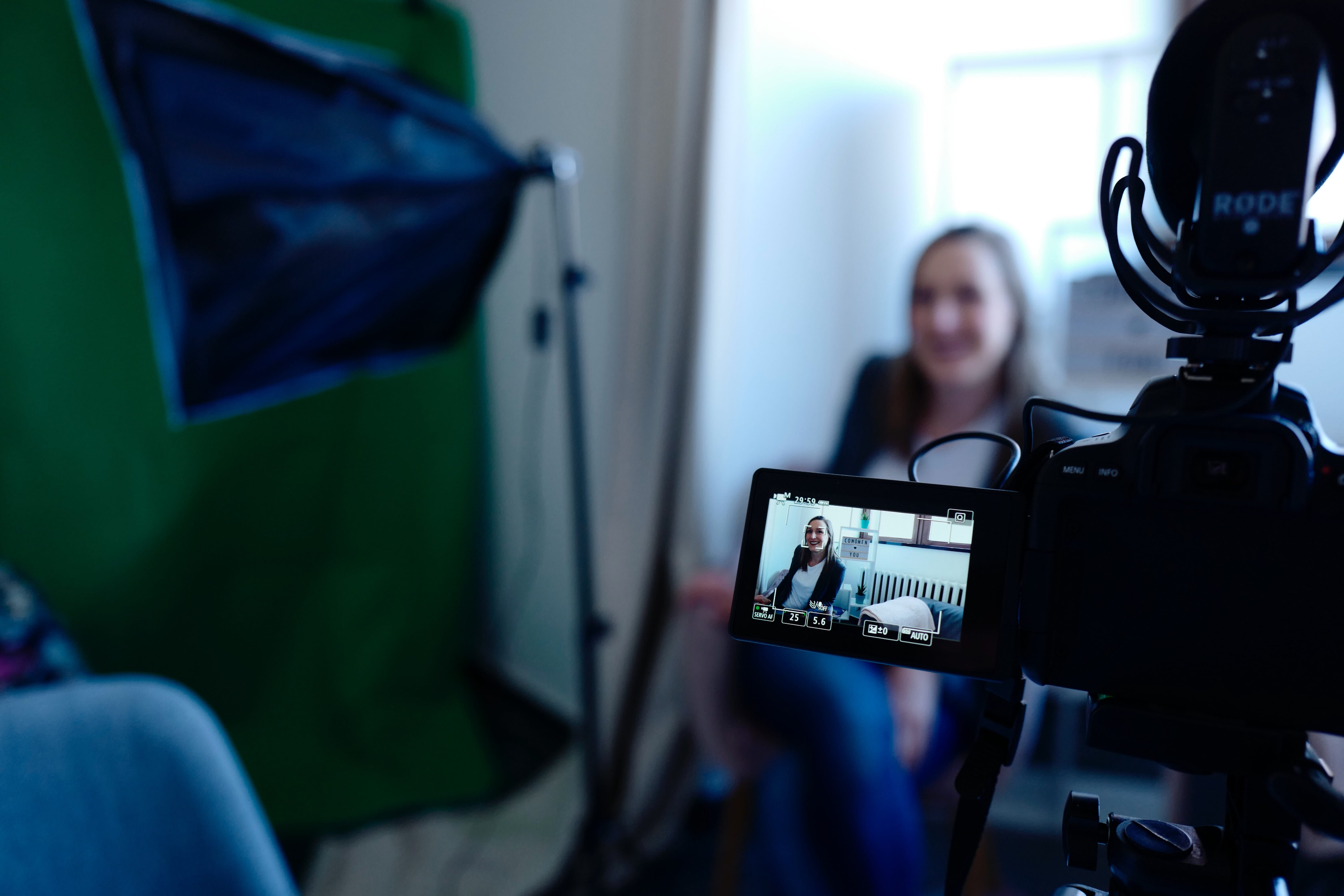 The Best Lav Mics for Superior Audio:
When you buy through links on our site, we may earn a commission at no cost to you. We evaluate products independently. Commissions do not affect our evaluations.
1. Rode Wireless GO II
Our Pick
Great for connectivity
The Rode Wireless GO II has 3.5mm and USB-C outputs which means you can connect it to multiple devices like a smartphone, tablet, audio recorder, or laptop.
Pros
Rechargeable batteries included
Series IV 2.4GHz digital transmission
Clear display that shows battery life, etc.
Cons
They are a little chunkier than some other brands
Our top pick for the best lavalier microphone is the Rode Wireless GO II due to its portability, connectivity, and fantastic features. If you want a reliable mic setup that can be used both indoors and outdoors, this is a great choice and is brilliant if you want to get into vlogging or interviewing.
In terms of connectivity, you can attach virtually any output device conceivable. This includes a 3.5mm output to connect to cameras and audio recorders or a USB-C output for laptops and desktop computers. As a result, you could use it on-the-go, or for recording in a home studio setup. The wireless performance is also incredible and it has a reliable range of up to 200m.
You can also rely on consistent broadcast-grade audio, and the transmitters have onboard recording for a safer experience. Don't worry about managing the microphones either – there is a companion Rode Central App where you can configure the devices and do things like set output levels.
The microphones themselves are highly portable and have a durable clip on the rear so you can easily attach them to your clothing. The front-facing display that shows you important settings like battery life and connectivity also helps with usability.
2. Comica CVM-WM100
Also Great
Great to optimize sound quality
The scan feature allows you to select the best of the 48 channels to give the best audio quality with minimum interference.
Pros
Great transmission distance of up to 300ft
Extensive kit with case and multiple cables
Real-time monitoring to check on data transmission
Cons
The aerials are not the most discrete
The Comica CVM-WM100 PLUS gives you everything you need to start recording audio immediately and is one of the most extensive kits on this list. Included in the set you get two transmitters, one receiver, two audio output cables, one input cable, a charging cable, a belt clip, a wind muff, a camera mount, and a carry bag.
The output options give you brilliant versatility and include a 3.5mm-3.5mm cable and a 3.5mm-XLR cable. This means you can connect to multiple devices like your smartphone or desktop computer. Don't worry about battery power either – the transmitters and receivers can be charged via USB and have excellent battery life.
We especially like the intelligent channel switching and channel availability which will help you find the best recording conditions. Firstly, the system has 48 channels that you can switch between easily. Secondly, the devices can scan channels to find the best-suited one to fit your current surroundings which helps reduce interference.
In terms of working distance, you can be up to 300ft away from the receiver and there is a real-time monitoring function so you can always see if recording data is being transmitted or not.
3. MAYBESTA Professional Wireless Lavalier Microphone
Great for iPhone use
The MAYBESTA Wireless Lavalier Microphone setup is simple, easy to use, and works flawlessly with iPhones and iPads.
Pros
Compact receiver that plugs into your iPhone
The microphone has a rechargeable battery
Omni-direction sound
Cons
Can only be used with Apple products
If you want a simple lavalier setup to use with your iPhone, the MAYBESTA Professional Wireless Lavalier Microphone is a superior choice. It has plug-and-play functionality and all you have to do is clip the receiver into the charging port of your iPhone and turn the microphone on.
The receiver and mic will then pair automatically so you can start using them with a recording app on your iPhone. Despite the portable size, you can expect great audio quality too with omnidirectional sound and a high-density sprayproof mic sponge. The mic also has noise reduction technology so you should be able to effectively eliminate background sounds if recording outdoors or in a busy area.
We love the portability of the microphone too – it has a durable clip on the rear so you can connect it to your clothing, but it is discrete enough to hold in your hand too. Don't worry about charging and connectivity either, as it has a lightning connector and charger cable for its built-in 65mAh battery. When fully charged, this wireless microphone should give you up to 4.5 hours of operating time.
4. Hollyland Lark M1
Great for long-range recording
With a transmission range of 650ft, the Hollyland Lark M1 microphones are brilliant for long-range recording and sweeping travel compositions.
Pros
650ft wireless transmission range
8 hours battery life
Lightweight and portable design
Cons
Some of the connection cables might not be included
If discreteness and portability are your main concerns, the Hollyland Lark M1 is the best lavalier microphone available. The microphone transmitters are unbelievably small and can clip onto your clothing. Not only that, but they are available in a range of stylish pastel colors including light green, light pink, and light purple.
Although they are small, you can still expect great functionality. For example, you shouldn't have to worry about charging as they can last for up to eight hours on one charge. When they do run out, you can conveniently charge via the USB-C cable which could allow you to charge and work at the same time.
These wireless lavalier mics have some of the longest transmission distances at 650ft. As a result, you can record a wide variety of setups without being tethered to your receiving setup. Although the transmission range is large, there should be no interference and the mics use auto frequency hopping technology so you can always have recording capabilities.
5. Movo WMX-2 DUO
Great for travel use
The Movo WMX-2 Duo includes a travel pouch and smart charging case, and the batteries last for up to seven hours.
Pros
Brilliant kit with all the essentials
7-hour battery life
High-quality audio transmission
Cons
The clip hinge could be a little weak on the transmitters
The Movo WMX-2 DUO is another comprehensive kit that gives you all the tools to start recording high-quality audio straight away. Not only that, but the devices are easy to use and the transmitters & receiver are presented in a quality case for simple storage and carrying.
The receiver is user-friendly and great if you are a beginner with little audio recording experience. This is because it pairs automatically with the microphone transmitters. Additionally, the channel connection is reliable with no dropouts and you should always be able to record due to the adaptive frequency hopping technology.
If you are out on the road and don't have access to electrical outlets, the seven-hour battery life should be perfect. The transmitters are also lightweight and have detachable wind muffs. You can connect them to your clothing or use them handheld.
In the kit, you get two transmitters, one receiver, a charging case, a travel pouch, and a variety of input and output cables. The cables allow you to connect to either a smartphone or a DSLR camera, making it a great wireless microphone for vlogging.
6. Relacart Mipassport
Great for long recording sessions
The Relacart Mipassport transmitters have a five-hour battery life and can be charged in one hour so you can keep recording for longer.
Pros
Adaptive channel technology
Easy to use with mirrorless and DSLR cameras
OLED screen to monitor recording
Cons
The transmission distance is shorter than some other models
The Relacart Mipassport is one of the best lavalier mics for outdoor use and recording action audio due to the brilliant endurance and build quality of the transmitters and the fantastic audio quality.
You can comfortably record outdoors as the transmitters use the 2.4G ISM global unlimited frequency band. This means that clutter noise is significantly reduced, but channels are automatically selected to give you the best signals and recording smoothness. This works up to distances of 165ft and you can use both transmitters simultaneously for dual-person recording.
For ease of use, you can check important functions on the OLED monitor in real-time. For example, you can check the battery life and connectivity but also look for channel interference. This should greatly improve your workflow and help you record for longer without disruptions.
If you are recording for longer sessions, the transmitters have a battery life of up to five hours and they can be charged in as little as one hour. Therefore, you could have one mic charging while the other one is in use.
7. Deity Pocket Wireless Microphones Kit
Great for simple use
The Diety transmitters have a one-button pairing system so you can start using them immediately with minimum effort.
Pros
High-quality OLED display
The kit includes a mini tripod for smartphones
Multiple cables to connect to virtually any input device
Cons
The range could be a little short at 70m
The Deity Pocket Wireless Microphones Kit is the best lavalier microphone for general smartphone usage as it includes a tabletop tripod that can fit most popular smartphone cameras like the Samsung Galaxy, Apple iPhone, and Google Pixel. Both the transmitter and receiver also have an adaptive clip that can be fitted onto a camera shoe or your clothing.
Everything is presented in a stylish storage case so you can keep your recording equipment organized. You also get an adaptive TRRS cable that can work with virtually any 3.5mm audio input you connect it to. This includes DSLRs, video recorders, and audio recorders. You also get a USB-C cable for laptop, PC, and phone connectivity.
For consistent audio recording, the transmitter has an easy one-button pairing feature. The transmission strength is also reliable, and it should maintain even if you do not have a line of sight with the receiver. When using the system, the devices have a high-quality OLED display that shows important features like battery life, audio levels, signal strength, and recording status.
8. BALILA Wireless Lavalier Microphone System
Great for indoor use
The BALILA Wireless Lavalier Microphone offers high-quality sound with noise cancellation to give you brilliant indoor recording quality.
Pros
Great connectivity
20 audio channels to choose from
Durable and compact devices
Cons
The range may be a little short at 100ft max
If you want a professional recording system for indoor use, the BALILA Wireless Lavalier Microphone is a great choice. It offers flexibility for things like sit-down interviews and home vlogging and has a great kit with multiple cables and two transmitters.
You can guarantee excellent sound quality due to the UHF digital wireless technology and which works up to 100ft. The noise-canceling features also make sure that any background interference is eliminated. This is perfect when you need a crisp and clear recording.
The multiple cables allow you to connect the devices to virtually any output. The setup comes with a 3.5mm plug which is compatible with smartphones, tablets, DSLR and mirrorless cameras, computers, and laptops. When using the transmitters, there are 20 audio channels to choose from, and you can press one button to automatically select the best frequency currently available.
The transmitters and receiver are compact, well-designed, and have clips so you can connect them to clothing or a flash shoe.
Choosing the Best Lav Mic for Great Sound
As you can see, there are some fantastic wireless microphones available. But choosing the best lavalier mic for your needs depends on how you intend to use the microphone.
For example, if you tend to record outdoors and need noise canceling capability, systems like the Relacart Mipassport, Rode Wireless GO II, and Movo WMX-2 DUO are brilliant options.
If you mainly do studio work where you need a stable setup and professional audio quality, products like the BALILA Wireless Lavalier Microphone, Deity Pocket Wireless Microphones Kit, and Comica CVM-WM100 PLUS are also fantastic.
---
Disclosure/Disclaimer: As an Amazon Associate, we earn from qualifying purchases. Certain content was provided "as is" from Amazon and is subject to change or removal at any time. Product prices and availability: Amazon prices are updated daily or are accurate as of the date/time indicated and are subject to change. Any price and availability information displayed on Amazon.com at the time of purchase will apply to the purchase of this product.