6 Top Selling DLSR Mics
Why You Need and External Microphone for Your DSLR
Anyone who shoots video on a DSLR will notice that the sound quality provided by the in-camera microphone leaves something to be desired. This problem is easily solved, however, with the use of an external microphone for DSLR. With a microphone, you'll be able to filter out unwanted noise to focus on capturing the sound you want – exactly what you need for high-quality videos.
Best Shotgun Microphones result in Best Audio
These microphones can be mounted directly to your camera to provide a more accurate, natural audio to go along with the visuals you've captured. While photographers tend to focus more on images, the sound is an incredibly important element for an effective video. So any budding videographer should consider investing in a microphone to ensure the best possible audio.
Related Post: New Canon EOS Rebel SL2 (Better and Faster Entry Level DSLR)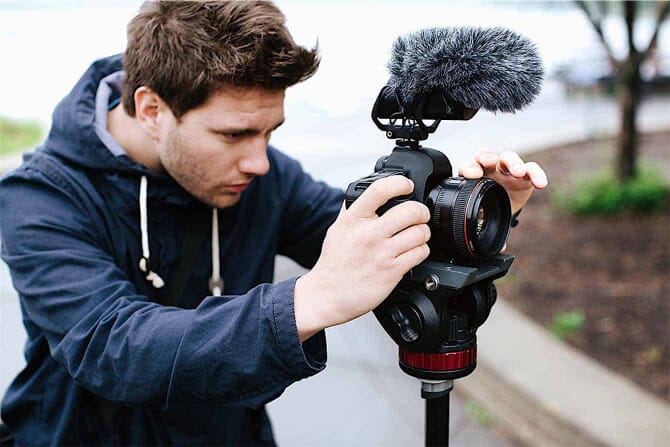 Pro & Cons of the Best DLSR Microphone & Our Pick
On-camera microphones offer an ideal all-in-one solution for better-quality audio. This guide will provide you with some advantages and disadvantages to some of the best DSLR microphones on the market. Keep this in mind while shopping around for your new mic to make sure you get the best product for your money.
✔ 6 Best DLSR Microphones
1. Best Pick: The Shure VP83 LensHopper Camera-Mounted Condenser Microphone
Shure VP83 LensHopper Camera-Mounted Condenser Microphone for use with DSLR Cameras...
Detailed, high-definition audio with full low-end response for professional results every time.
Highly directional super cardioid/lobar polar pattern rejects unwanted off-axis audio while clearly capturing the intended...
Superior RF immunity to avoid against unwanted audio artifacts from cellular and RF devices.
Integrated Rycote Lyre shock mounting system provides superior isolation from vibration and mechanical noise through its...
125 hours of battery life from 1 AA alkaline battery (included). Connector type is 0.125 inch dual mono, unbalanced....
Pros
The Shure VP83 LensHopper Camera-Mounted Condenser Microphone was designed to be a compact, all-in-one audio solution. You'll be able to record audio directly to your DSLR camera using a 3.5mm audio output cable and you won't need to spend much time adjusting controls. This rugged microphone provides reliable, detailed, and natural-sounding audio – no matter what kind of recording environment you might encounter.
The VP83 provides an estimated 130 hours of battery life on a single AA battery, and even after the sensor turns red, you've got plenty of time to finish recording before the device shuts itself down.
The external microphone also boasts a long-lasting, dependable metal construction that is still lightweight and easy to carry. You'll also notice a foam windscreen, which provides excellent insulation from the wind and other environmental noise.
Cons
However, some users have indicated that the recorded sound is thinner than other microphones, even some cheaper options. This could be due to the microphone's protective screen, which does significantly reduce background noise and ensure a clearer recording. The piece that connects the microphone to the camera also seems to be somewhat delicate, so users will need to be careful when removing or attaching the device.
Users who want to monitor the audio while filming will also need to use the headphone output from their camera or digital recorder, as this microphone doesn't come equipped with a separate output for headphones.
Related Post: Best DSLRs for Video Recording
2. Rode VideoMic Directional Video Condenser Microphone with Mount
Pro
The Rode VideoMic is a professional-grade shotgun microphone that is specifically designed to be used with higher quality cameras but also attaches to any consumer video cameras with a standard camera-shoe fitting. You can achieve both broadcast and studio level sound quality with this mic, which provides a two-step high-pass filter to ensure clear audio.
This high-pass filter can be switched on at the back of the device and will help cut out background noise at lower frequencies. This means the voices you've recorded will be accentuated and crisp. You can also adjust the mic settings to accurately capture unusually loud sounds, like sporting events or live music.
With a shock mounting system that isolates the electronics from external elements that could create rumbling or vibrating sounds in the microphone, this microphone provides relatively noise-free audio in any environment. Even if you're walking around, the mic won't pick up any banging noises as you move.
Cons
However, while the foam windscreen filters out environmental noise in lighter winds, anything stronger than a moderate breeze will likely require you to use a windsock to reduce noise further. The mic will clearly record audio at about 20 feet, but any farther and you'll end up with more background sounds, like traffic. This microphone is most useful when pointed directly at your source.
Battery
You'll need a standard 9V battery for this microphone, which does provide a low battery indicator to let you know when it needs replacing. Battery life is about 100 hours.
3. Shure VP83F LensHopper Camera-Mounted Condenser Microphone with Integrated Flash Recording
Shure VP83F LensHopper Camera-Mounted Condenser Microphone with Integrated Flash...
Detailed, high-definition audio with full low-end response for professional results every time.
Highly directional super cardioid/lobar polar pattern rejects unwanted off-axis audio while clearly capturing the intended...
Superior RF immunity to avoid against unwanted audio artifacts from cellular and RF devices.
Integrated Rycote Lyre shock mounting system provides superior isolation from vibration and mechanical noise through its...
10 hours battery life (record mode) from 2 AA alkaline batteries (included)
The Shure VP83F is a compact DSLR microphone and is exceptionally easy to use, making it an excellent choice for photographers who are just entering the world of videography. Start recording with the push of a button, or navigate through the intuitive adjustment menus to customize your audio settings. The LCD screen provides you with complete activity monitoring even as you record.
You can adjust the 60dB gain range by 1dB increments, and a low-cut filter can be applied to help the microphone adapt to a range of recording settings.
Plus, you'll be able to monitor the incoming audio thanks to the mic's stereo headphone output, and record uncompressed WAV files to MicroSDHC cards up to 32GB in size.
Your recorded audio will sound clear and natural, thanks to this microphone's exceptional performance. Vibration and mechanical noise are reduced through a robustly insulated shock mounting system, but this shotgun mic does tend to pick up ambient noise.
This is convenient if you're recording voices coming from multiple directions, as you won't have to point the mic directly at the speaker. However, you'll end up with added background noise from traffic, air conditioners, or even a buzz from fluorescent lights. This can be removed in post-processing if you don't mind putting in a bit more work for a higher quality result.
Batteries
Note that this microphone will only provide you with 10 hours of "record mode" on two AA batteries. This reduced battery capacity means you'll need to keep a set of backups handy, particularly on longer shoots.
Related Post: DSLR Video Tips (Make Videos Like a Pro)
4. Rode VMPR VideoMic Pro R with Rycote Lyre Shockmount
Rode VideoMicPro Compact Directional On-Camera Microphone with Rycote Lyre Shockmount
ENSURE YOU BUY GENIUNE RØDE PRODUCTS! Products from sellers which say 'fulfilled by Amazon' under the price are NOT...
Buy only from Amazon.com (labelled 'shipped and sold by Amazon.com')
A true shotgun microphone designed for camcorders, DSLR cameras and portable audio recorders as primary and reference audio
The 1/2" condenser capsule provides broadcast-quality audio via a 3.5mm connector with an incredibly low self-noise of just...
The Rycote Lyre based shock mounting system provides isolation from external factors that may cause unwanted rumble and...
You can achieve broadcast-quality audio easily with the Rode VMPR, a true shotgun microphone, which minimizes surrounding noise while focusing on the subject positioned directly in front of the camera. For users with higher-end DSLRs or full-frame cameras, this is an excellent option for recording audio.
Thanks to the shock mount suspension, your recording won't be marred by any rumbling or vibration due to the electronics or movement.
You'll also see reduced wind and environmental noise, thanks to the microphone's foam windscreen. However, some users have noticed wind sounds recorded from the back of the mic, where the jack input connects to the device. Keep this covered if you want a quieter, clearer recording.
A high-pass filter setting can be used to limit low-end noise from being recorded – including things like traffic or air-conditioners – while accentuating any voices. Using the -10 dB, you'll be able to clearly capture louder events, like motorsports, or interviews with subjects who are standing close to the microphone, without noticing any distortion.
Along with a standard-sized shoe mount, this external microphone for DSLR comes equipped with a 3/8-inch thread on the mount's base. You'll be able to easily mount the mic to a boom pole and move it away from the camera whenever needed.
Battery
A single 9V battery will provide you with more than 70 hours of recording time with this microphone, so you won't need to worry as much about carrying backups. However, the battery compartment is somewhat difficult to access with the windscreen attached.
5. Sennheiser MKE 600 Short Shotgun Microphone with Sennheiser MZH600 Windshield
Sennheiser MKE 600 Short Shotgun Microphone w/Sennheiser MZH600 Windshield
Sennheiser MKE 600 Shotgun Microphone - Shock Mount for Camera Light-Shoe - Foam Windshield - Carry Pouch - Sennheiser USA...
Adorama Valuable Bundle. Kit Includes.
Sennheiser MKE 600 Shotgun Microphone, Shock Mount for Camera Light-Shoe, Foam Windshield, Carry Pouch, Sennheiser USA...
Sennheiser MZH600 Hairy Windshield for MKE600.
The Sennheiser MKE 600 Shotgun Mic is a very short and compact option, which makes it very flexible and simple to use. The microphone's design provides exceptional directivity, meaning you will clearly record sounds from the front of the camera while reducing unwanted noise from the sides and the rear. It's also incredibly simple to set up, which makes it one of the best shotgun microphones for first-time mic users.
You'll notice this microphone's rugged, all-metal housing, providing coverage and ensuring the mic functions even in outdoor environments. There's also a shock mount system to prevent outside noise from being picked up by the microphone, but you may want to use an external shock mount to reduce this noise more effectively.
The included foam windshield with a hairy cover will effectively limit the sound of the wind or other environmental noise. If you need additional noise protection, you can switch on a low-cut filter. This is especially effective for recording interviews and other dialogs, as well as when shooting outdoors. Many users find that this microphone does provide a clear, true reproduction of natural sound.
Battery
An AA battery will power this microphone for approximately 150 hours, but it can also be phantom powered. This is especially convenient for videographers who prefer not to carry around additional equipment on shoots. Users have noted that the microphone behaves consistently no matter which power source the user has selected.
Good Price
This DSLR microphone is ideal for videographers, broadcasters, and newscasters. With a lower price than many other shotgun mic options, this is an affordable option that will still provide a high-quality result.
Related Post: The Best Lavalier Mics for Video Making
6. Saramonic VMIC Super-Cardioid Shotgun Condenser Video Microphone for DSLR
With a high-pass filter, high-frequency boost, and three-position level control, the Saramonic VMIC is a versatile microphone giving users the freedom to record accurate audio in a variety of different settings. You can easily attach the external microphone into the camera shoe, or mount it to a ¼" tripod mount.
While you can connect the mic to the camera, you can also record directly to an internal micro SD card, giving you additional freedom to move and edit audio files. You can use cards up to 32GB, which provides plenty of space for hours of recording.
The stable and reliable shock mount system isolates the microphone from external mechanical noise and vibrations but maintains a lightweight feel that makes this device convenient to carry around or attach to the camera. The windscreen is also quite thick, making it especially effective at blocking the wind and other unwanted environmental sounds.
As with other shotgun mics, this microphone is most effective recording from sources directly in front of the camera. However, it does tend to register additional sound from the sides and behind the mic. There is a noticeable drop off of higher frequencies, but the polar pattern is wider than you'd find with other options.
Still, this microphone does provide flexibility and functionality and is a great choice for amateurs and hobbyists. A professional videographer may want to consider a higher-grade microphone for a more reliable result.
Related Post: Best Video Tripods Review
Finding the Best DSLR Microphone – Any Comments?
We hope this guide helps in your search for the best DSLR microphone for your needs. When shooting professional videos, you wouldn't settle for anything less than superior image quality, so why settle for less than perfect sound? These shotgun mics will give your videos the improved and more natural sound quality.
---
As an Amazon Associate we earn from qualifying purchases. Certain content that appears on PhotoWorkout.com comes from Amazon. This content is provided 'as is' and is subject to change or removal at any time.