Nikpay 2K Smart Digital Picture Frame Review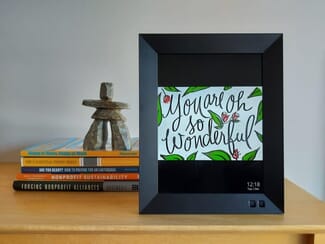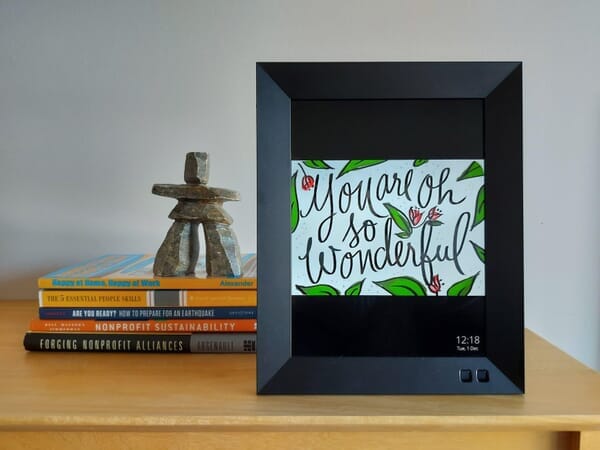 Product Name: Nikpay 2K Smart Digital Picture Frame
Product Description: NIX Digital Photo Frames display images from SD cards or flash drives, and Nixplay Wi-Fi Cloud Frames use cloud technology to securely show and store your pictures.
Brand: Nixplay
Offer price: 280.49
Currency: USD
Availability: OnlineOnly
Offer URL: https://pwlink.co/nixplay-photo-frame
Design

Functionality

Durability

Price
Nixplay Smart Photo Frame
Although I struggled to connect the device to my Wi-Fi at home, when I did establish a connection in my workspace, I had an excellent experience with the frame and really enjoyed using it. I found it to be straightforward and effective and I highly recommend it to anyone looking to invest in a smart frame.
In this article, we give you a hands-on Nixplay 2K Smart Digital Picture Frame review. This is a great photo-sharing platform that allows you to display images in a location of your choosing. You can rotate a series of images from your favorite artist, loop your Instagram grid in a slide-show format, link your Dropbox or Flickr account, sync your Google photos, and more.
We were very excited to test the 9.7-inch model out, to see just how smart this smart photo frame really is! Spoiler, it's smart!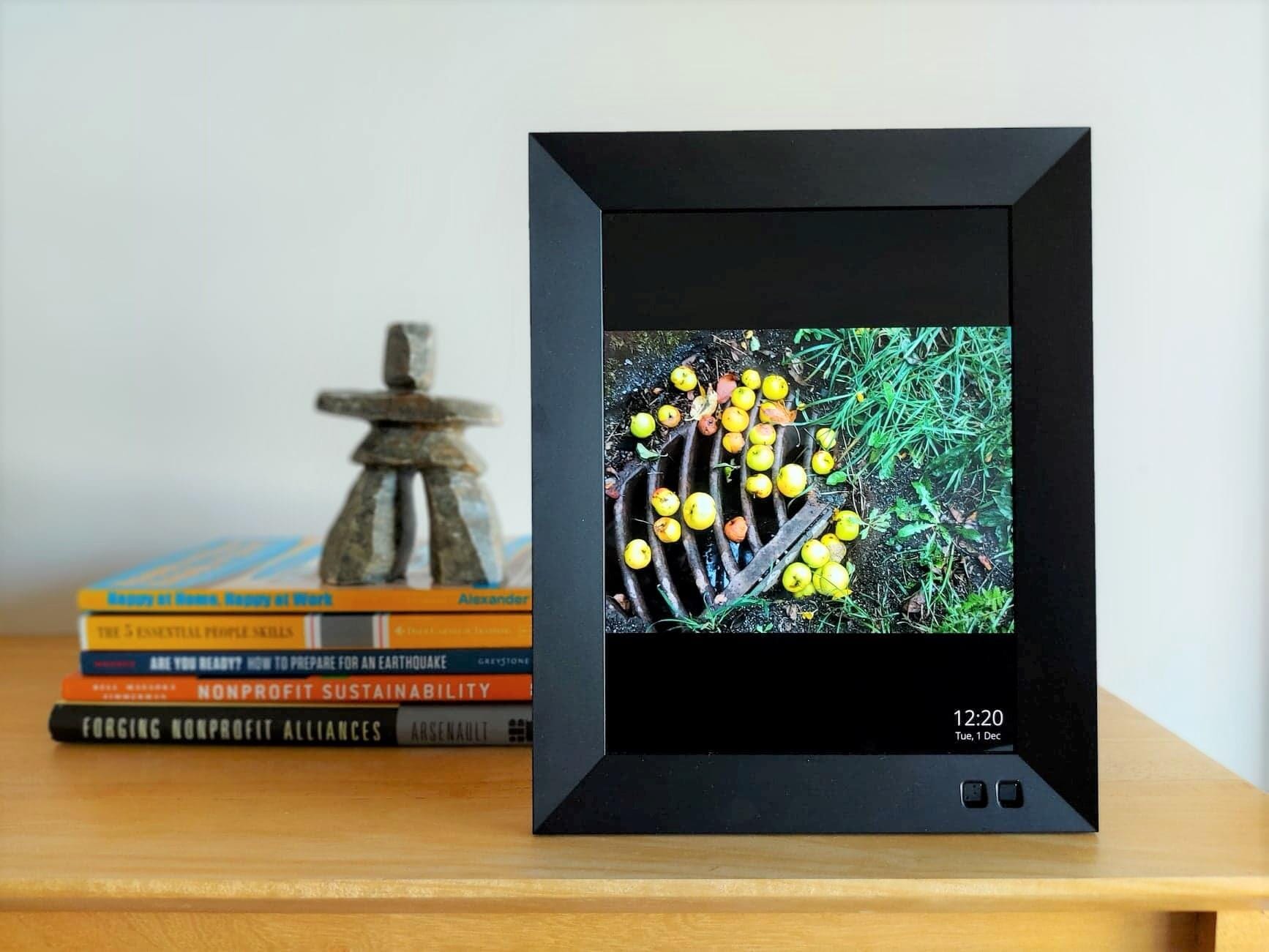 When you buy through links on our site, we may earn a commission at no cost to you. We evaluate products independently. Commissions do not affect our evaluations.
Nixplay 2K Smart Digital Picture Frame Review
What's in the Box
Nixplay 9.7-inch smart photo frame
Power adapter and cable
Remote control
Wall mount screw kit
Wall mount guide
Quick start-up guide

Key Specs
Item Dimensions: Width: 8.78″ (19.89cm) Height: 10.75″ (24.79cm) Depth: 1.34″ (3.1cm)
Weight: 790g
Color: Black
Screen Size: 9.7″
Storage: 8GB
Resolution: 2048 x 1536, 2K
Aspect Ratio: 4:3
Supported Photo Format: JPEG/JPG
Brightness: 350 cd/m2
Speakers 2 x (2 W) Mono
Sensors: Light Sensor, Activity Sensor, and G-Sensor
RAM: 1GB
Immediate Benefits
Sleek design
Clear photo quality
Motion sensor function
Send and share photos with others
Invite and receive photos from others
Bonus Benefits
Magnetic remote control attachment
Captions can be created and added to your photos
Time and date settings integrated 
Setup and Connectivity

The Nixplay 2K Smart Digital Picture Frame can be managed and operated from your phone in-app or online with your Nixplay account. The setup process can be somewhat complex but if you follow the step-by-step guide, you'll find setup simple from start to finish. 
Related Post: Best Digital Photo Frames with Wi-Fi
The frame runs off a Wi-Fi connection and smartphone application. In order to sync your photos to the digital frame, you need to download the Nixplay app (iOS and Android) and create an account. You can also create your account through the Nixplay website.
When you connect your frame to Wi-Fi, a 16-digit numerical code will appear. The code is then entered into your Nixplay app/account to pair and sync the two devices together (almost like a Bluetooth connection).
I had some difficulty when connecting the device to my 5Ghz Wi-Fi network at home. However, when I took the device to my studio space, to connect it there, on a 2.4Ghz network, it worked.
Storage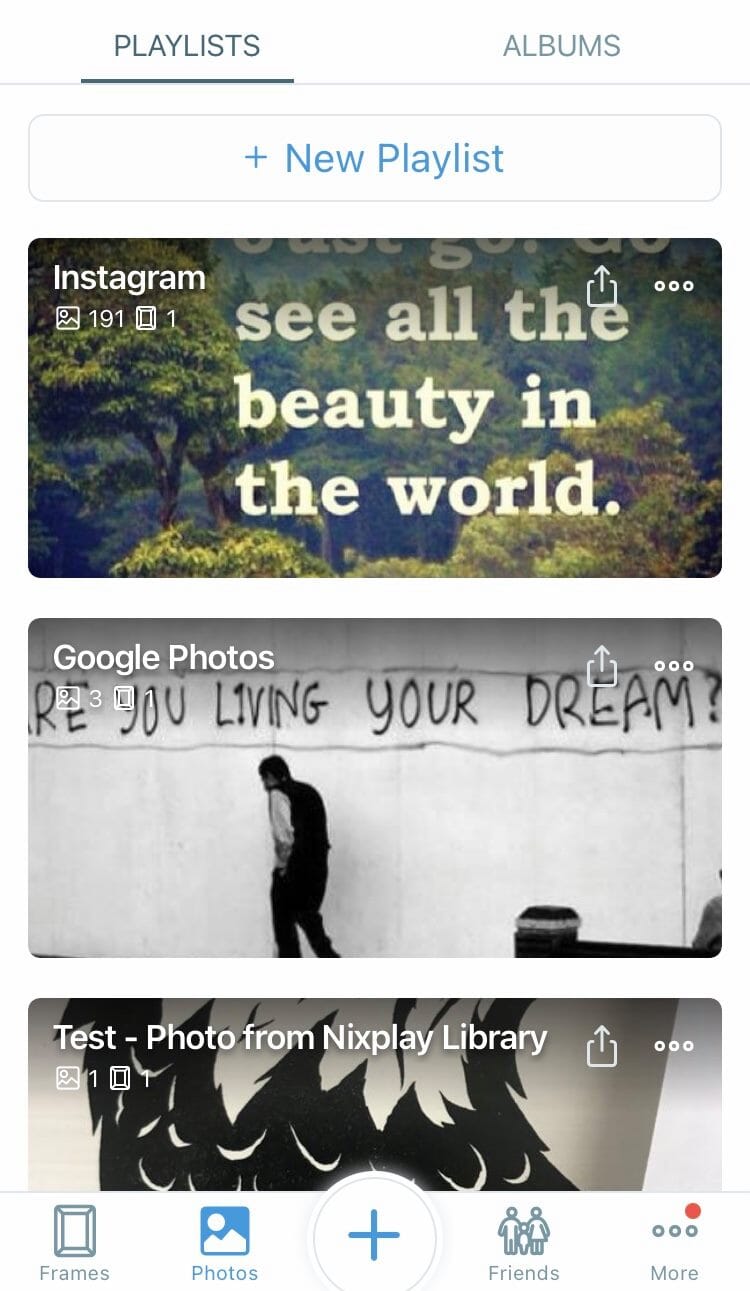 You can save, store, and organize your photos on your Nixplay app or account, in albums and playlists. The frame comes with 8GB of free memory and additional storage space in the Nixplay cloud is available at a cost. Playlists can hold up to 2,000 photos each. I uploaded approximately 4,000 photos and that occupied 28% of the frames storage.
Functionality
The Nixplay picture frame allows you to sync photos from your phone or email address. You can add photos from your phone to your frame from the camera roll on your phone, the camera roll in the app, the Nixplay cloud (photos you upload to albums will populate here), or Google photos. If you link your Gmail account to the app, your frame will receive up-to-date content from Google photos as you upload it.
Social media accounts and other photo-sharing platforms and storage solutions such as Instagram, Facebook, Dropbox, Flickr, Facebook, and Verizon Cloud can be synced to your Nixplay frame from the Nixplay website. It is worth noting that memory cards cannot be inserted into the frame. I feel that the inclusion of a card port would be a winning addition to the device's capability.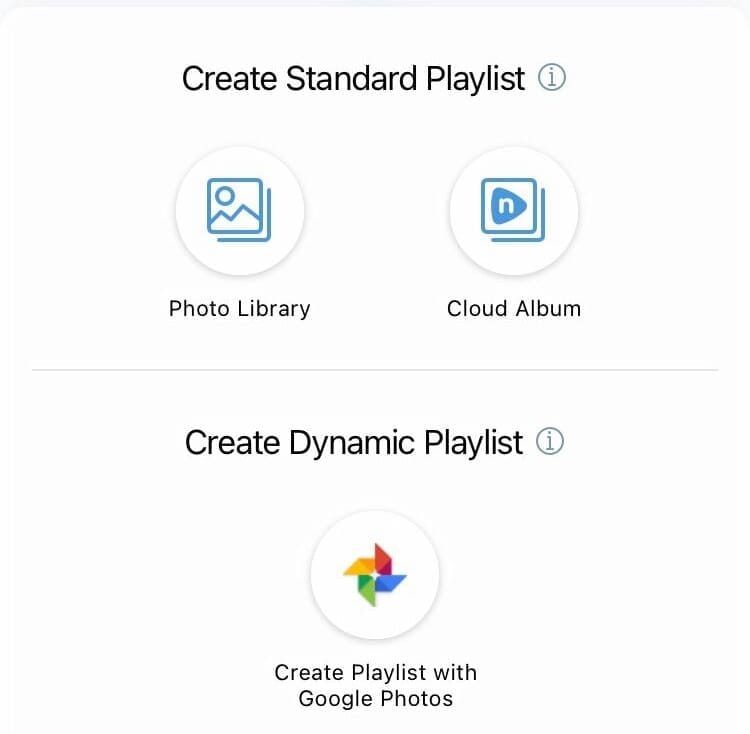 It is worth noting that Google photos will begin charging users for the service from June 1, 2021; 15GB of storage will be available at no cost. However, charges will be incurred for any additional photo storage that exceeds the 15GB limit.
The picture frame is controlled with an InfraRed remote. The remote powers the frame on and off, allows you to dictate the volume, accept photos from others, and move between your playlists and device settings easily and conveniently. It is a light, unobtrusive hand-held, that features uncomplicated control tabs. You can attach the remote to the back of the frame through a magnetic mount.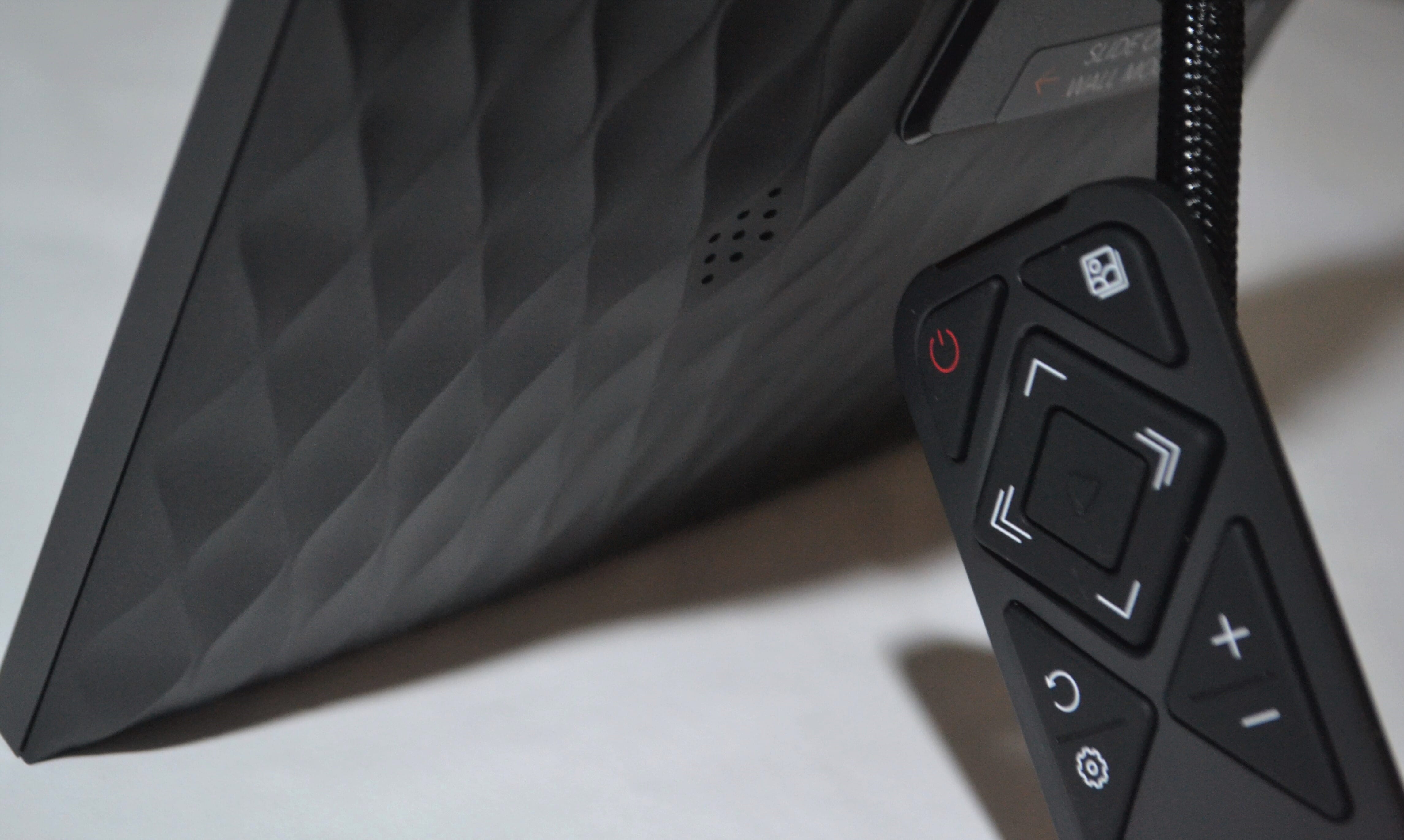 The frame also recognizes commands from Amazon's Alexa and Google Assistant, allowing you to verbally communicate the name of the playlist you would like shown on the frame, without having to touch the remote.
The frame does not require batteries but it must be plugged in. It can be placed on top of most surfaces where an electrical socket is nearby. The cable length is generous however you may need an extension cord depending on your space and desired placement. You can also mount the frame to a wall. To fix the frame to the wall, a wall mount screw kit and instruction guide are included in the box.
A motion sensor is embedded into the face of the frame, it has to be enabled on the frame to initiate motion detection. The InfraRed sensor is located next to it to detect commands from the remote control. The sensors are discreet, they camouflage well with the frame's sleek design.
You can program a sleep schedule into the frame that automates standby mode or sleep mode at scheduled times. You can decide if you would like the frame to go to 'sleep' after 5 minutes, 10 minutes, 30 minutes, 1 hour, 2 hours, 3 hours, or 4 hours. The motion sensor will turn the display back on when someone enters the room it is located in, or it detects movement of some kind.
When the frame is in sleep mode you can select whether you would like a black screen or a clock screen to display. You can choose between a 12-hour or 24-hour dial. When the frame 'wakes up,' you can continue with the last playlist you had elected or pick from the following options: show photos from the last day, show photos from the last three days, or show photos from the last week.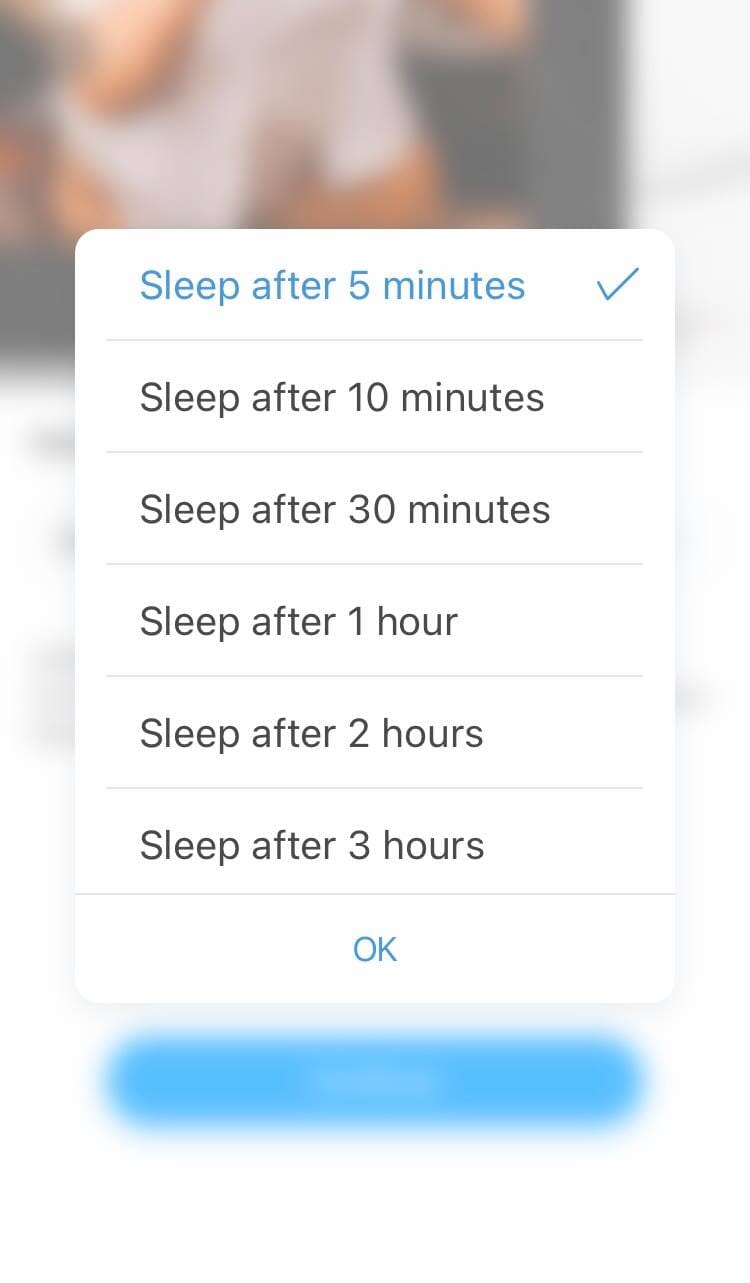 There are many filters and settings which you can enable and disable at your discretion as per your requirements. Furthermore, you have the option to rank and organize the order of the photos in your playlists or shuffle their arrangement. You can select one playlist to playback or multiple.
You can add a filter to show the latest 100, 200, 500, or 1,000 photos you have added and manage the transition time between photos from a choice of, 5 seconds, 10 seconds, 15 seconds, 20 seconds, 25 seconds, 30 seconds, 1 minute, 5 minutes, 10 minutes, 30 minutes, and 1 hour. You can also add captions to your photos through the Nixplay app.
Versatility and Compatibility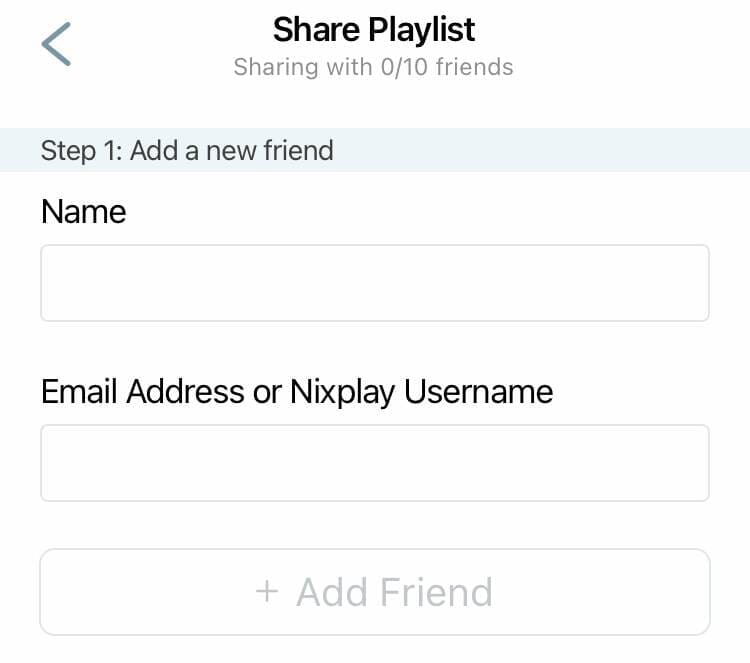 You can share a playlist that you create in the app or on your Nixplay account with friends. You simply upload your photos to your Nixplay app or Nixplay account and then send them to your selected friend(s). You can 'like' or love heart photos and receive notifications when someone likes a photo you have shared with them and vice versa, a really nice interactive touch!
In addition to this, you can invite friends to share photos on your device, which is another great perk. When you set up your Nixplay account on the app or website, a personalized email address is created for you, i.e. johndoe@mynixplay.com. You can send photos directly to your frame and others can send their photos to you using this email address. This is very beneficial if some of your contacts, friends, or family, do not have access to a smartphone.
Any photos sent to you via email are stored in the 'Friends' section of your account. You can then assign these photos to whichever playlist you choose. You can also set up notifications to alert you whenever photos have been sent to your Nixplay account. Whether you are sending or receiving photos through your Nixplay account, the pictures transmit instantaneously.
You can add your photos to more than one Nixplay frame – a maximum of five smart frames can be connected. You can only share videos if you purchase a Nixplay Plus subscription. The subscription allows you to link 10 frames and share 1-minute videos. It also offers an extended warranty. It costs $4.99 a month or $49.99 a year. Without Nixplay Plus you cannot display or share videos.
Design and Display

The contemporary, prismed architecture of the black Nixplay 2K, makes it a stylish interior design addition. The frame itself can be placed in a landscape or portrait position and it automatically configures the orientation of your images on the screen. 
Any photos uploaded to the frame should ideally be formatted to a 4:3 aspect ratio. If the photos do not align with this ratio, they can appear cropped, zoomed, or bordered in the frame. If you crop images to the aspect ratio, there is no guarantee that the full dimensions of your image will display.
The only time a photo displayed perfectly, was when I took a photo using the camera in the app and uploaded that to the frame. Unfortunately, there is no preview option available, so you cannot see how the photo will look in the frame, before uploading it. You can however determine the display and the way in which the photos transition from one to another. 
The following display options are available.
Fit to screen (on black)
Fill screen (pan)
Fill screen (fixed)
Pan and zoom
Pan and zoom (on black)
Tiles
The following transition options are available:
Random
Jumpcut
Cross-Fade
Circle
Wipe
Directorial Wipe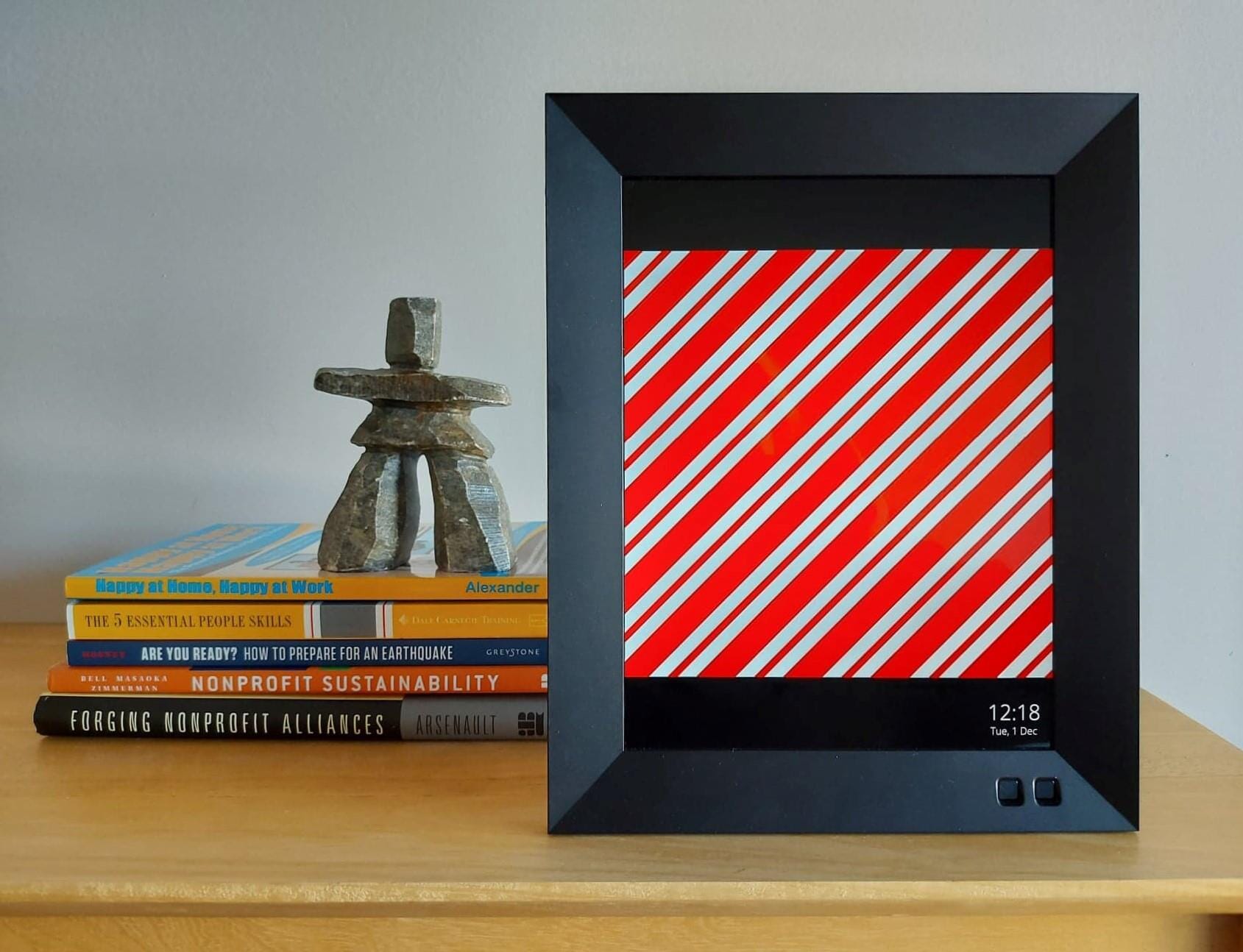 'Fit to screen (on black)' was my preferred display option. I found that it accentuated the images best, while the 'tile' option works well for an uncropped, precise presentation of your images if they do not align with a 4:3 aspect ratio.
The smart frame offers a 'Smart Face Framing' option which, if enabled in 'fill screen' mode, will place the face one-third of the way down the screen which means that you see less of the subject's torso and legs and more of the subject's face. With that said, not every photo you upload is supported by face-framing and therefore won't benefit from this feature.
The 2048×1536, 2K resolution is certainly clear, however, if the quality of your photo is poor, its display on the Nixplay frame will suffer. While the image display can be slightly grainy and coarse depending on the quality of the image in question, it is sharp overall. The cardinal rule, the better your photo quality, the better your display, is very much applicable here.
Durability
The frame is relatively durable. The construction of the frame consists of solid plastic materials and it has a lipped edge that borders the screen. This border protects the frame, to some extent, from damage caused by any accidental falls. That said, the screen is fragile, and the frame should be handled with care.
Cost
The ultra 2K 9.7-inch WI-FI frame retails for $329.99 though there are numerous discounts that can cut the cost of this frame if you time your purchase right. Nixplay offers a 30-day money-back guarantee along with a one-year manufacturer's warranty. The warranty can be extended by purchasing the Nixplay Plus membership ($4.99 a month or $49.99 a year). Amazon also offers a protection plan that can be purchased at an additional cost.
Summary and Conclusion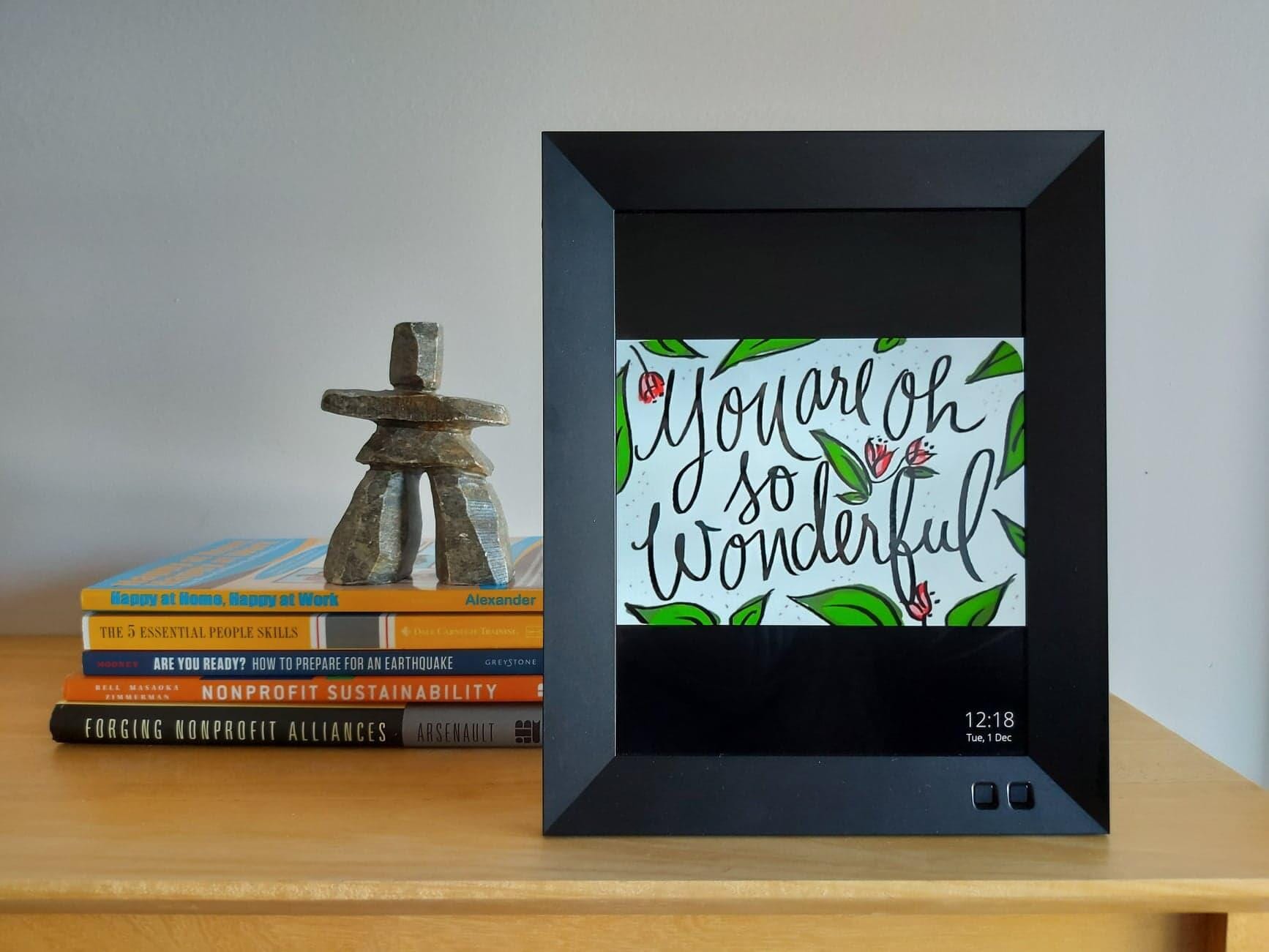 Although I struggled to connect the device to my Wi-Fi at home, when I did establish a connection in my workspace, I had an excellent experience with the frame and really enjoyed using it. I found it to be straightforward and effective and I highly recommend it to anyone looking to invest in a smart frame.
The Nixplay 2K Smart Digital Picture Frame can be used to create an aesthetic ambiance in a room or office space while it is also a great way to send and share photos and videos with non-smartphone or social media users in your network.
It is particularly useful in our current collective isolation as it generates a connection between social bubbles, and/or elderly and faraway family members. It creates the opportunity to share special moments and document life events in a sharp 2K IPS resolution.
The initial set-up requires a hands-on connection between your phone or a Nixplay account and the digital frame, however once connected, you can remotely send and share photos around the world, using just your phone or an email address!
If you found this Nixplay 2K Smart Digital Picture Frame review useful and you decide to make the purchase, or perhaps you have a different digital frame to recommend, why not drop us a comment below!