Are you looking for a portable external audio recorder? One that will get you professional-quality results?
The Tascam DR-05 may be precisely what you need.
In this article, we give you a complete Tascam DR-05 review. You'll discover the best features of this external recorder – and whether this piece of kit is right for you.
You can also watch our video review here:
Tascam DR 05 Review
Video review of the Tascam DR-05. In the process, Rajib finds out whether it has what it takes to be a great addition to your video kit bag.
Let's get started.
When you buy through links on our site, we may earn a commission at no cost to you. We evaluate products independently. Commissions do not affect our evaluations.
Tascam DR-05 Review: Introduction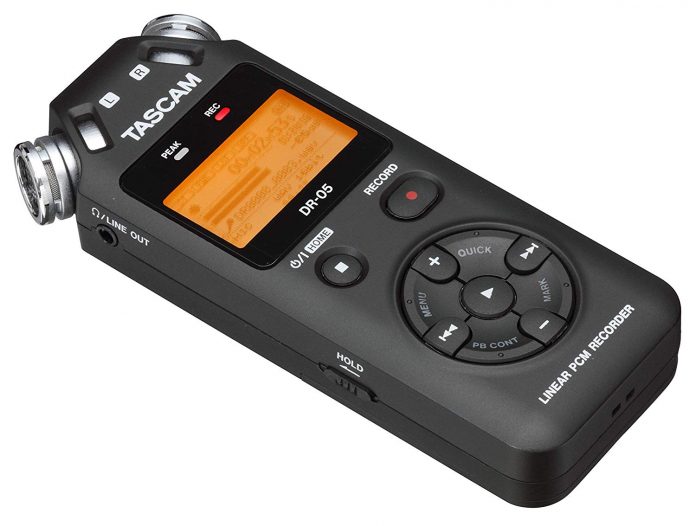 The Tascam DR-05 is a very well-built hand-held external audio recorder, designed for recording professional-quality audio.
Why might you need to record separate audio via an external recorder?
One main reason:
The audio recording quality on digital cameras can be bad. And it's often said that good audio quality is half the video.
With an external recorder like the Tascam DR-05, you can:
avoid capturing the sound of your camera's autofocus
place the recorder closer to the speaker
capture crisp, perfect-sounding audio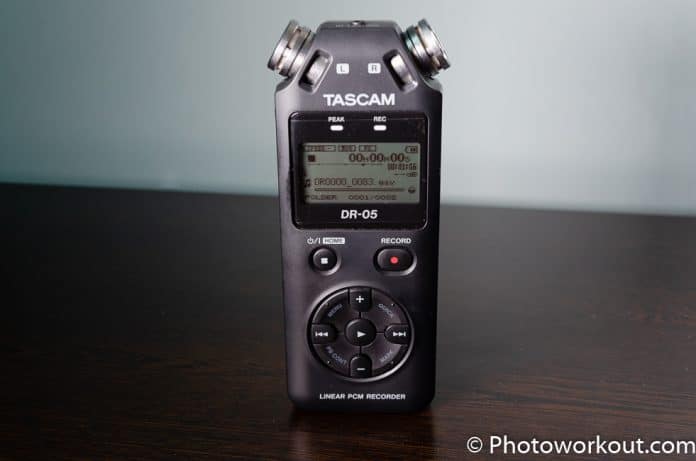 Therefore, if you're looking for high-quality audio, the Tascam DR-05 is an excellent solution.
For an in-depth review of the Tascam DR-05, watch the video above. Or, if you prefer, read on!
Related Article: How to Make Great Videos (with Your DSLRs or Mirrorless Cameras)
Design: Light but Sturdy
The Tascam DR-05 is a well-built external audio recorder.
Yes, the outer casing is made of plastic. But the Tascam feels solid.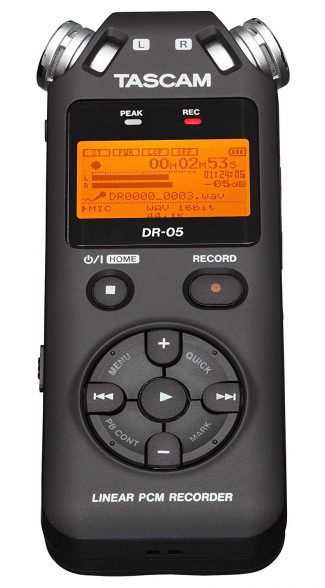 Construction is very light–lighter than the average smartphone. This means that the Tascam is easy to attach to a performer or interviewee, without impairing the quality of the video.
Unfortunately, the Tascam doesn't offer a weather-sealed design. Therefore, water and dust are likely to filter through if you expose the recorder to extreme conditions.
Operation: Full of Useful Controls
The Tascam offers a nice set of additional features:
A MicroSD card slot (and it ships with a 4 GB memory card)
A micro USB port
A USB wire that allows you to transfer sound files to your laptop
A hole for attaching to a lanyard
Headphone jack for listening to the audio
The Tascam DR-05 control panel (on the front of the device) allows you to:
Record/Stop recording
Adjust recording, playback, and general settings
Lock the buttons while recording
Note that the top of the device is dominated by two large microphones. Now, these microphones are not generally used for recording sound. This is because this type of sound recorder is most often used with lavaliere mics.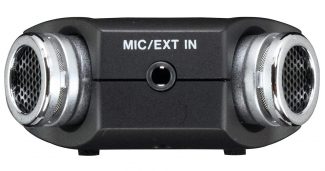 That said, these mics are good enough to be used on their own–in case you forgot to pack your external microphones!
Another great feature is the clipping warning. While recording, you can keep an eye on the Peak LED light. Every time it glows red, you're clipping the sound–which will be very shrill in the final recording.
Now, the Tascam DR-05 is capable of recording in both WAV and MP3 formats. You can choose between WAV 24-bit, WAV 16-bit, MP3 32K, MP3 64K, MP3 96K, MP3 128K, MP3 192K, MP3 256K, and MP3 320K.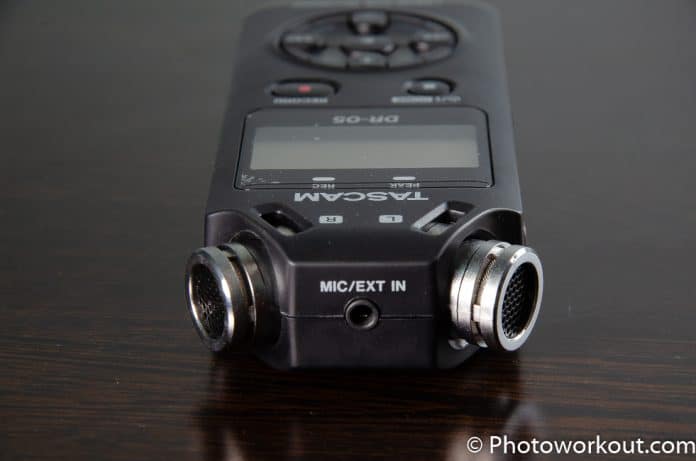 Related Article: Best Shotgun Microphones (6 Bestselling External Mics)
Usability: Smooth and Intuitive
The DR-05 works on two AA batteries, and the package I received came with a set of two batteries.
Pop in the batteries, then press and hold the Stop/Home button for three seconds. The device will wake up, and it will immediately be ready to record.
To start recording is simple:
Press the Record button to prep the recorder
Press the record button a second time to start the actual recording process
When recording is in progress, the LED light turns into a solid red. It stays that way until the Pause or Stop buttons are pressed.
Level Control: Useful Set of Options
Level control is an important aspect of sound recording.
Fortunately, the Tascam DR-05 comes with a range of level control functions: Off, Peak Reduction, Auto Level, and Limiter.
In the Off mode, the levels are not controlled automatically by the DR-05. You have to manually adjust the levels when recording. This may work for advanced users, but not for beginners. In this mode, you need to constantly keep an eye out for the Peak level indicator and make sure that the levels are always right.
In the Peak Reduction mode, the levels are controlled by the DR-05. When larger signals are detected, the levels are adjusted accordingly by the recorder. That said, in this mode, you can also manually adjust the levels. This mode is perfect when you are in an environment which is prone to a sudden increase in sound signals (e.g., highways, sports arenas).
The Auto-Level option is similar to Peak Reduction–except that low signal inputs are automatically boosted by the recorder. This maintains the signal at an appropriate level.
Additionally, in situations of high signal input, the levels are brought down automatically. Auto Level is recommended when you are recording a conversation, when the input signal levels are likely to vary.
The last option is Limiter. This mode is designed to prevent distortion from sudden high signals – but manual change of input signals are available even in this mode too.
Recording Quality: Very Impressive
I tested the Tascam DR-05 for more than a week, over a wide range of recording situations.
And I am happy to say that this recorder performs admirably.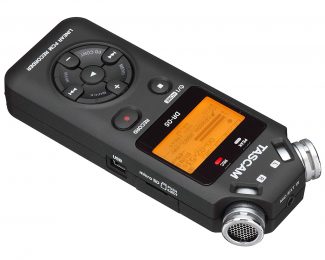 I mainly used the Tascam with the Rode Smartlav+ Omnidirectional lavalier microphone. But I also tested the recorder with a condenser microphone.
In both situations, the Tascam recorded wonderful audio!
Related Article: Best Cameras for Vlogging
Tascam DR-05 Review: Conclusion
The Tascam DR-05 is an excellent external recording device.
One that's perfect for videographers looking to upgrade their sound.
The Tascam DR-05 offers:
Numerous great features
Superb recording quality
Good build quality
Intuitive interface
If you want better sound for your recordings, the Tascam is an excellent option.
---
As an Amazon Associate, we earn from qualifying purchases. Certain content was provided "as is" from Amazon daily and is subject to change or removal at any time.