As a photographer, I am constantly looking for new opportunities. I also love to travel and seek out new locations to perfect my craft.
A location I continually return to, however, is my garden… well, currently my parents' garden as I live in an apartment. But the point is, your garden is a wonderful location to take photos. Therefore, I have compiled 13 garden photography tips for your benefit.
The Joy of Garden Photography
So what makes a garden such a special place to photograph? Firstly, it is your personal space – you have tended to this garden with love and care; therefore, the photos you create have a special meaning.

Secondly, gardens change with the seasons and can be filled with a variety of ornaments, plants, flowers, and tools. My parents old garden had a basketball net, vegetable patch, and various pot plants, for example. The creative opportunities in gardens are much greater than you would expect.

Thirdly, garden photography is convenient and stress-free. You do not have to travel or spend hours preparing. You can simply walk outside with your camera and take photos at your own leisure.

Whenever possible, I use my garden to improve my photography skills but also to relax and unwind. I hope you find these garden photography tips beneficial as I have done: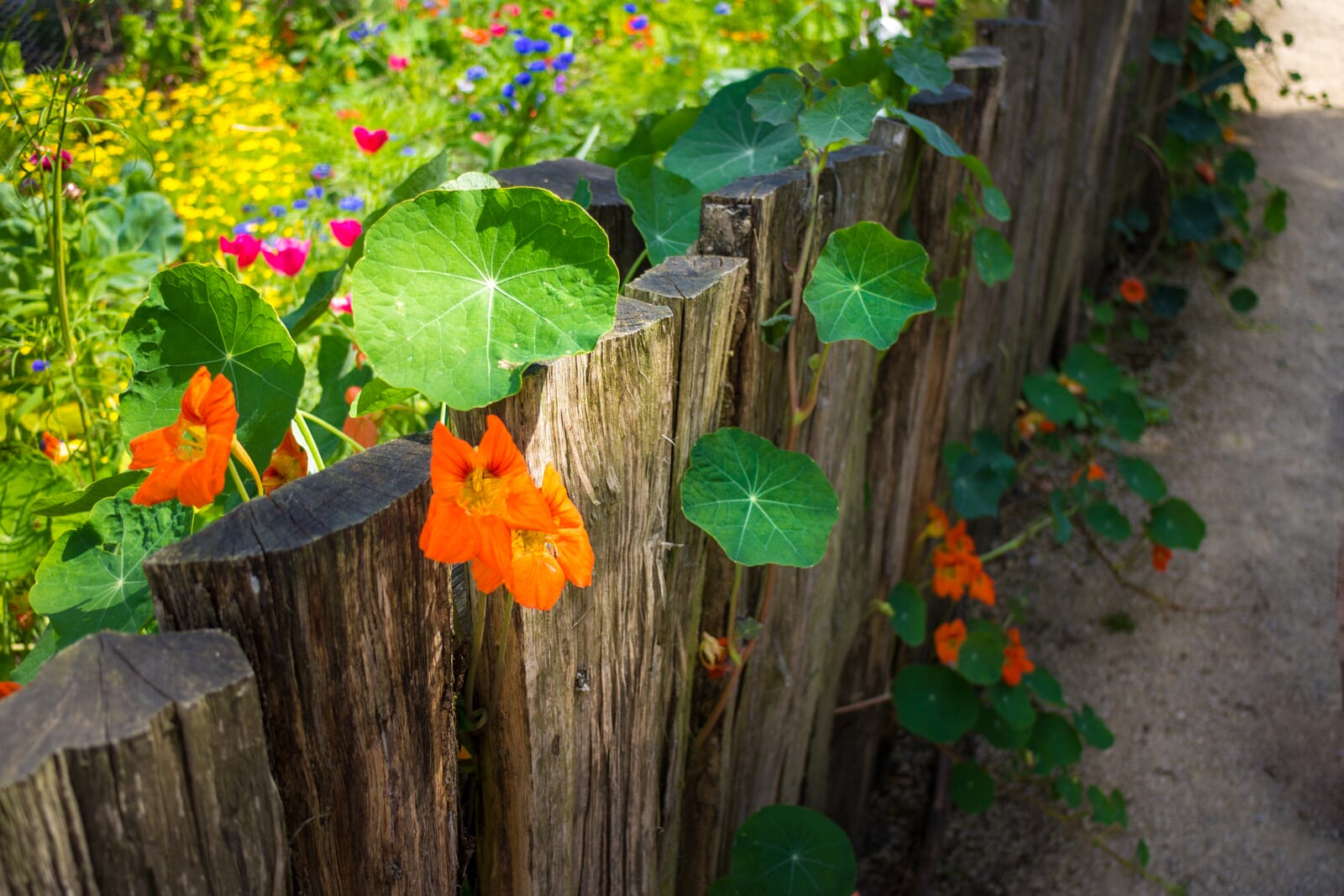 Garden Photography Equipment Tips
Choosing the right gear and accessories is important for garden photography. You can, of course, use a standard DSLR camera and mid-range kit lens. However, to produce absolutely stunning photos, we advise checking out our gear recommendations for garden photography:
1. A Tripod is Essential for Detail Shots
When looking at garden photography tips I must mention a tripod. A tripod is essential for clarity, sharpness, but also for garden macro photography.

Sometimes, carrying a tripod to new locations is difficult. However, with garden photography, you can set up your tripod with relative ease. Moreover, you can leave it set up if you wish for use on multiple photo sessions.

Tripods allow you to concentrate on the composition without worrying about keeping your camera stable. Furthermore, they are great for macro photography of flowers and insects.
2. A Lens with a Wide Aperture is Also Important
Unless shooting wide-angle establishing photos, a wide aperture is generally used for garden photography. Most of the photos I take have an aperture of f/5.6 or wider.

It is therefore ideal to have a camera lens with a wide aperture. How wide an aperture depends on your compositions – for example, if you want to create garden macro photography, you could benefit from a lens like the Nikon AF-S Micro-Nikkor 105 mm 1:2.8G VR which has a max aperture of f/2.8 – for more info check out our guide on the best Nikon macro lenses or our post about the best lenses for flower photography.
3. A Camera with Time-lapse Functionality Is Useful
I know this is a guide about garden photography tips but let us not forget video either. Your garden presents the perfect opportunity to experiment with time-lapse photography and video.

You can set up your camera on a tripod and create some amazing time-lapse content from the comfort of your own garden. It could, therefore, be beneficial to look at a DSLR camera that has built-in time-lapse functionality. We have a cool guide here on the best time-lapse cameras.
4. A Reflector Helps with Difficult Light Conditions
Reflectors are commonly used in studio settings, but they are also highly valuable for garden photography. You can use a reflector to diffuse harsh light from the sun. Furthermore, a reflector can be used to create interesting shadows on the objects within your garden.
What Types of Photo to Take in Your Garden?
Garden photography allows for unlimited creativity. Firstly, everyone's garden is different – this alone offers fantastic variety. Furthermore, as you can see from these compositional garden photography tips, you can produce a myriad of different shots:
5. Take Both Establishing and Detail Shots
There are two main types of garden photos you create – establishing and detail. It is important to consider both photo types to provide a detailed overview of your garden:

Establishing shots – this type of photo is usually a wide-angle shot that shows large parts or your garden. The aim is to show what it looks like as a single entity. Establishing shots convey the flow, composition, and general shape of your garden: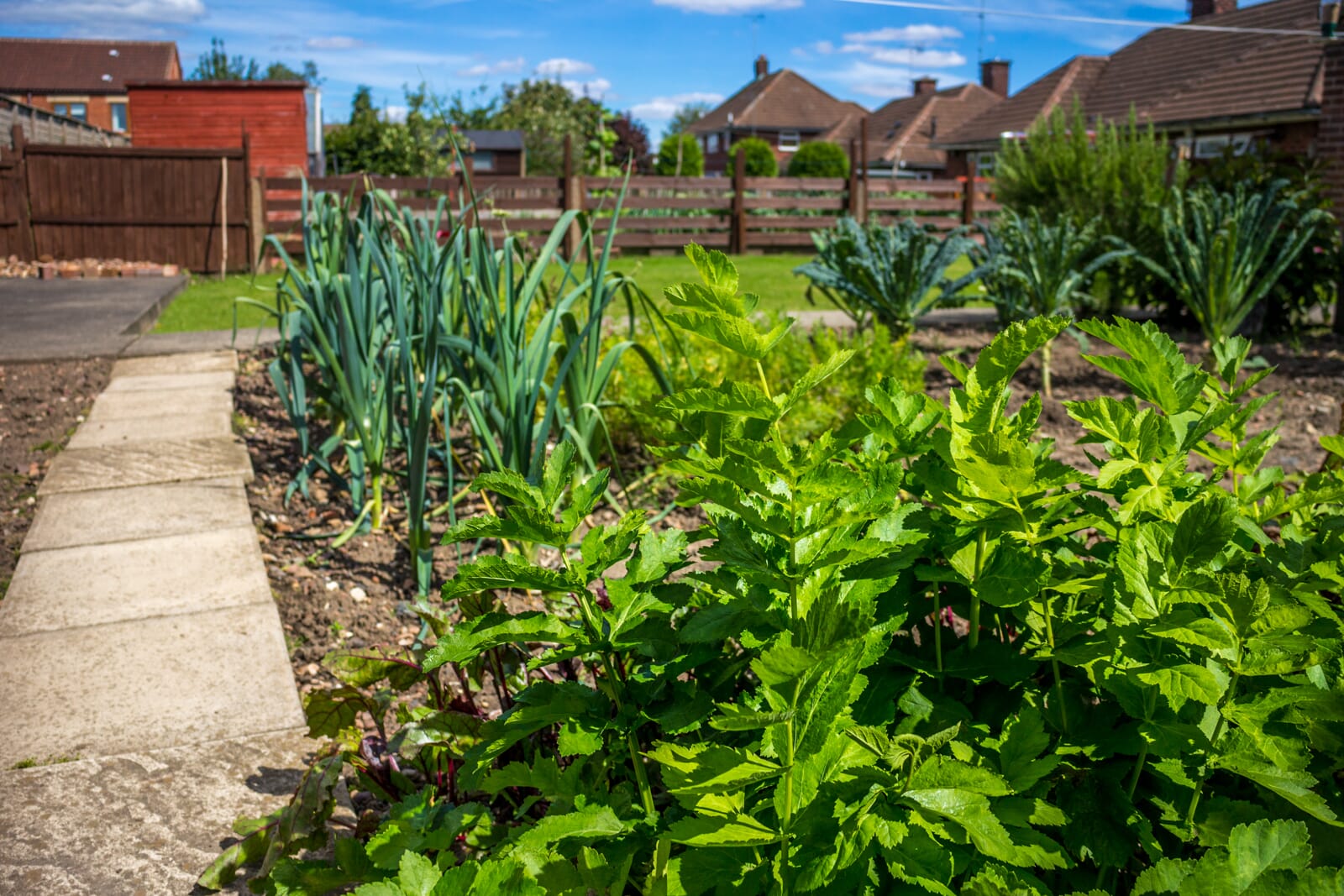 Detail shots – In contrast, detail shots allow the viewer to delve into specific areas of a garden. You have established the overall shape and size of your garden; now you must pick out interesting individual details to concentrate on: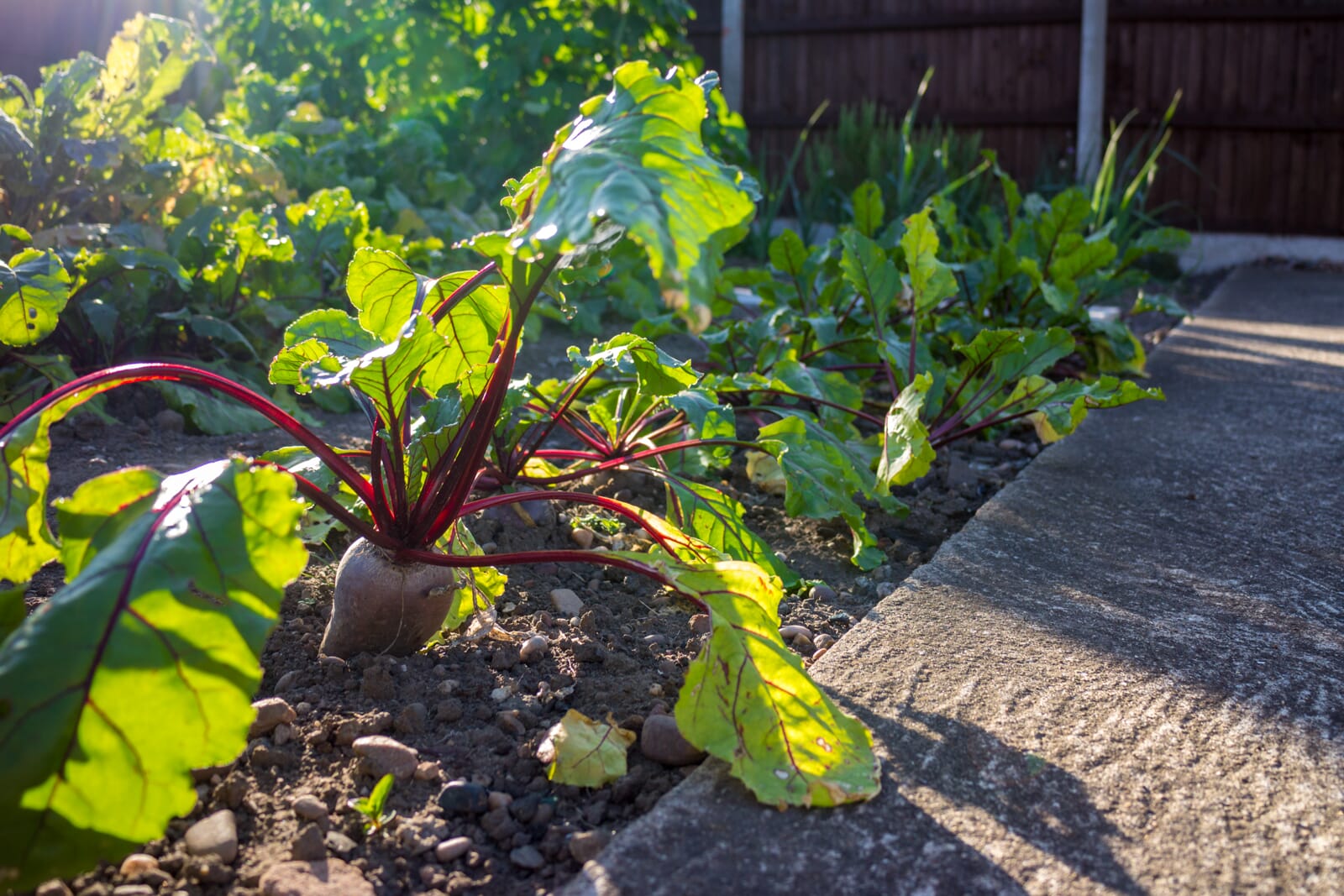 6. Use Both Landscape and Portrait Orientation
It is tempting to shoot only in landscape orientation for garden photography. Gardens obviously lend themselves to landscape shots.

I always try to shoot both landscape and portrait photos, however. As one of the best garden photography tips, shooting in both orientations provides greater flexibility and creative options.

Using portrait orientation, you can capture different levels of detail within your garden. For example, in this photo, we can see that I have captured several leveled features in the garden, and the gorgeous sky: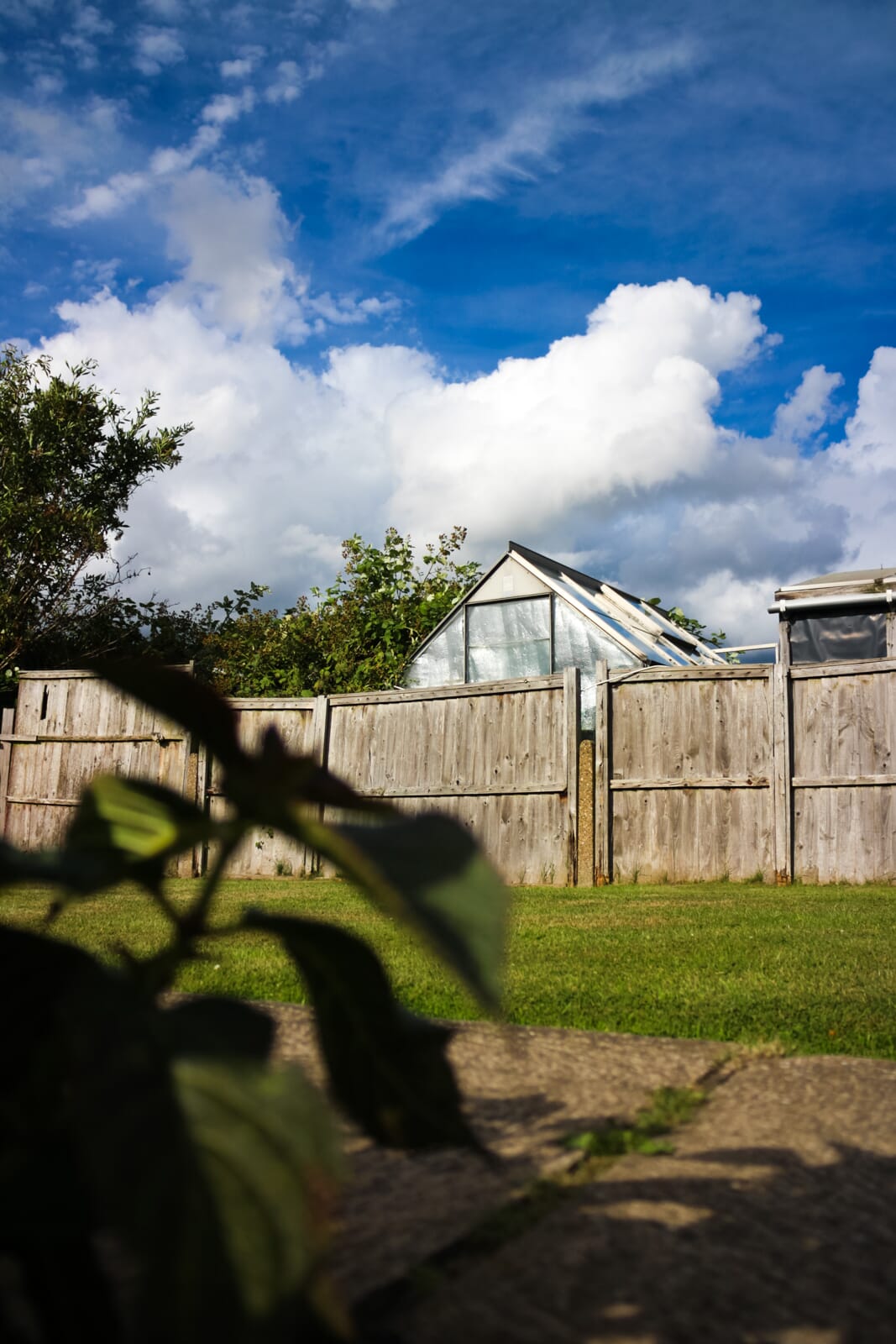 7. Experiment with Different Time Periods
I find taking sunset and sunrise photos difficult – you have to find a suitable location and visit at the appropriate time. Your garden, however, presents the perfect opportunity to experiment with different time periods – you can simply take your camera outside at the right time!

Experiment with garden photography throughout the day – sunrise, sunset, the golden hour, blue hour, night-time. Each period can provide a host of opportunities. Furthermore, the light and shadows can make your garden look different.

This photo was taken just before sunset – the colors of the sky were amazing, and the lighting cast on objects was interesting too: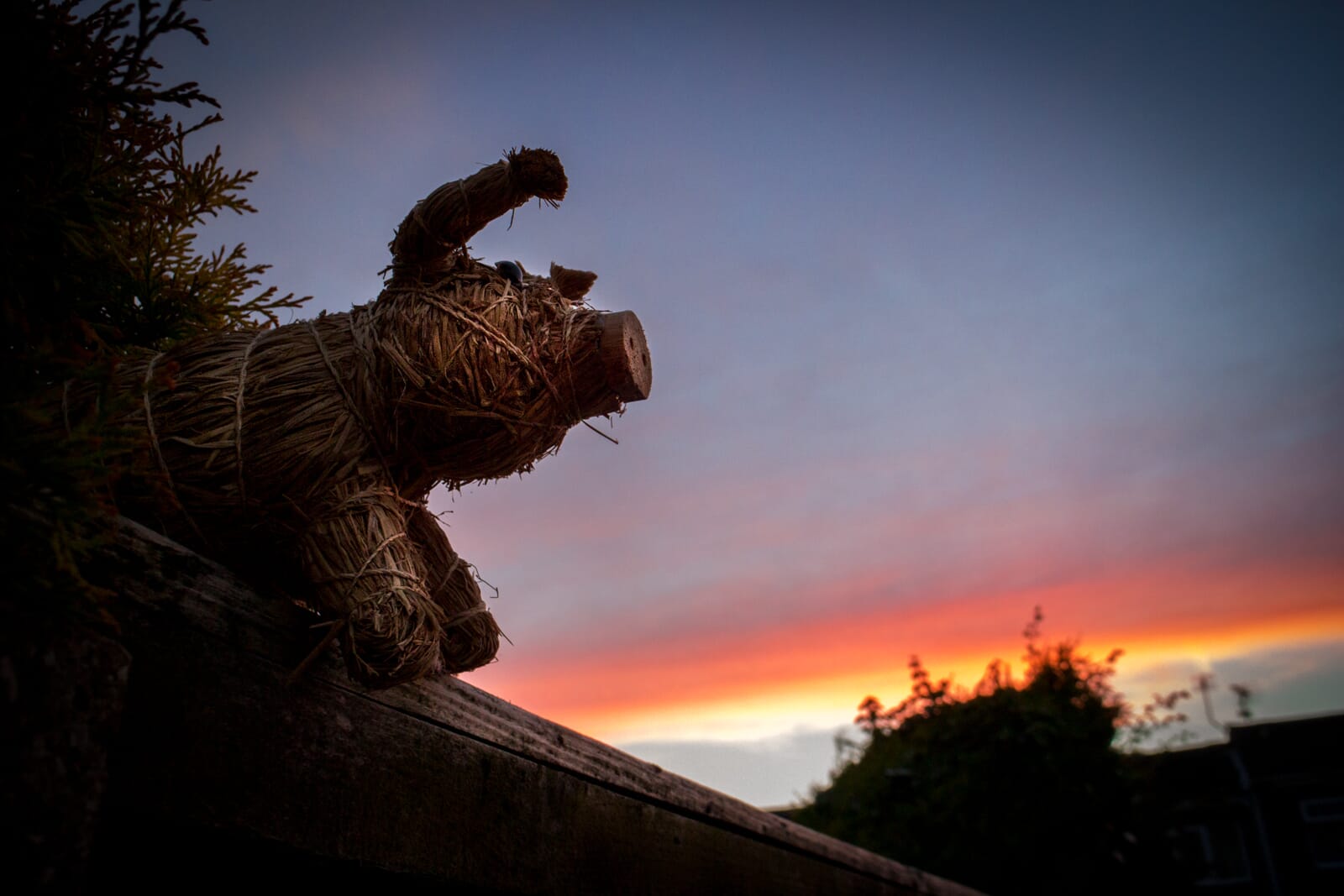 8. Take Photos During All Four Seasons
Your garden will look different during each season. In spring, flowers start to bloom, and your garden is bursting with life. Alternatively, in summer, the warm glow of the sun creates interesting light interactions.

In autumn, your garden changes color and the greens are replaced with oranges, browns, and reds. Finally, in winter, your garden may look bare or even have a gorgeous covering of snow.

Take advantage of these different seasons to photograph your garden as it changes.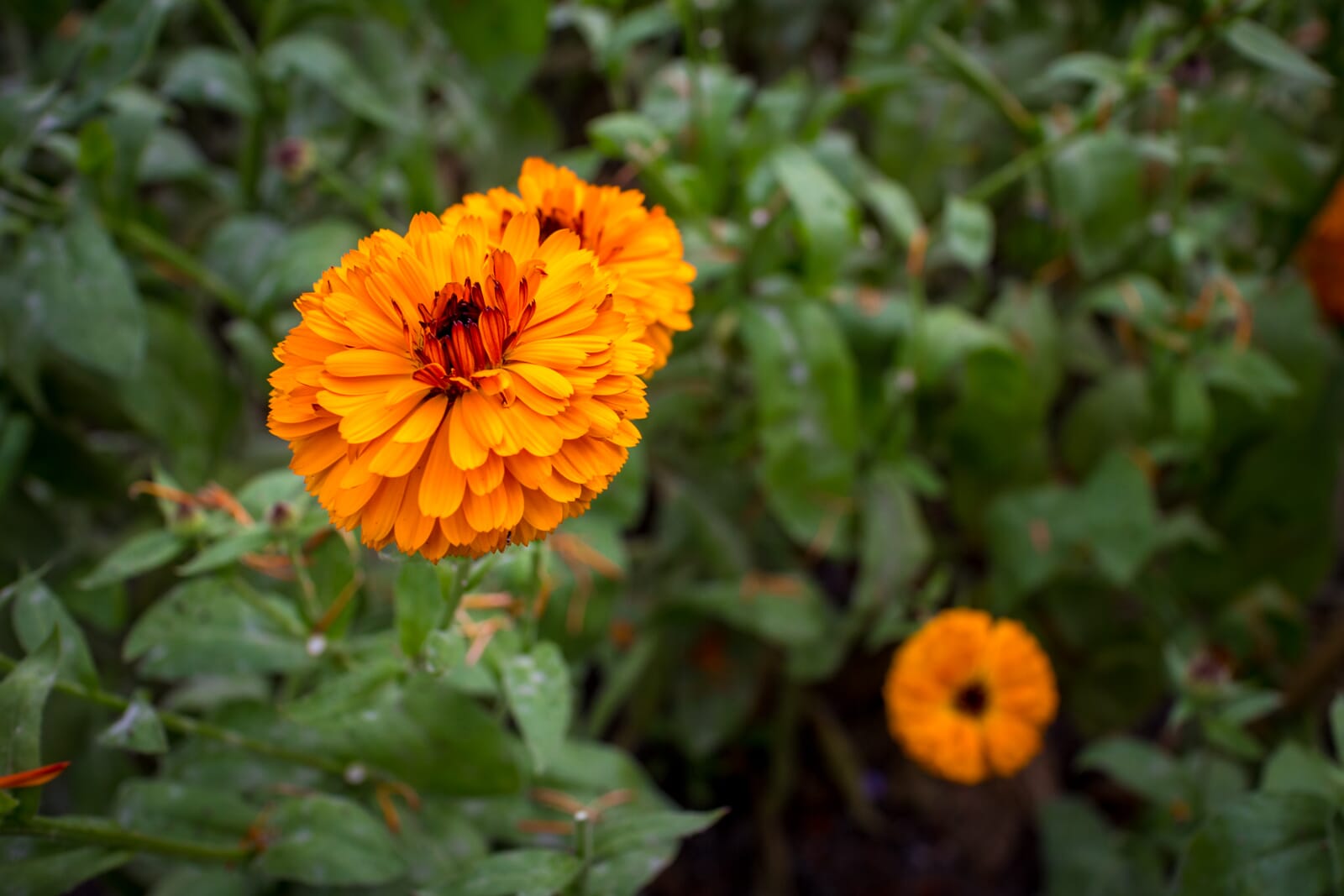 General Gardening Photography Tips
We have looked at the recommended gear and specific compositional tips. Let us finish with some general gardening photography tips. These are basic tips you can utilize and put into practice with ease:
9. Use a Wide Aperture for Detail Shots
Details shots or macro photography requires special attention to your camera settings. One of the top garden photography tips I can give is to play with aperture settings when shooting closeups.

For detail shots, you want the background to be out of focus – ideally, you want to create a gorgeous bokeh effect. To achieve this, you must use a wide aperture – ideally f/2.8 or wider. This provides a narrow depth of field and ensures that only your subject is in focus.

The below photo was taken at f/5.6 – if I had cropped the subject closer, I would have used a wider aperture, but f/5.6 at this distance creates the same effect – always test different aperture settings to see which works best: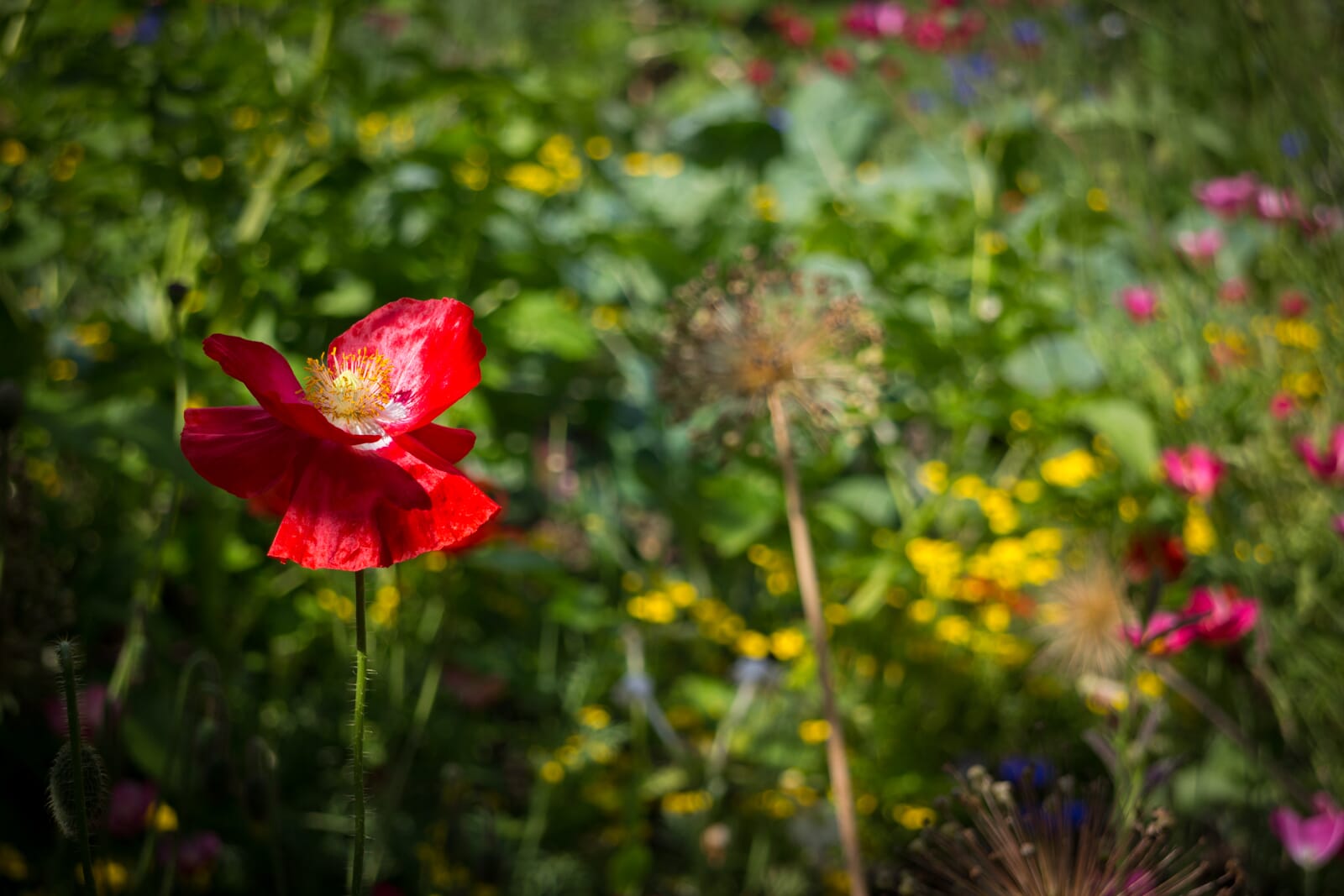 10. Incorporate Everyday Objects into Your Compositions
Some people make the mistake of only photographing natural objects in their garden – flowers, trees, insects, etc. Do not do this! There is so much more you can create interesting photos from aside from gorgeous flowers.

When creating garden photography, I photograph anything and everything. I have taken photos of old lawnmowers, greenhouses, basketballs and more. Manmade objects are just as interesting and can produce some unusual, but effective garden photos.

In the example below, I simply took a photo of an old pair of sneakers on a patio – the textures and patterns of the trainers create a pleasing effect: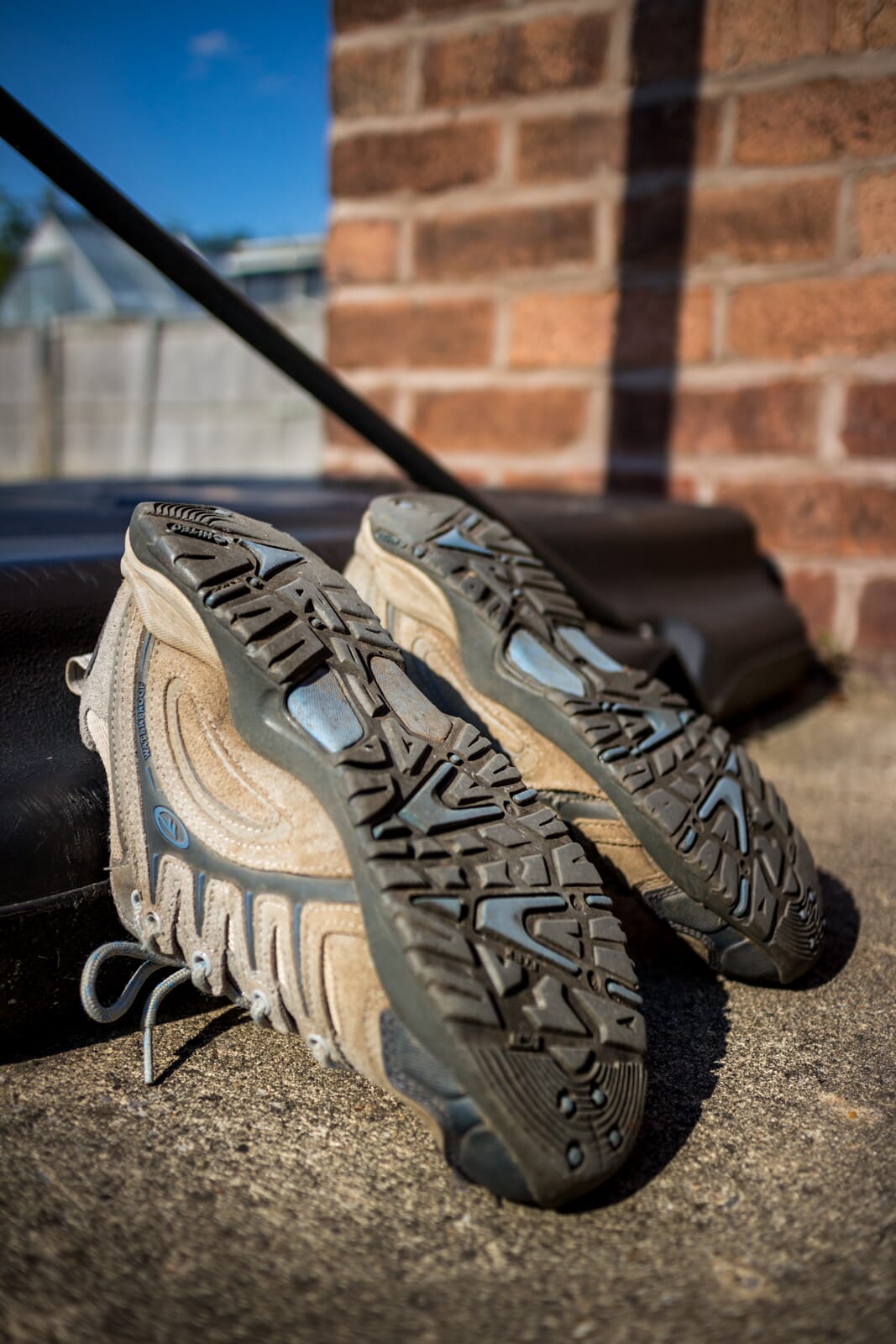 11. Use a Fast Shutter Speed to Capture Wildlife
If you are lucky, your garden may be frequented by wildlife. This varies with the seasons. My parents, for example, have multiple bird feeders in their garden which attracts various bird species. Gardens with trees can attract squirrels, and flowers obviously attract bees and other insects.

One of the best wildlife garden photography tips I can give is to use shutter priority mode and fast shutter speed. Fast shutter speed allows you to capture the animal or insect in fine detail without motion blur. A tripod can help improve stability to ensure that your garden wildlife shots are crystal clear.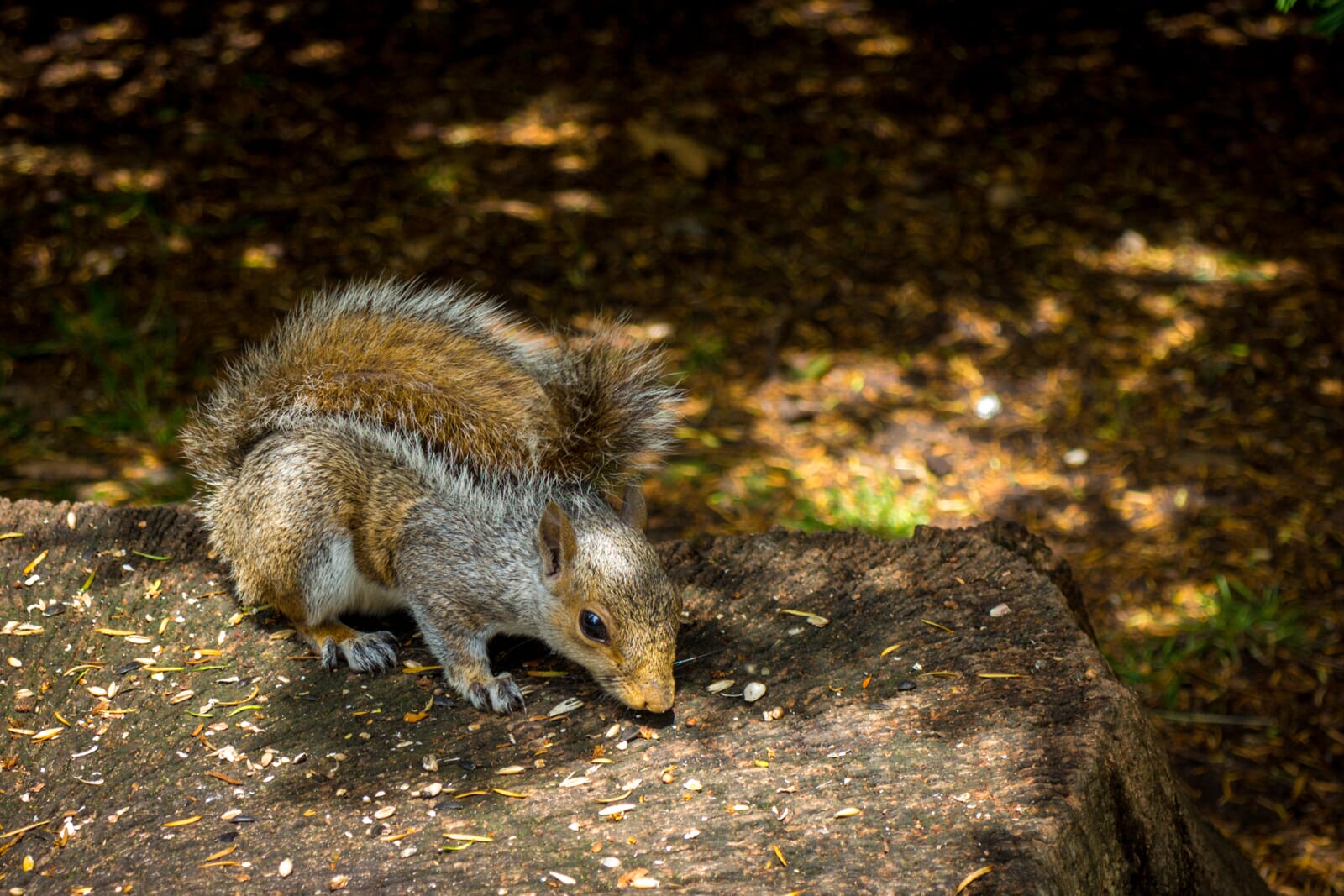 12. Use Color to Create Bold Photos
Even in plain gardens, there is still an abundance of color. Green grass, colored stones, textured fence panels – everywhere you look in a garden you can find different colors. Use this explosion of varying color to your advantage.

Some of the best garden photos I have created use color to great effect. In this example below, we have several bold colors. Firstly, there are the oranges of the basketball. Secondly, there are the contrasting greens of the grass. Finally, there are the shades of yellow and brown in the background fence: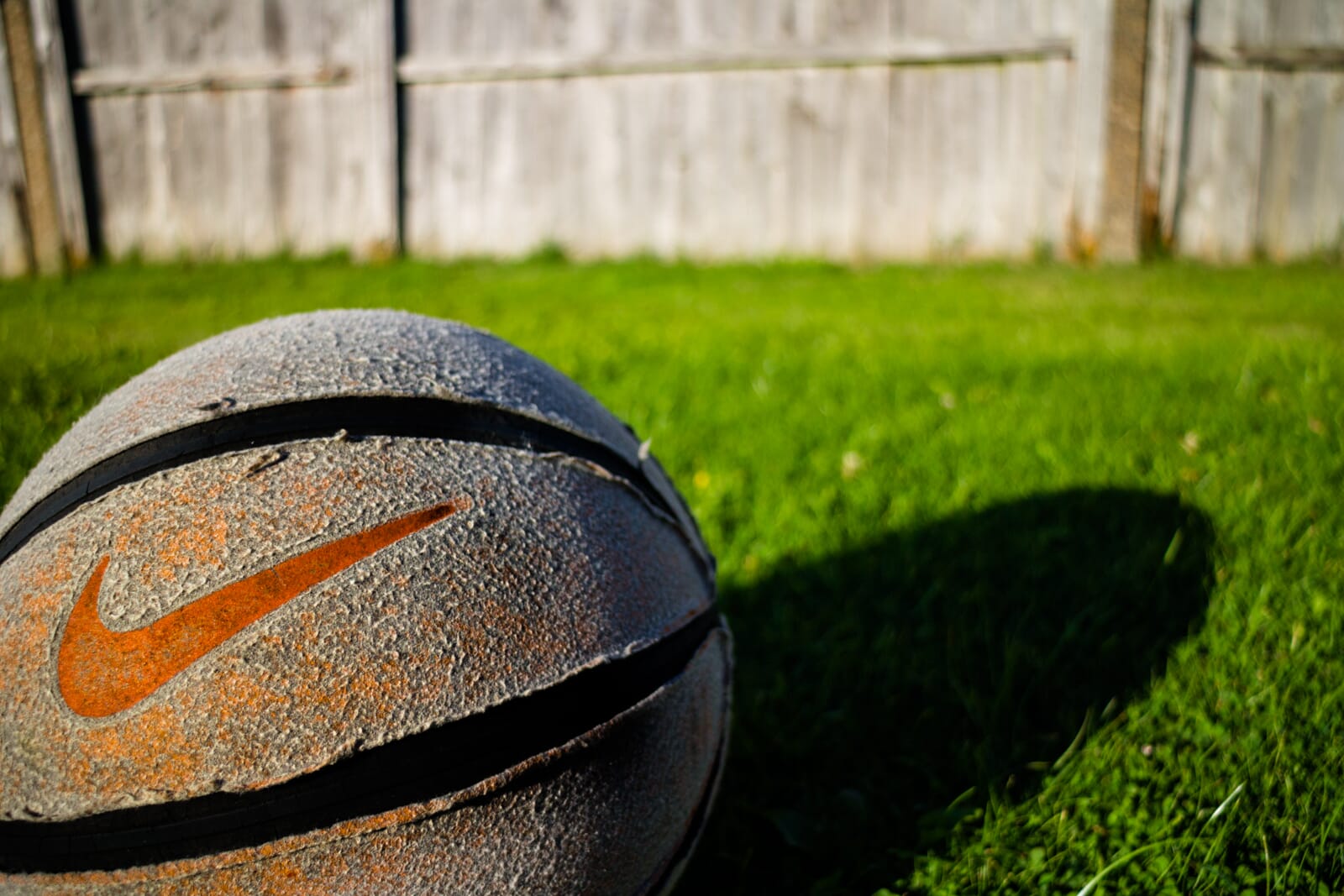 13. For Detail Shots, Ensure the Background Is Unobstructed
When creating detail or macro shots, the main focus is on one subject. Therefore, the attention must be fully on that subject. A great way to ensure this is to consider the background of your photo composition.

Ideally, the background should be unobstructed and largely plain. Try and avoid brightly colored objects that could draw attention away from the main subject. Furthermore, using a larger aperture ensures any background objects that are present are out of focus.

In this example below, we can see that I did not achieve this perfectly – the background objects are out of focus, but there are still other details – the flower is clearly still the central subject, however: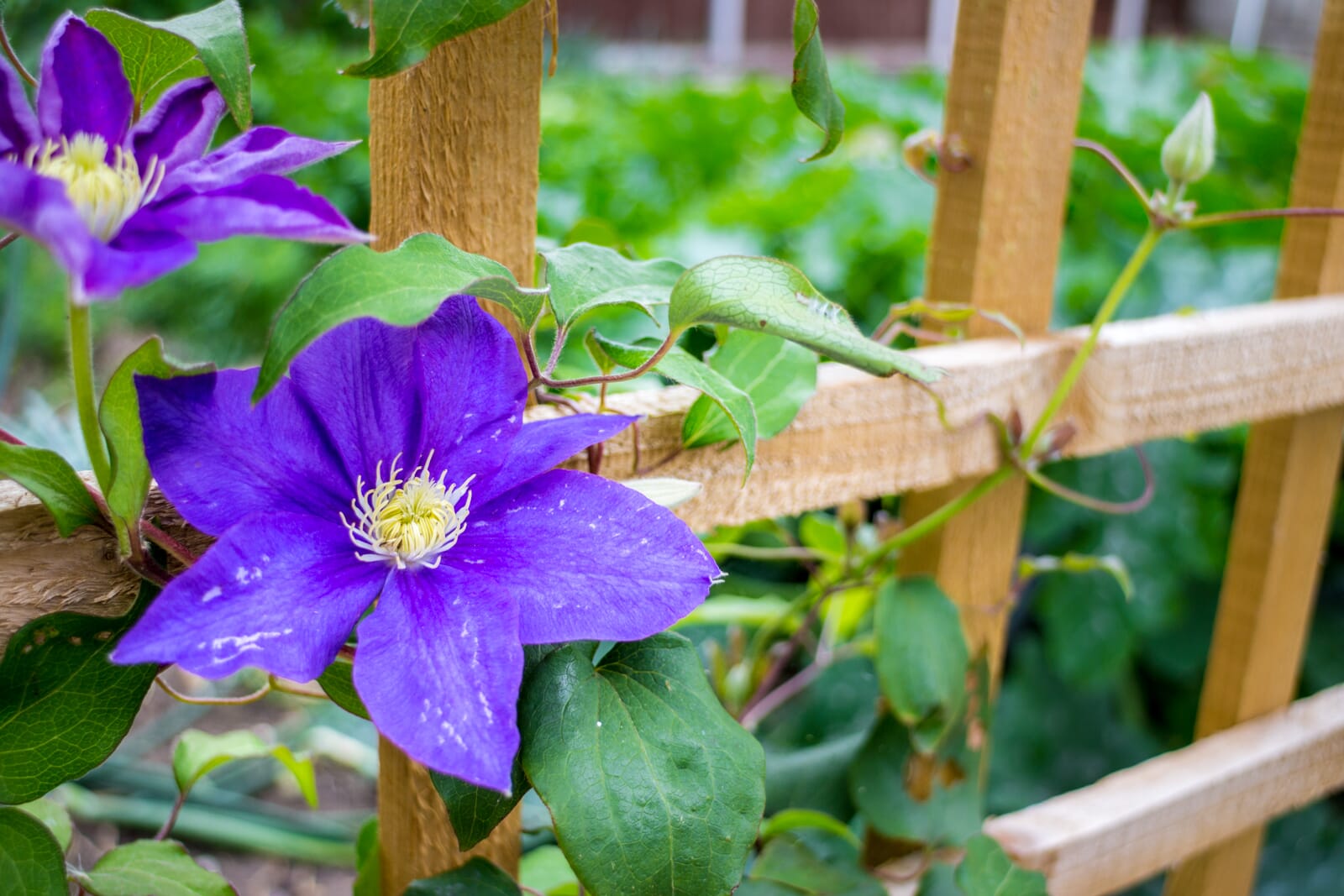 Don't Neglect Your Garden – It's a Photographer's Dream
When it is not possible to travel far and wide for new photographic opportunities, remember that you have a world of creativity waiting in your garden.

Some of the best photos I have produced have been in gardens – you can work in relative comfort undisturbed. Furthermore, as the seasons change, so does your garden. Each day presents a new set of opportunities.

Put these garden photography tips into practice and see what natural masterpieces you can create!