Are you looking for a Lightroom Alternative?
I know, I know…
Adobe Lightroom has long been hailed as the pinnacle of advanced photo editing. I'm not denying it's an amazing product. But, Lightroom isn't the only editing program!
In fact, there's a whole wonderful range of Lightroom alternatives. And they offer just as much editing capabilities and functionality.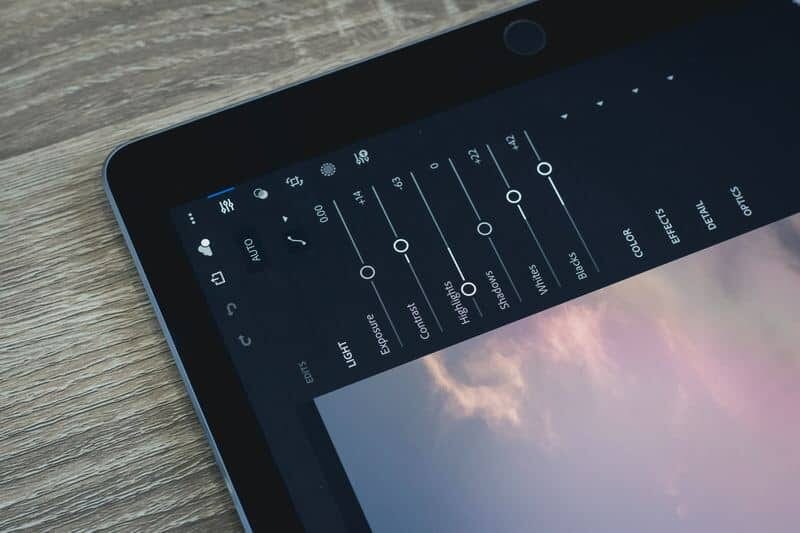 Lightroom alternatives are just as good!
Sure, you may already be familiar with Lightroom. But, There's also no harm trying out the Lightroom alternatives. In fact, you might find you prefer the layout and tools of another program.
And get this…
You might even be able to save some money by switching to a Lightroom alternative.
Whatever the reason, there's likely a Lightroom alternative to suit you!
Consider Your Needs Before Settling on a Lightroom Alternative
When choosing an editing program, look at your own needs. For starters, here are a few questions you can ask yourself to make the decision easier.
What you will use it for?
Is it simply for personal use as a hobby or for a photography business?
Do you require RAW editing? Or, do you take your photos as JPEGS?
And don't forget to consider your computer specifications. Some require greater processing power and internal memory. Double-check to make sure your computer is up to the task before you make a purchase.
Some of these programs are free, and some have a price tag. But, each offers similar functionality and features to Lightroom.
Okay, let's dig in… Drumroll, please! 🥁… Here are the best Lightroom alternatives in 2023:
Luminar – Easy to Use
ON1 Photo RAW – Also Great
Capture One – For Pros
When you buy through links on our site, we may earn a commission at no cost to you. We evaluate products independently. Commissions do not affect our evaluations.
1. Luminar – Easy to Use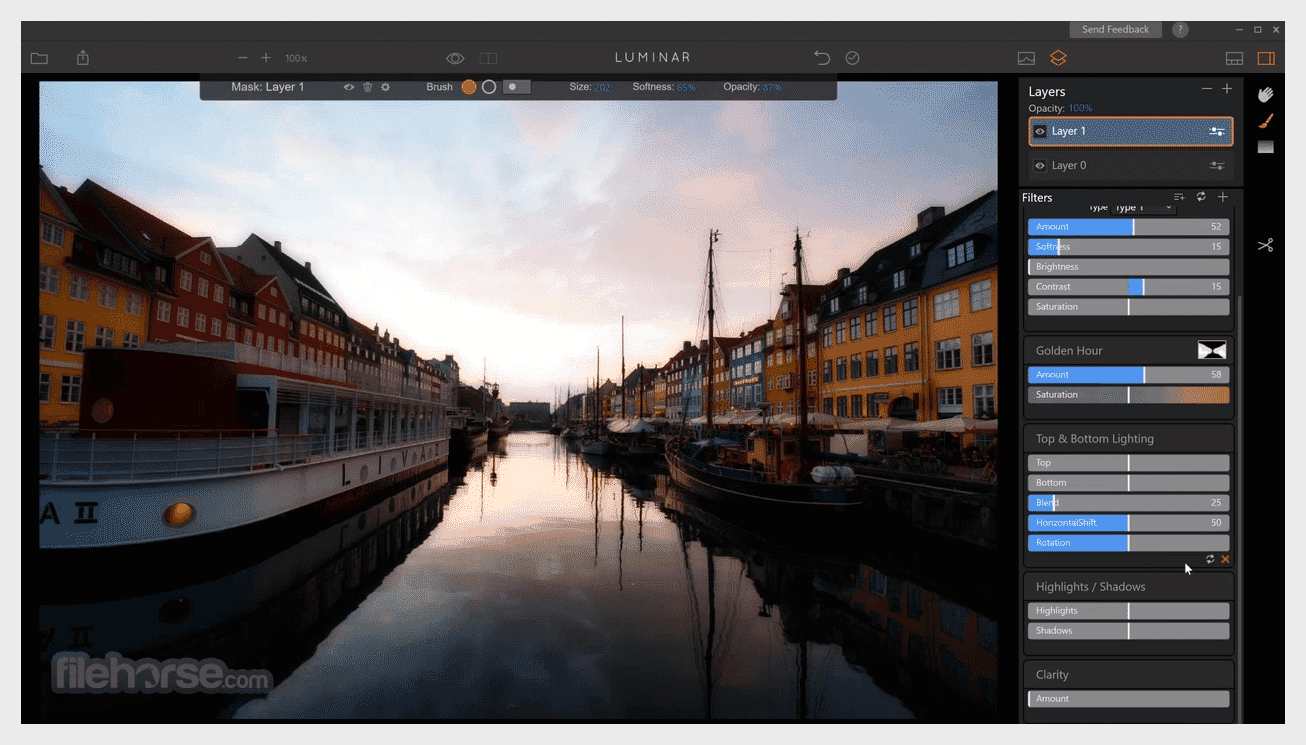 Cost – $64.00
Platforms – Windows / MAC
Notable Feature – AI-powered editing
Skylum has created a masterpiece with its Luminar software. This is one of the most advanced editing programs available and a serious Lightroom alternative.
What makes it so good?
It utilizes AI technology to a greater degree than most other programs. This provides intuitive editing to automatically enhance aspects such as sky and highlights. You can also choose from a myriad of presets to turn your photos into artistic masterpieces.
The basic editing functions are also highly advanced. You can work in four different workspaces depending on your requirements.
Aspects such as HSL, contrast, and clarity can be changed using sliders. The level of control you get from this is impressive.
Luminar really is a great Lightroom alternative!
Note: In case you want to buy Luminar, use our coupon code "PHOTOWORKOUT" at checkout for $10 off.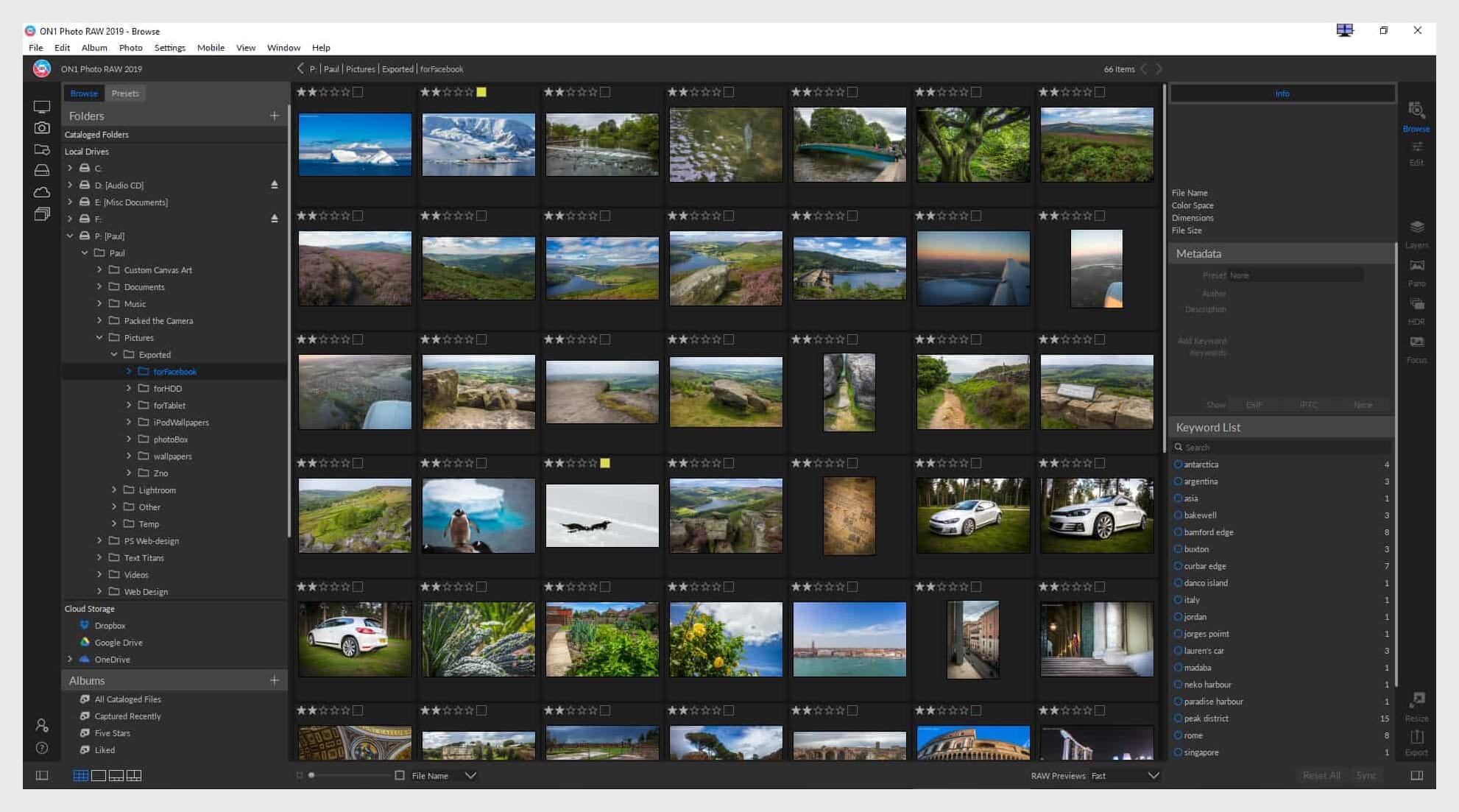 Cost – $79.99 for upgrade, $99.99 for full version
Platforms – Windows / MAC
Notable Feature – Improved local adjustment controls
ON1 Photo RAW is the latest edition of this popular editing software. As far as Lightroom alternatives go, this is one of the most popular and complete.
In terms of price, ON1 Photo RAW will cost $99.99 – not the cheapest, but not the most expensive either. If you consider this, it equates to just $8.33 per month if you spread the cost over a year.
This software has so much to offer. Such as local adjustments, panorama stitching, and advanced portrait tools. You can even migrate photos directly from Lightroom.
Related Post: ON1 Photo RAW Review
The best feature though…
RAW processing. Seriously. ON1's RAW processing is nothing short of amazing.
That catch?
You need a powerful computer, but at the high end, everything runs like a dream.
There are also a few useful features taken from graphics software such as Photoshop. For example, you can use layers and insert text into your photos. Super useful if you're into those sorts of tools, which many are.
3. Capture One – for Advanced Users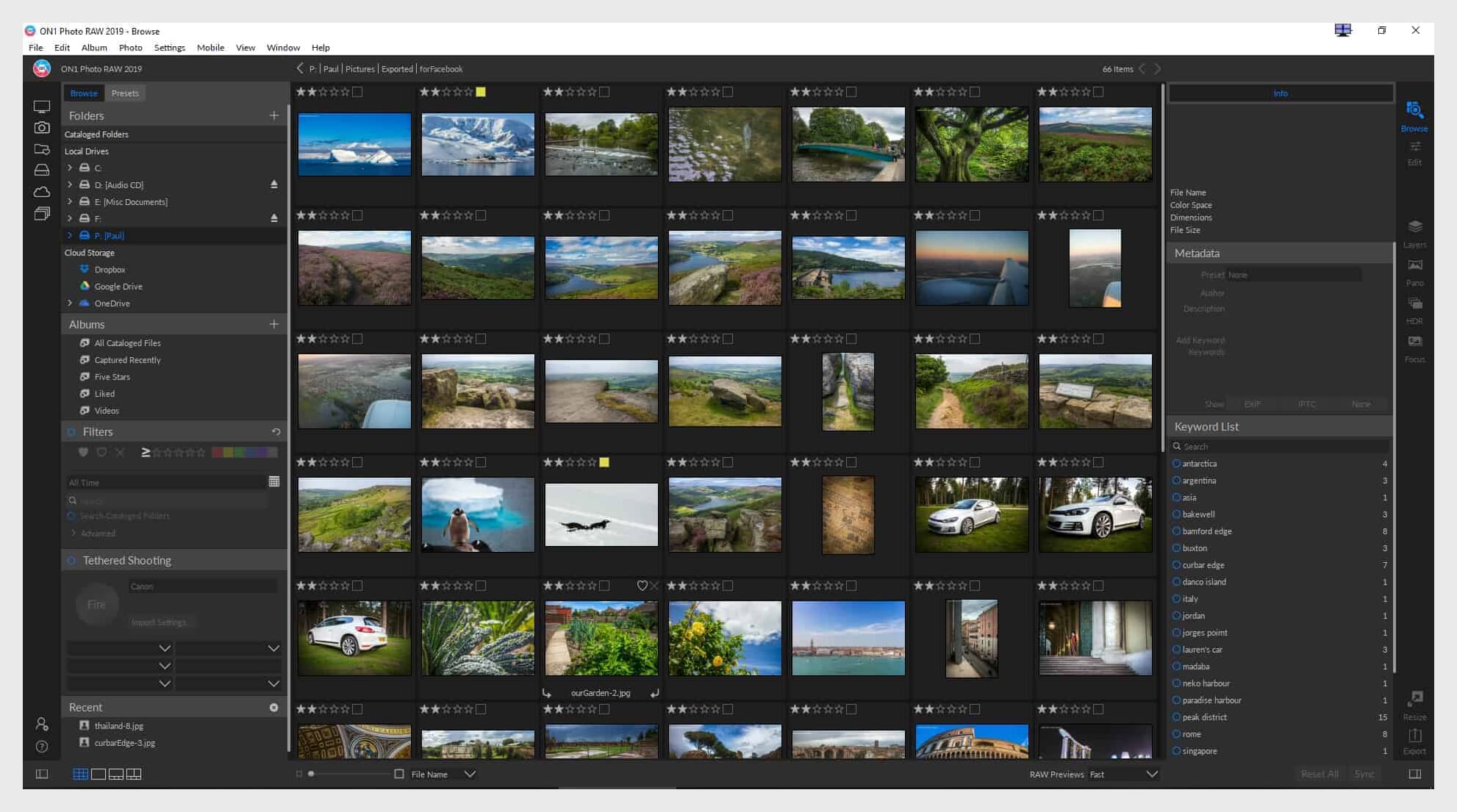 Cost – $299 one-off, or $20 per month subscription
Platforms – Windows / MAC
Notable Feature – Support for 500+ camera models and lenses
Capture One is the flagship product of Phase X. It's a renowned Lightroom alternative.
Is it powerful? Yes.
But it also comes with a price tag…
If you want to use Capture One, you have to pay a one-off license fee of $299, or $20 a month. There's a free trial version available but it only lasts for 30 days.
Is this a viable Lightroom Alternative for hobbyists? I'll be real with you… Capture One is probably not a suitable choice for hobbyists.
This program has advanced asset management features and image manipulation. Asset management is important if you're working with large volumes of photos.
Using Capture One you can easily organize and catalog your work. It's possible to create user collections and rate your photos too.
In terms of image editing, Capture One has advanced capabilities. You can use a range of lens profiles to make automatic corrections. And you're given complete control over color tones, grading, and tone maps.
This is certainly a Lightroom alternative best suited for professionals and serious amateurs!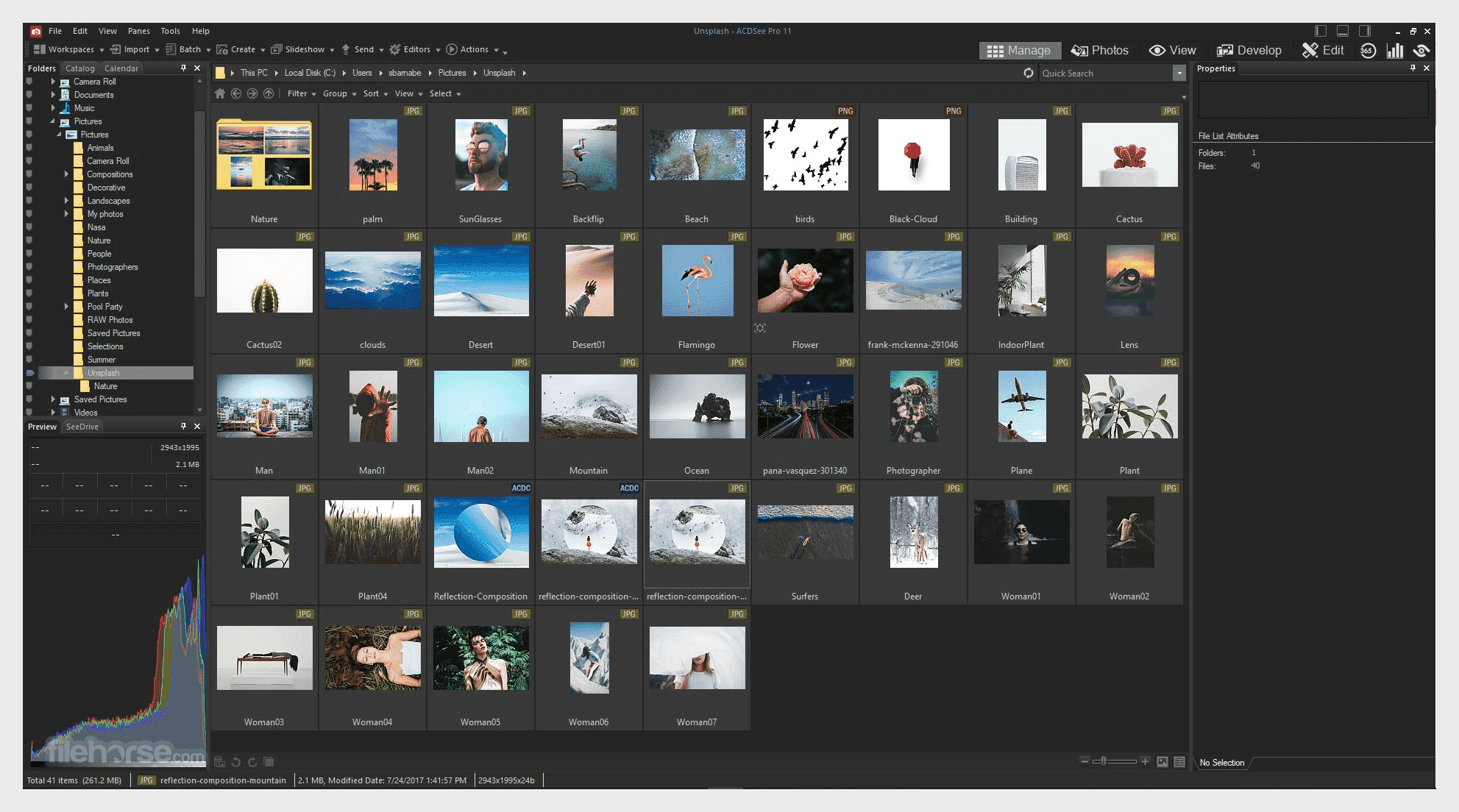 Cost – $99.99 one-off cost
Platforms – Windows / Mac
Notable Feature – Ability to import color lookup tables
ACDSEE Photo Studio is an excellent suite of programs. There are three different levels:
Even the standard version is a viable Lightroom alternative. This program has all the basic editing functions. That includes cropping, resizing, and rotating. You can edit the composition of your image as you see fit.
Moreover, you can add a myriad of effects to your photos such as watermarks and borders.
Related Post: ACDSee Review
Working with a large volume of photos?
ACDSEE easily handles it. I like the organizational tools and the fact you can add ratings and keywords to your pics. You can even add location data.
Are you into black and white photography?
This latest version of Photo Studio handles that nicely as well. You can use the tool to convert photos to black and white with ease.
Finally, this program also gives you great control over colors. One cool feature is how you can brush individual areas of a photo to change the color gradient and tone. I used this feature a lot more than I thought I would.
Try ACDSEE Photo Studio for Free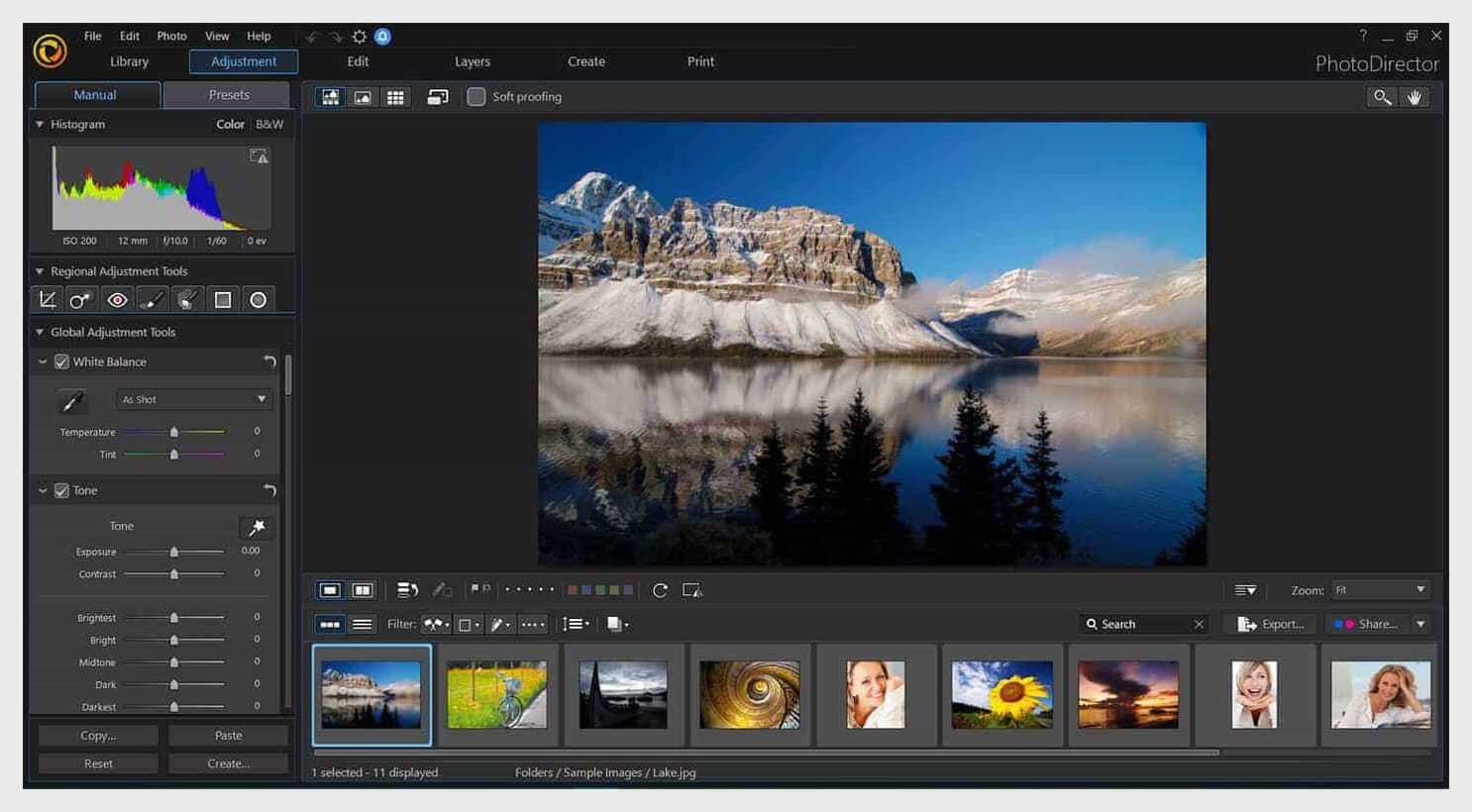 Cost – $69.99
Platforms – Windows
Notable Feature – One-click photo presets
If you want to edit your photos to meet very specific styles, PhotoDirector 365 is a great choice. This Lightroom alternative specializes in one-click edits.
Related Post: PhotoDirector Review
You can choose from a myriad of presets and filters to turn your pics into works of art. There are many different styles to choose from such as split tone, HDR, and black and white.
By the way, if it's HDR software you're looking for, read our comparison of the best HDR software before making your choice. We've outlined some great options there.
Furthermore, this advanced program has one-click solutions for lens correction and distortion. You can improve the basic quality of your photos and remove any distortion in a matter of seconds.
PhotoDirector 12 also lets you edit 360-degree photos.
But this is where it gets really good…
This program has content-aware editing. You can brush over objects to create a smart mask so you can move and copy the object as you wish. That's a great feature to have!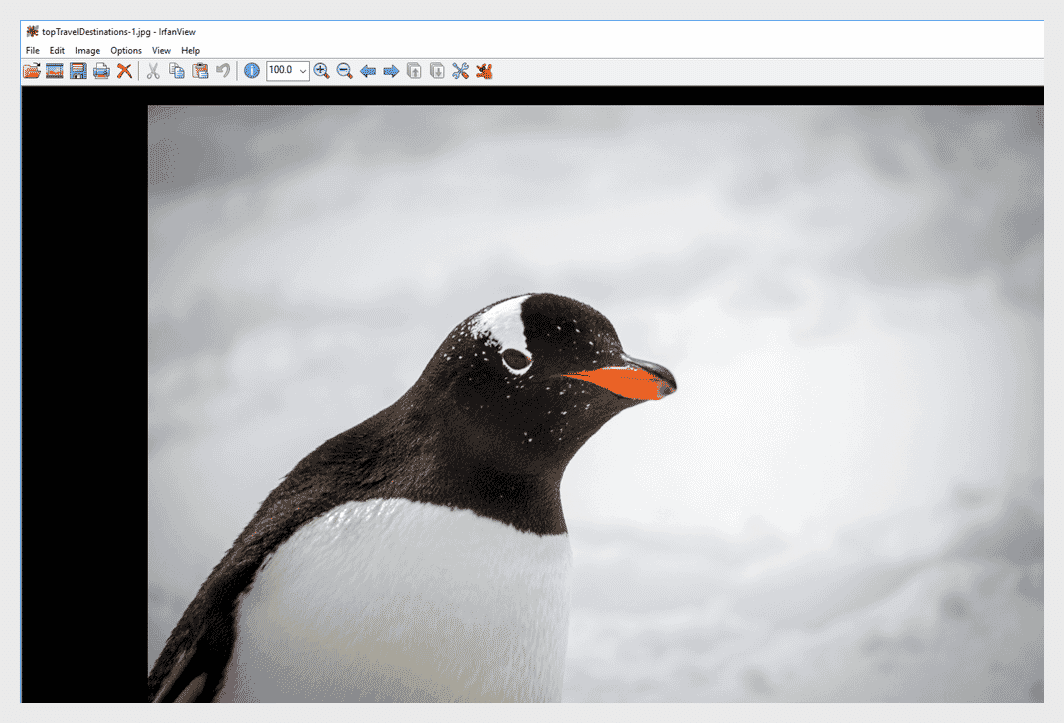 Cost – Free
Platforms – Windows
Notable Feature – Support for both 32 and 64 bit
Lightroom has advanced photo management features. It's one of the aspects that attracts so many professionals to it. If you have an editing program already, but lack photo management, IrfanView could be a fit for you.
There's a catch though…
InfranViewer may not be a stand-alone Lightroom Killer
Here's why:
This is essentially a dedicated photo management program, not so much an editing program. Don't let the looks fool you though! Although this program looks extremely basic, it has advanced photo management capabilities.
Related Post: The Best Software to Organize Your Photos on a Windows PC
This program easily allows you to manage your photos. The search function lets you locate your photos by practically any parameter.
Plus, you can convert and export multiple photos at once using the batch processing tools. It also has some basic editing functions such as resizing and cropping your photos.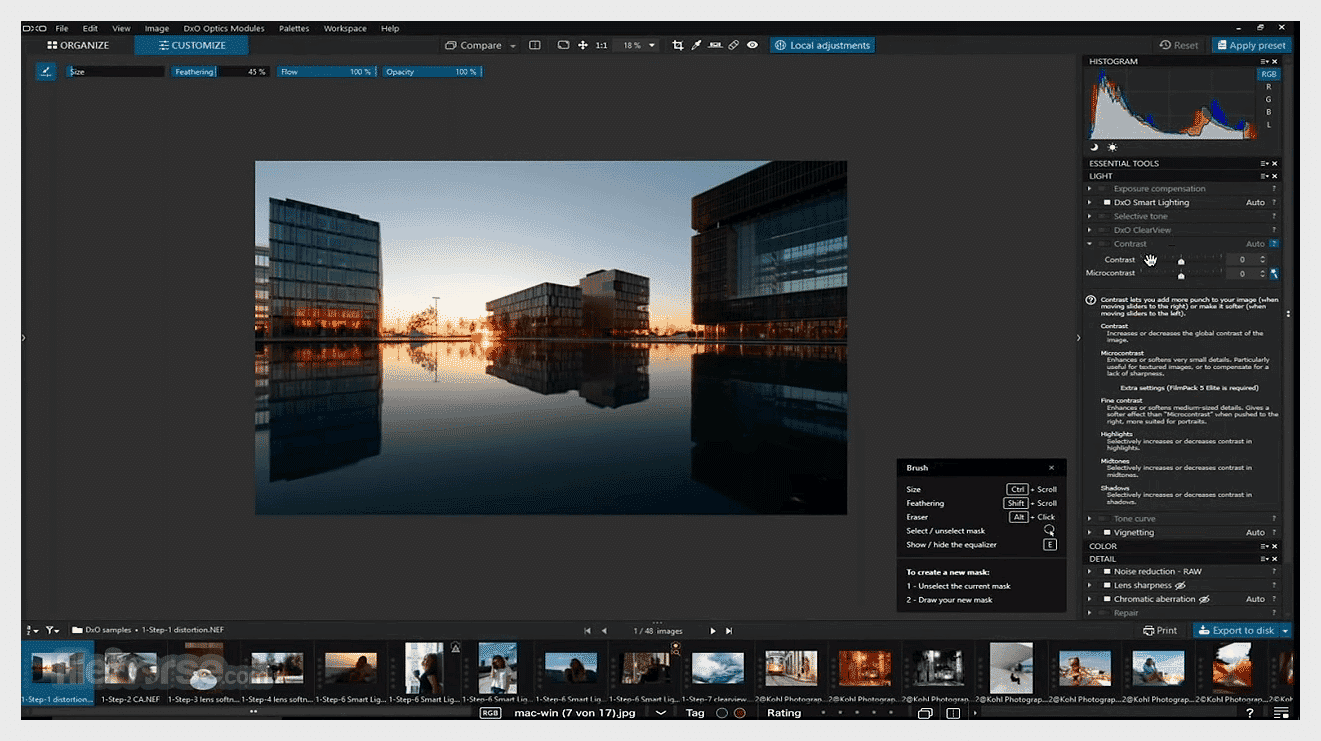 Cost – $99.00 for essential edition / $159.00 for elite edition
Platforms – Windows / MAC
Notable Feature – Advanced graduated filters
DxO PhotoLab is one of the top Lightroom alternatives. This program has a similar price tag to ON1 Photo RAW and users simply have to pay a one-off cost.
Plain and simple: this software rocks.
The denoise tool reduces background noise without destroying the quality of the photo.
The ClearView tool automatically removes haze and smog from landscape photos. Ever want to turn a misty photo into something sharp and moving?
And, of course, the software boasts all the standard correctional tools. For example, lens distortion, chromatic aberration, and vignetting.
How do its organizational tools stand up?
Not only does DxO provide image editing, but you can also easily catalog your pics. It has an advanced rating system and you can also use searchable keywords. The automation, organization, and retouching tools make it a serious Lightroom alternative.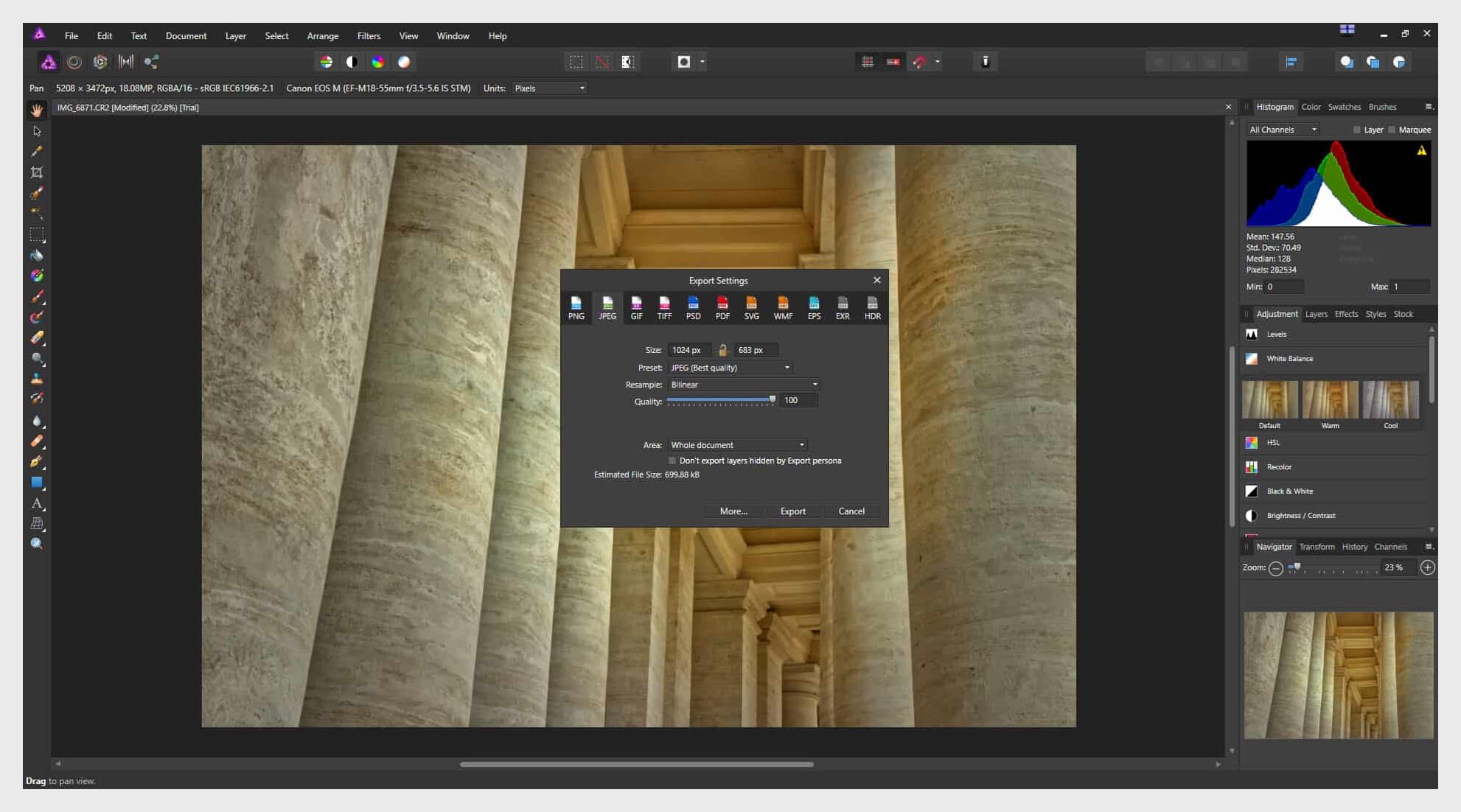 Cost – $48.99 for Affinity Photo for desktop computers
Platforms – Windows / MAC / iPad
Notable Feature – HDR merging capabilities
Okay, right off the bat, here's something to love…
Affinity Photo is one of the least expensive photo editing programs out there. This Lightroom alternative costs $48.99 which isn't much at all in the grand scheme of things. Yes, it's not free, but for what you get, the price tag is more than warranted.
So, what useful features and tools will you get?
For starters, RAW editing, HDR merging, panorama stitching, and batch processing. More advanced users will also appreciate the focus stacking and 360-degree image editing.
You can even edit native PSD files (Photoshop's native file format). Some other editing parameters include:
brightness
contrast
vibrancy
exposure
curves
color balance
sharpness
Affinity Photo also has some cool retouching tools. If you want to retouch your work and remove imperfections, the clone and healing brush has your back. At this pricing, Affinity is a great Lightroom alternative for hobbyists or professionals.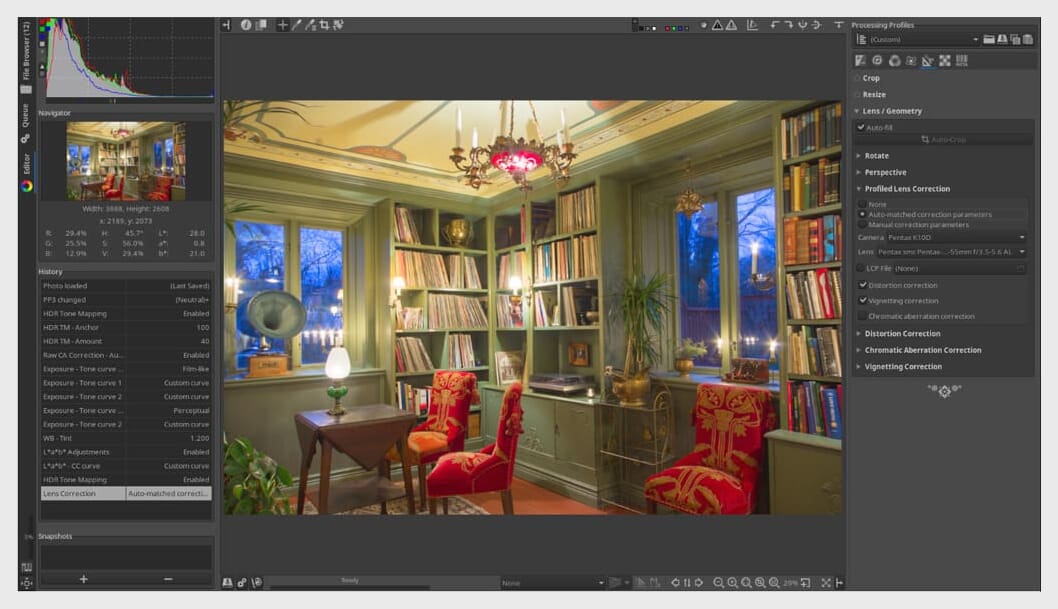 Cost – Free
Platforms – Windows / MAC / Linux
Notable Feature – Compatible with other editing programs
RawTherapee was first released in 2013 and is a completely open-source and free-to-use editing program. This software provides the user with totally non-destructive editing to a high degree of control.
Using RawTherapee you can edit RAW photos and alter many properties such as exposure, luminance, and sharpness. These three features, in particular, are advanced and can greatly improve the basic quality of your photos.
The denoise and luminance features, for example, use advanced algorithms to remove annoying background noise without compromising quality.
What makes this program a great Lightroom alternative is its processing power. It uses multi-threaded algorithms to utilize the capabilities of modern processors.
Moreover, you can use powerful batch processing tools. These tools allow you to edit whole folders full of photos in just a few clicks. Finally, RawTherapee supports a brilliant range of DSLR cameras and lenses natively.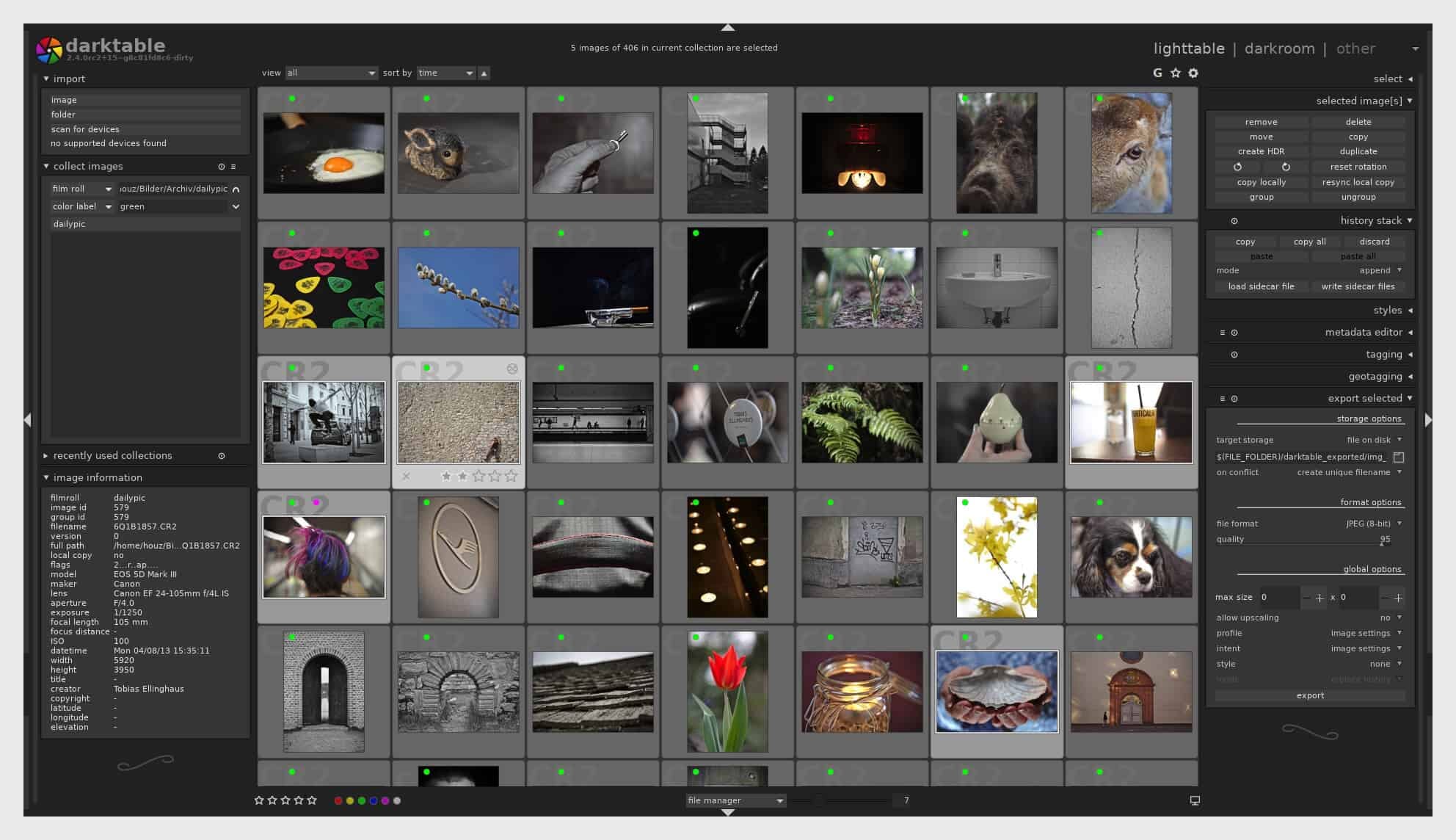 Cost – Free
Platforms – Windows / MAC / Ubuntu / Solaris
Notable Feature – Powerful exporting system
Darktable is an open-source and free-to-use image editing program. It was developed over many years and has a dedicated community that continues to improve it.
The layout and controls are extremely similar to Lightroom. If you have any experience with the Adobe software, you'll easily pick up Darktable. The central panel is the editing pane, and the side panel has different toolbars and sliders.
Sounds familiar, right?
Darktable has both photo management functionality, and RAW editing capabilities. You can also alter contrast, clarity, exposure, saturation, and other parameters.
This program has excellent importing and exporting features. For example, you can export your photos to platforms such as Twitter and Facebook.
Darktable also has a complete tagging and star rating system to help catalog and sort your pics.
We hope you have found this list useful. As you can see, there's a host of awesome Lightroom alternatives available for download. Choosing the best for you will depend on what your specific needs are.
Just remember…
Although Adobe Lightroom is considered the industry standard for photo editing, that doesn't mean there aren't other software solutions that can do the same job! Why not give one of these Lightroom alternatives a try today?
Or, if you're not convinced Lightroom or any of its alternatives are for you. You may want to read our post on the best photo editor software for windows.
If you have experience using any one of these Lightroom alternatives why not drop us a comment and share your thoughts?