SD cards are a vital aspect of digital photography. We use SD cards as digital storage. Furthermore, these small cards can hold thousands of RAW images. Moreover, SD cards are the quickest and most convenient way of transferring photos to other devices. This is why you should learn about the best SD card recovery software.

Sometimes, things don't go to plan. Moreover, unforeseen events may happen during your photography adventures. If you love photography and want to build a collection of stunning images, using the best SD card recovery software could be a lifesaver.
In this guide, we look at how you can use this software, and provide 10 top programs you can download – enjoy!
When you buy through links on our site, we may earn a commission at no cost to you. We evaluate products independently. Commissions do not affect our evaluations.
Why would you need to use the best SD card recovery software?
For the most part, SD cards are reliable (especially the once we have covert in our article about the best SD cards for photographers).
Unless you damage them by accident, they are durable and will rarely break. Furthermore, they will rarely become corrupted and the files become unreadable.

But that's the point! What happens if you have thousands of images stored on an SD card, and it becomes corrupted? Let's say, for example, that you have just returned from the trip of a lifetime. You have been to the Galapagos Islands. Furthermore, you have taken some of the best photos you have ever composed. You try to upload your RAW files to a computer, but the card is corrupted! All that hard work and effort have gone in an instant!

This is where the best SD card recovery software could make a difference. SD card recovery software is designed to retrieve photos that are either lost or corrupted. The card could have been accidentally been formatted, for example. Alternatively, as in our example above, the files could simply be corrupt. Using recovery software could help you retrieve your photos and still use them! This software could potentially be a digital lifesaver.
The Best SD Card Recovery Software
As you can see, owning reliable recovery software could be vital. We hope that you never have to use it, but isn't it wise to prepare yourself for the worst-case scenario? To that end, we have listed 10 of the best SD card recovery software available. Moreover, we have included both paid and free versions for your benefit:
1. Stellar Photo Recovery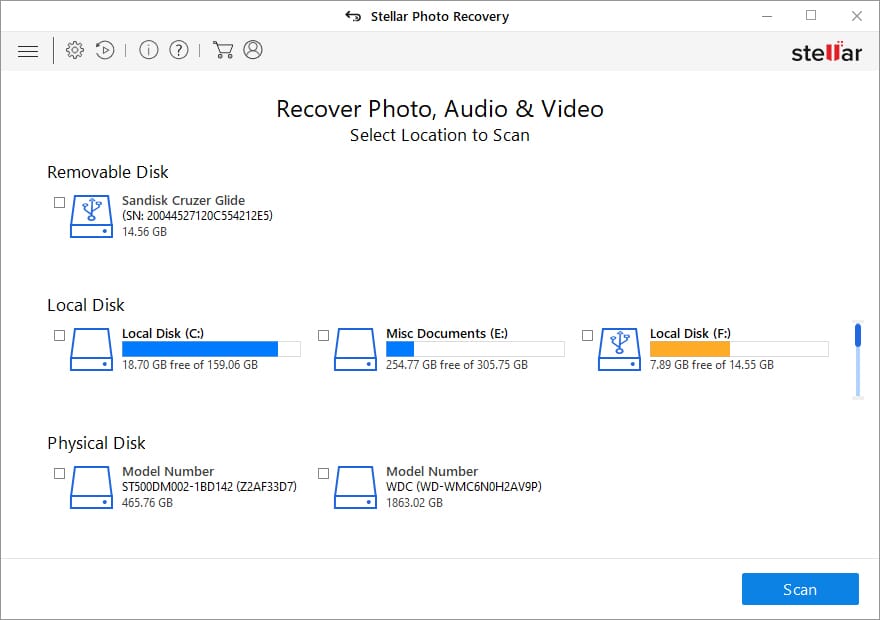 Price – $49.99
Platforms – Windows & MAC
Stellar Photo Recovery has a 5-star rating on Trust Pilot – this is a good sign. It is easy to see why! This program is superb in many ways. Firstly, it has support for a plethora of cameras, SD card types, and even drones such as GoPro and Phantom. Secondly, it can be used to recover many file types including RAW, MP4, and AVI – users can recover both images and video.

Thirdly, when recovering images, Stellar Photo Recovery restores the original time-stamp, date, and filename. Although just under $50, this is certainly one of the best SD card recovery software available.
Pros
Intuitive and user-friendly interface
Can recover drone photos and videos
Shows preview before recovering files
Cons
Can only recover multimedia files
2. Disk Drill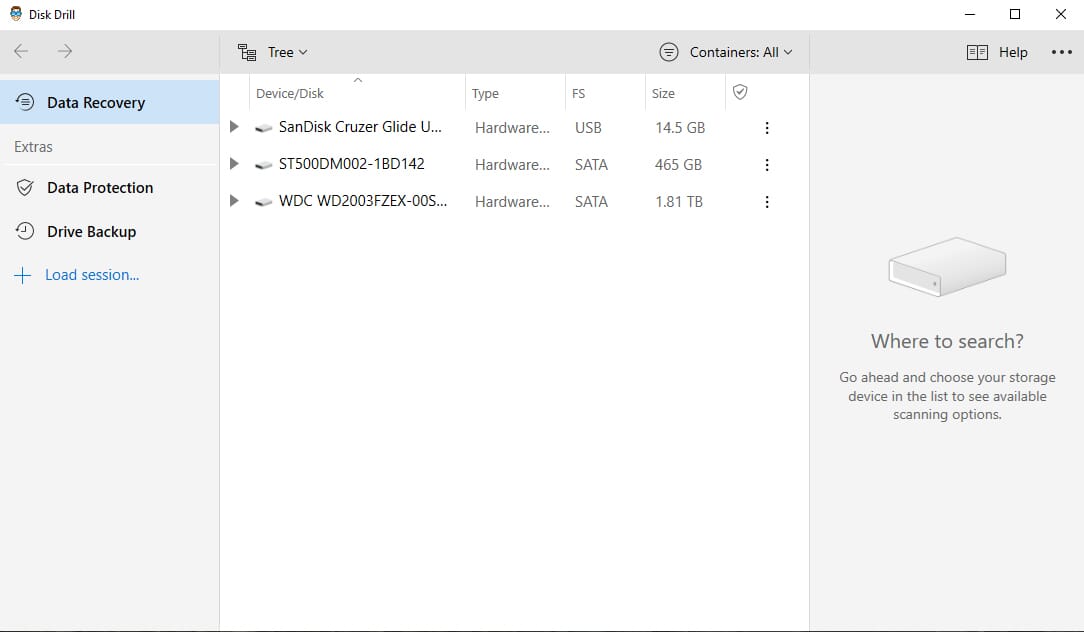 Price – Free
Platforms – Windows & MAC
We start our list with Disk Drill. This program is available for both Windows and MAC devices and is free. Moreover, it is simple and quick to install. There is a Pro version available which offers unlimited recovery storage.

Disk Drill provides versatility and an in-depth range of options. Users can recover a myriad of file types including RAW photos and video. Furthermore, it has support for popular SD card brands like Sandisk and Lexar. The program itself is easy to use – it has a basic interface with a clear set of commands. Moreover, users can also perform a deep scan – this can potentially recover deleted files from SD cards, and your computer HDD.
Pros
Support for a myriad of file types
Preview available for recoverable items
Compatible with various SD card manufacturers
Cons
Only available for desktop computers
2. IOBit Undelete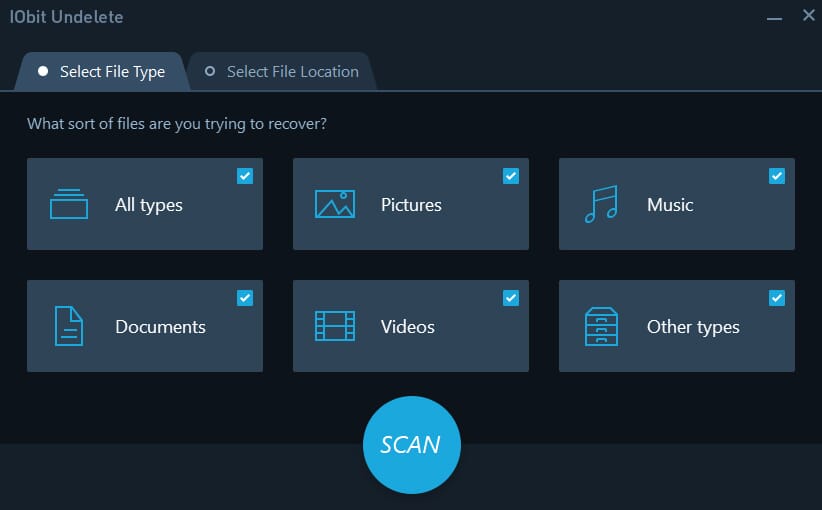 Price – Free
Platforms – Windows & MAC
IOBit Undelete is an unusual program in that it doesn't need to be installed. Once the program is downloaded, users can simply open it and use the recovery features straight away. This is extremely convenient. Moreover, it means that it can be used from a USB drive as a portable recovery program.

As you can see from the screenshot below, the interface is basic – you can't get it wrong. Simply scan the chosen device or location and let IOBit Undelete do the rest of the work. If you want a simple, free, and reliable solution, this program is an excellent choice.
Pros
Doesn't need to be installed
Simple interface with few options
Cons
Not suitable for advanced recovery
4. Remo Recover Media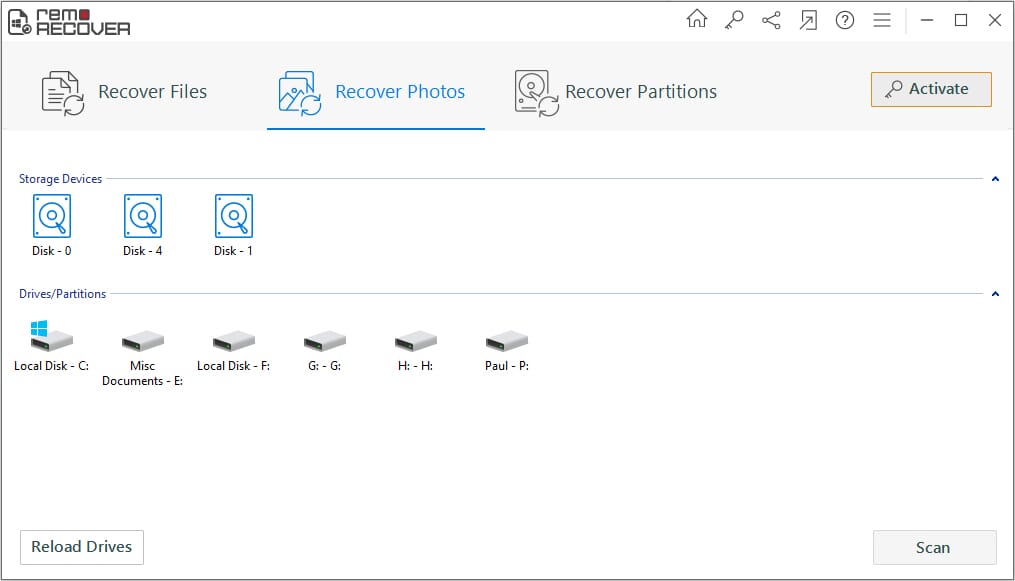 Price – $49.97
Platforms – Windows & MAC
Remo Recover Media is similar to Stellar Photo Recovery – it offers basic recovery functionality, together with a deep scan feature too. Furthermore, this program allows the recovery of a plethora of file types including RAW files and video. In terms of recovery, Remo handles deletion, corruption, virus infection, and formatting.

The program has three main categories of recovery – the process is simple, and users easily pick up how it operates. Moreover, if users do need help, there is a technical support team including a live chat option. The only downside we found, is that the recovery features to not work on a drive that has been reformatted.
Pros
Advanced scan customization
Deep scan mechanism available
Cons
Demo version is limited in functionality
5. Piriform Recuva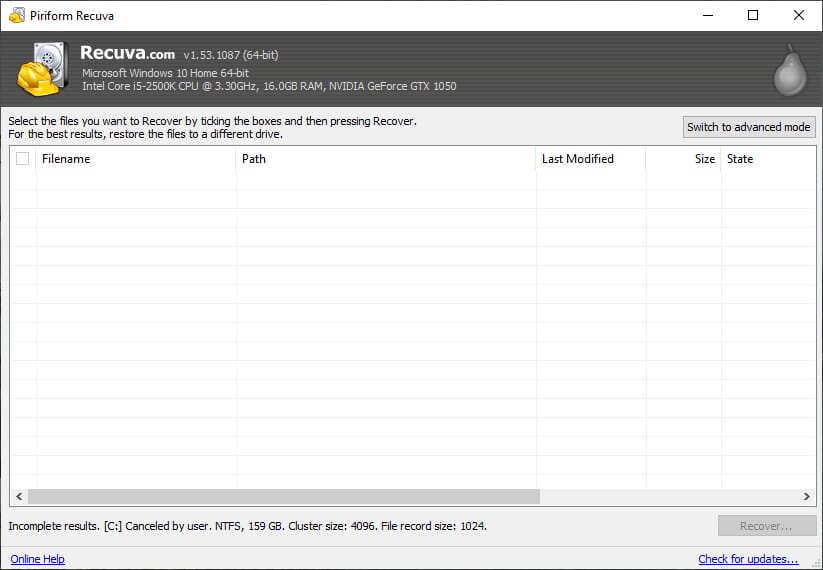 Price – Free
Platforms – Windows & MAC
Piriform Recuva has three different versions available – free, basic, and pro. The free version is fully functioning; the only downside is that it does not have any support. Furthermore, the company is not actively updating the free version. The basic and pro versions are still cheap, and offer advanced features and customer support.
The free version of Piriform allows users to recover RAW files quickly and effectively. The interface is not as clean as some of the other programs, but it is still easy to use. When recovering files, the program also maintains important file data and header information.
Pros
Quick and reliable recovery process
Support for multiple file types
Image preview available during the recovery process
Cons
The interface is a little cluttered
6. PhotoRescue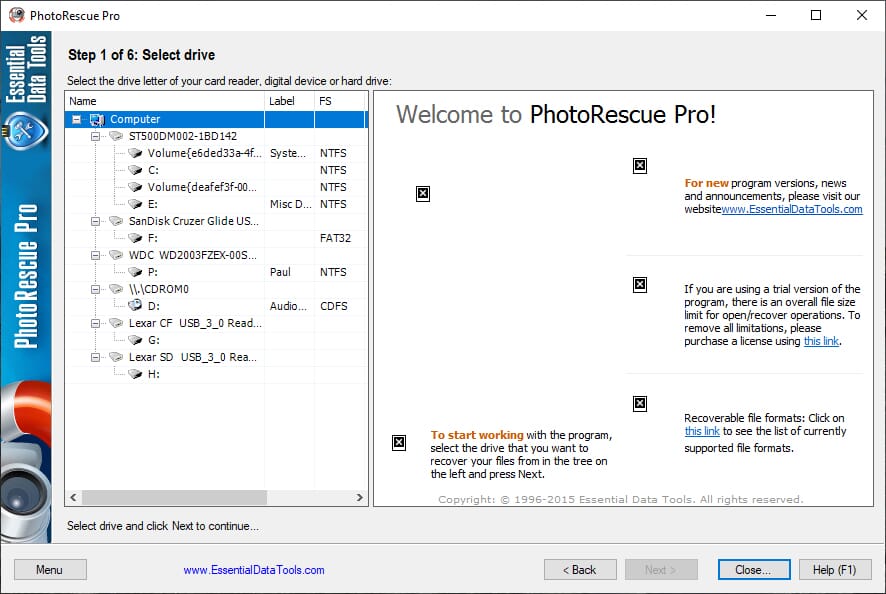 Price – $29.95
Platforms – Windows & MAC
PhotoRescue is right up there at the top of our list of best SD card recovery software. It is the cheapest of our paid list. Furthermore, it has an extremely easy installation process. The interface could be a little cleaner, but even beginners will quickly understand how the program works.

This software allows the recovery of corrupted, deleted, and formatted files. Moreover, it supports many file types including RAW photos. The demo version also allows recovered files to be saved – the maximum file size, however, is just 64kb – if you want to recover photos, you must purchase the full version. Generally, PhotoRescue has an excellent recovery rate and is a great program.
Pros
Smooth installation process
Can restore a myriad of errors such as corruption and deletion
Cons
7. EaseUS Data Recovery Wizard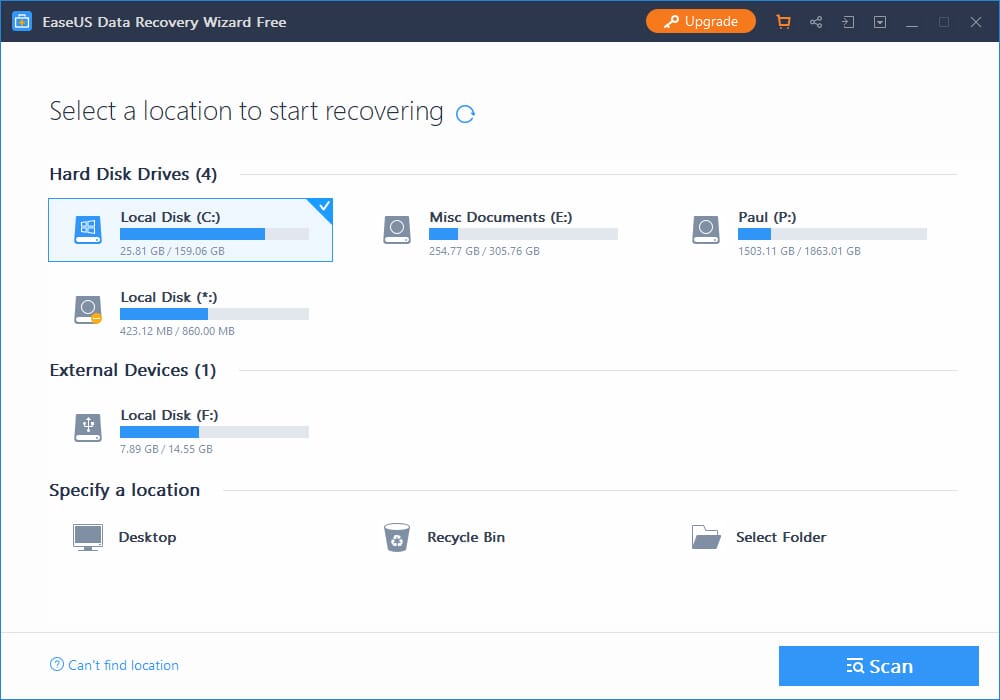 Price – Free & Paid
Platforms – Windows & MAC
EaseUS Data Recovery is the most expensive option in our list of best SD card recovery software, but it has an excellent array off features. The recovery rate for corrupted, deleted, or formatted image files is excellent. Moreover, the design of the program is simple and easy to use. It has a simple recovery wizard to follow if you are unfamiliar with this type of program

The only downside we found to this program was the relatively slow processing times. Recovery is reliable, but it takes quite some time to scan a full SD card or HDD. However, we did like the advanced search features that allow users to search for a specific file name.
Pros
Excellent recovery rate for images
Simple GUI
Advanced search features
Cons
8. Minitool Photo Recovery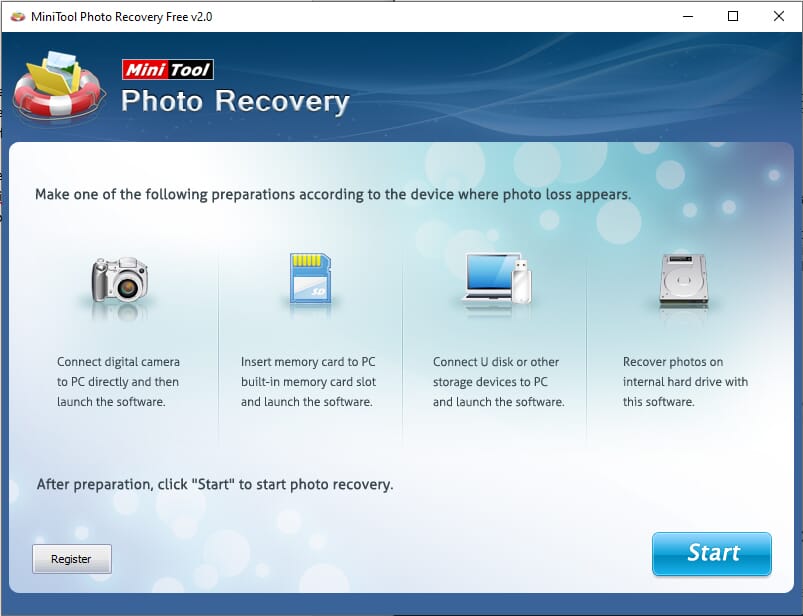 Price – $49.00
Platforms – Windows
We found Minitool Photo Recovery to be a brilliant choice. The price tag is a little higher, but the features are great, and the file types this program supports are numerous. File types include JPEG, RAW, MOV, WAV, MP3, and SWF to name a few. Furthermore, this program also restores PSD files and Adobe Illustrator documents.

The interface is minimalistic and simple. Moreover, the recovery process is also straightforward. Users can quickly and efficiently scan their SD cards. It should be noted that Minitool Photo Recovery is only available on Windows devices. Furthermore, it does not offer any advanced functionality that some would expect from a program with a $49.00 price tag.
Pros
Simple interface and recovery process
Excellent file support including RAW, MP4, and MOV
Cons
Only available for Windows devices
9. Recoverit Data Recovery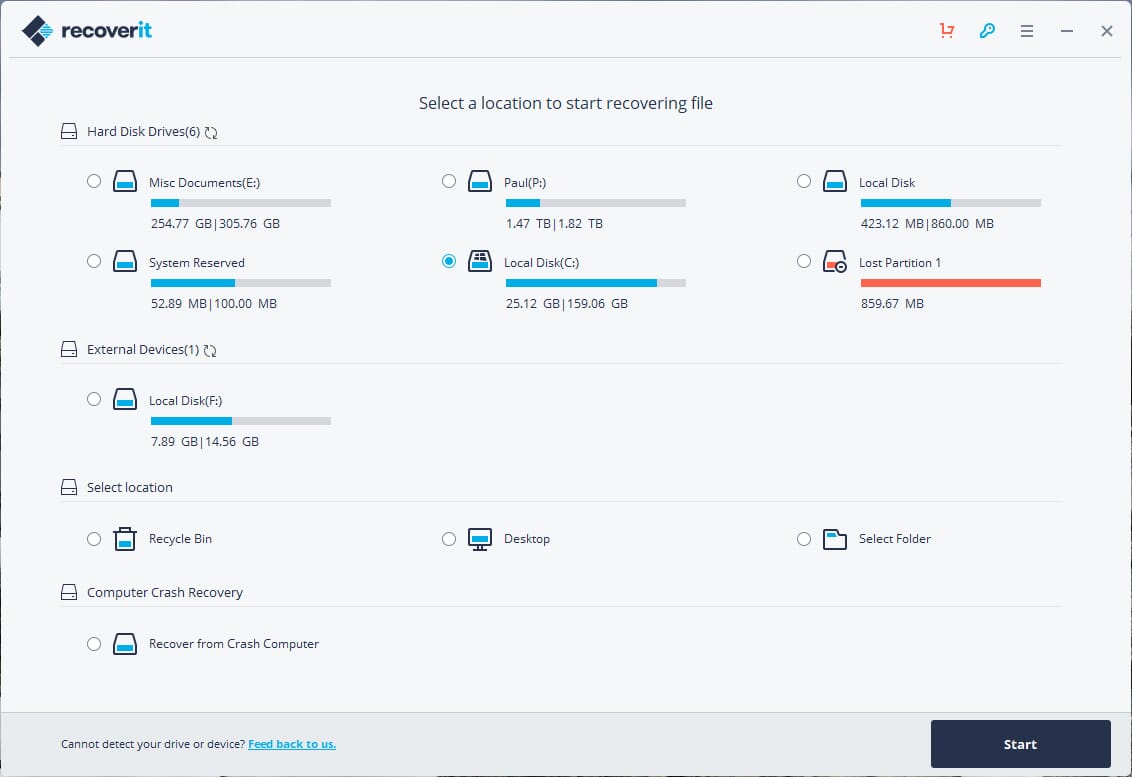 Price – Free Trial / Full Version $79.99
Platforms – Windows & MAC
Recoverit Data Recovery is a professional piece of software mainly for business use. If you are a professional photographer, this software could be a great choice. It offers an array of advanced scanning features together with deep scan functionality. Furthermore, it has advanced search options – search for specific file types or formats before the recovery process.

This program can recover deleted, formatted, or corrupted files and is a comprehensive SD recovery option. We cannot say if the price tag is worth it – this depends on your circumstance and if you feel the investment is worth it.
Pros
Advanced scan features available
Fantastic user interface
Search functionality during the recovery process
Cons
10. Disk Doctors Photo Recovery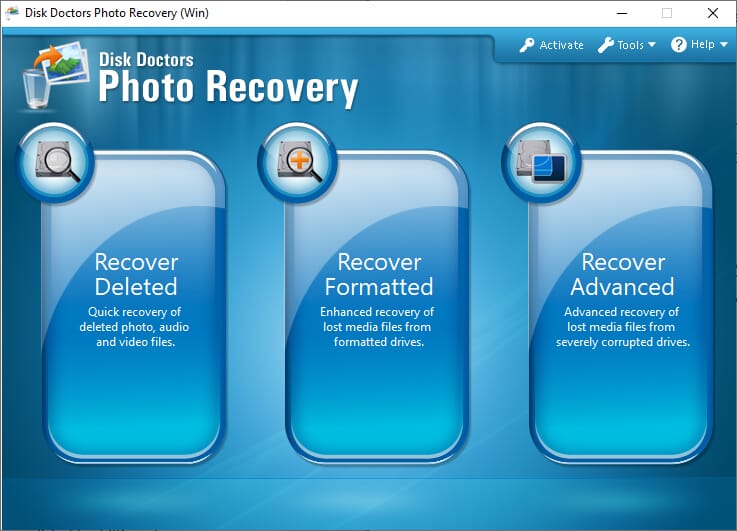 Price – $49.97
Platforms – Windows & MAC
Disk Doctors Photo Recovery is a basic program with an effective recovery process. It can recover RAW files from corruption, deletion, and formatting. Compared to other programs on our list of best SD card recovery software, this program does not support as many file types. However, it does support RAW image files and JPEG – this is the main point.

We like the simple interface and the user-friendly process. Moreover, we like the ability to create a disk image of your HDD if it contains a bad sector. For recovering images from SD cards, Disk Doctors Photo recovery will perform fantastically and has everything you need.
Pros
Image preview available before recovering/saving
Simple recovery process
Excellent array of recovery parameters
Cons
Lack of file support compared to other programs