PhotoDirector 10 is a full-featured photo editor and photo management tool. Dubbed a "Photo Designer tool," a wide range of options found within the latest PhotoDirector version will cover the needs of professionals and amateurs alike.
In this PhotoDirector 10 Review, we try to give you a detailed look at all the major features offered by this versatile photo editing application.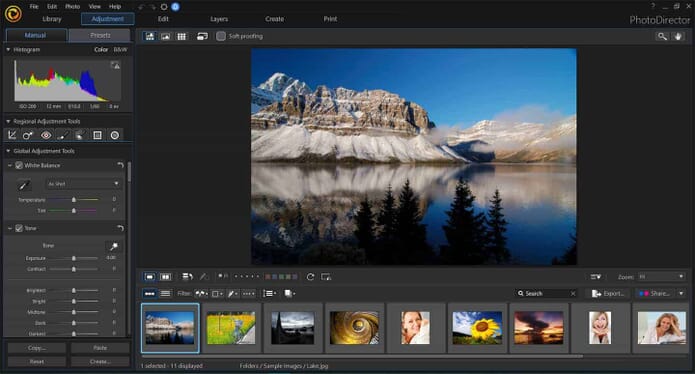 PhotoDirector 10 Free Trial
A 30-day free trial is made available by Cyberlink. This gives you the opportunity to test the photo editor without restrictions, so to make sure all your expectations are met before sending over any money.
Download a Free PhotoDirector 10 Trial
Pay once and own PhotoDirector 10 for life
Whatever your system, Cyberlink is offering PhotoDirector 10 at a one-off, lifetime license purchase. This in contrast to Adobe's subscription-based model, where you pay a monthly amount for Photoshop and/or Lightroom for as long as you want to use their image editing software.
Related Post: PhotoDirector vs Lightroom
About Cyberlink and PhotoDirector
CyberLink has a long-standing reputation in the world of multimedia software. Also known for the powerful video editing software 'PowerDirector', as well as the good old PowerDVD, which is now a modern PC and home theater media player.
PhotoDirector always had a feel of a traditional Windows application, even though having support for MacOS, it is actually the only cross-platform product in a long list of Cyberlink software.
Older versions of PhotoDirector were focused on the prosumer audience, offering a simple interface and plenty of fun, but also useful tools. Things like creating 360-degree panoramas, cinemagraphs, face and skin touch-up tools, to name a few.
On the other hand, it lacked certain advanced tools needed to cover the workflow of professional photographers.
Related Article: ON1 Photo Raw 2019 Review (Try Free & 15% OFF)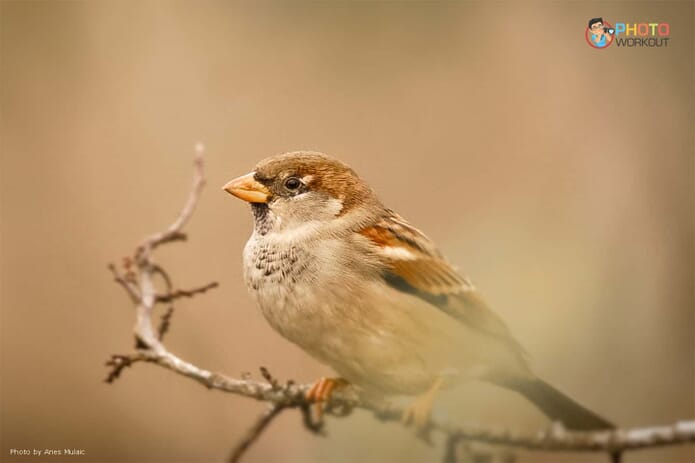 PhotoDirector 10 Review: What's new in PhotoDirector 10
All of that is in the past, however, as Cyberlink has since focused on upgrading PhotoDirector to suit professionals as much as enthusiasts. It still has all the fun and quirky features it used to have, but now also hosts a range of professional-oriented tools.
Full layer support
PhotoDirector finally gets full Layers support. The Layer module now allows users to add empty layers along with adding clipping masks, among other masking options. This a welcome and essential addition if PhotoDirector is to serve as a primary workflow for professionals.
Tethered Shooting & Soft Proofing
Tethered shooting, the ability to load images into the app in real time as you shoot by connecting the camera to the computer, is another interesting new feature that will be of great use to studio and timelapse shooting.
Combine that with Soft proofing tools, which enable print photographers to proof colors against specific printers before finalizing the edit. Soft proofing in PhotoDirector 10 should help against prints ending up with incorrect white balance values.
PhotoDirector 10 AI-Powered Tools
As AI continues to play an increasingly important role in image processing, CyberLink has joined the wagon with new and impressive AI-powered tools, namely the new AI Styles and Content-Aware cloning. Deleting unwanted objects from photos has never been easier.
Related Article: Photolemur 3 Review: AI to Replace Professional Editing?
RAW Support
Professionals will be happy to know that PhotoDirector 10 also supports a wide range of image formats, including various RAW image files.
PhotoDirector 10 Review: Ease of Use
To make finding specific tools easier, PhotoDirector 10 is divided between six distinctive modes or modules:
Library
Adjustment
Edit
Layers
Slideshow
Print
Whichever module you find yourself in, you'll see module-specific tools in the vertical tool panel on the left. This panel is further broken-down between tabs in Adjustment and Library modules due to their complexity.
The user interface in PhotoDirector 10 did not see major changes compared to previous versions, which is a bit of a shame. I've found the tabbed modules workflow somewhat confusing and overall sidebar design somewhat cluttered, especially when coming from a clean, modern app design, such as I've found in the recently reviewed Luminar.
If I had to pick one thing that really hit my nerve, it would be the interruptions when switching between modules. There I was making basic RAW adjustments when I decided to hop into Layers. A warning message pops up saying something along the lines of "You should finish all your edits in Adjustment module before switching to Layers…".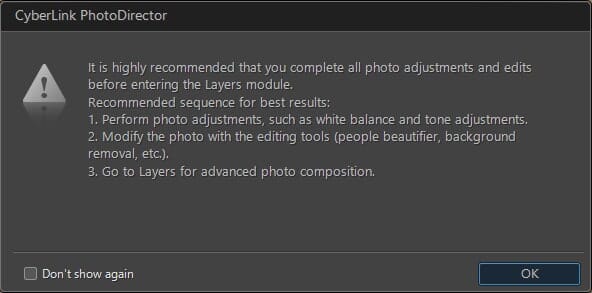 Switching between modules should be a seamless experience, and not interrupted with messages explaining how to work the app. If a basic element of the application like this requires additional explanation in order for the user to understand how it works – it's a sign of bad UX.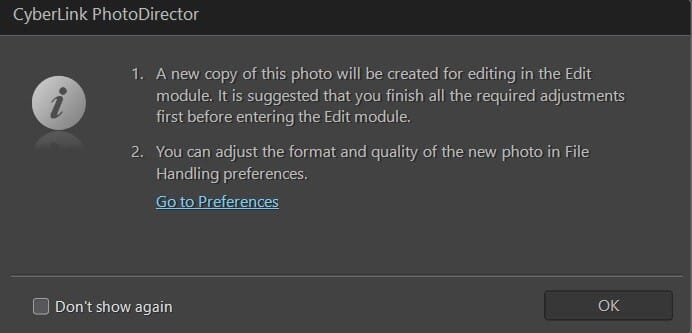 Luckily, there are a bunch of free and super useful tutorials that will help beginners cover everything from portrait editing to creating 360° panoramas to managing multi-layered projects. These are accessible directly from within the application.
On the other hand, PhotoDirector has a lot more features than a typical photo editor. In Luminar, for example, you can't create and decorate various shapes and text layers, there's no photo cataloging, soft-proofing or tethered shooting.
I digress, as the point I'm trying to make is that PhotoDirector 10 is bound to be somewhat cluttered due to its complexity. Still, I feel it could use some more love from their UI/UX team.
Main View
The main view in PhotoDirector 10 is used for viewing, browsing and selecting images. It remains largely consistent and independent of where you are in the app (which module you're in).
On the top-left are singled-out three very important buttons for three different views.
Photo viewer & browser
Photo viewer only
Browser only
PhotoDirector 10 Review: Library Module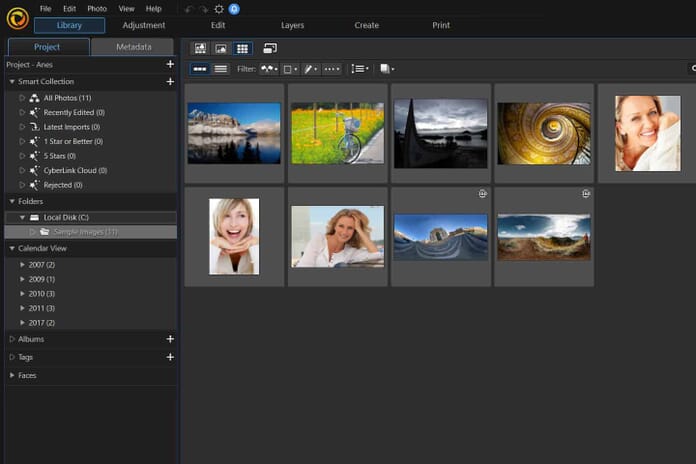 The Library module in PhotoDirector 10 is divided between two tabs within the left sidebar: Project and Metadata.
Project
The Project tab starts with Smart Collections. By default, there are several generic collections already present, e.g. Recently Edited, Latest Imports, 5 Stars, etc.
Adding your own Smart Collection, you'll see the following screen: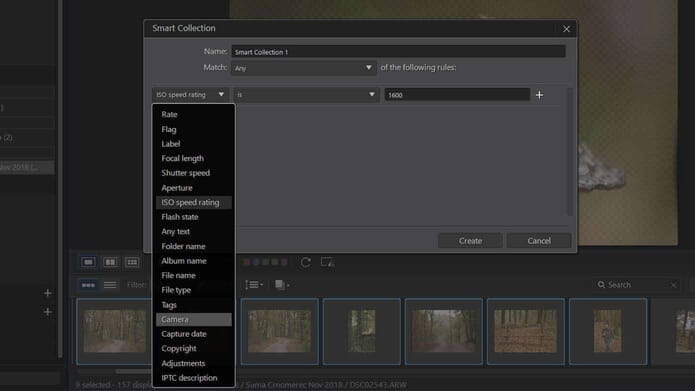 This right here a good first example of the depth in versatility offered by PhotoDirector 10. There are a plethora of sorting options available. E.g. Catalogue all images where the flash did not fire, ISO is less than a certain value, a specific camera was used, the rate is 4 stars or more and contains certain tags.
These are only a few examples and you can see the full list on the screenshot above. This is a powerful and easy way to organize your photos. So far the Library module is looking very promising.
Folders
This a simple list of all the image folders user has imported into PhotoDirector 10. Note that the tree structure won't show image files themselves. Once you select a folder that contains image files, the photos will automatically list in thumbnail view on the main screen.
Calendar View
Not much to say here except that I like that there's a dedicated panel for browsing photos specifically on a yearly basis.
Albums
You can create new albums based on currently selected images or just create an empty album. Drag-and-drop from other folders is the only way to add images to an empty album. There's also the option to create an Album Set, which would hold more albums.
Tags & Faces
Tags work as expected, you can add as many as you want and use them to tag your photos. Ability to automatically tag selected photos as you create a tag is a nice touch.
Faces are basically tags but for people's faces. Select a range of photos and PhotoDirector 10 will analyze them with automatic face-detected, presenting you with a simple interface to add people's names to a matching auto-detected face.
It's hit and miss, but it hits the face most of the time. On one occasion the algorithm thought the edge of my pants is a face. Luckily, there's a "Skip" button.
Metadata tab
Metadata tab in PhotoDirector 10 will show you all metadata for the selected image that is available from the camera, aka EXIF data.
It's also nice to see IPTC support. The letters stand for International Press Telecommunications Council and represent a standard used for embedding data into images, including contact, location, subject description, and copyright information.
Related Article: The Best Software to Organize your Photos on a Windows PC
PhotoDirector 10 Review: Adjustment Module
Adjustment module will have the most familiar tools and sliders to users coming from other photo editing software.
It's divided between Manual and Presets mode, while the Manual mode itself is divided between Regional and Global Adjustment Tools.
Global Adjustment Tools is where you'll find the most essential image processing tools. It is very similar to Adobe's Camera Raw tool in Photoshop, containing all the standard tools for toning, sharpening, lens correction, etc.
A full list of Global Adjustment Tools
White Balance
Tone (exposure, contrast, lights, darks, clarity, vibrancy, dehaze)
HDR Effect
Levels
Curve
HSL / Color
Split Toning
Detail
Keystone
Lens Correction
Most of these are familiar tools we see in any serious photo editing application, but we'll go over a few the most important tools in more detail.
Tone
The Tone Adjustment includes all the tools you'd expect for toning, exposure, and color. As the most basic sliders, Exposure and Contrast are listed first. I
Instead of typical sliders for 'Shadows' and 'Highlights', in PhotoDirector we have Brightest/Bright/Midtones/Dark/Darkest. Took some getting used to for me but this setup does allow for more precise toning.
The "Tinge" group of sliders has everything you'll need to make your photo "pop". That's Clarity, Vibrance, and Saturation. Last but least, we have a Dehaze filter which is another nice way to add contrast to a photo.
I worth noting there's a 'magic' Auto-Tone button at the top of this panel. Honestly, I wasn't impressed with what it does to my images so I'd recommend avoiding it.
Detail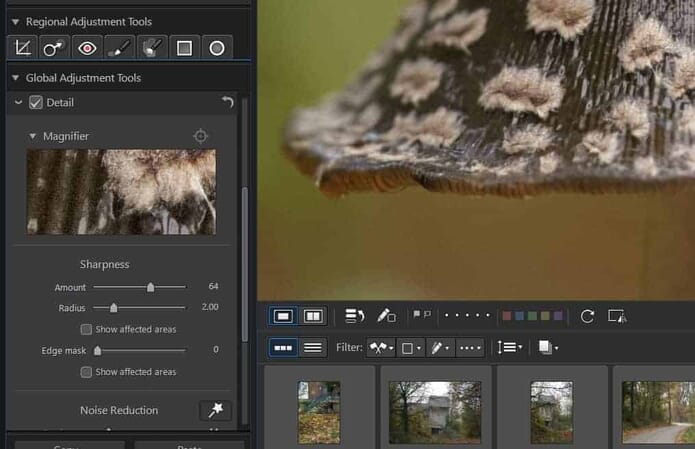 These are sharpening and noise reductions adjustments. There are all the sliders you'd need to bring the best out of your photo in terms of detail sharpness and noise handling.
I found the Magnifier window a useful way to quickly review results without having to constantly zoom in and out of the main window. The 'Show affected areas' checkbox is also a useful addition.
Lens Correction
PhotoDirector 10's Lens Correction Tools will cover all the basic needs, but it's not as powerful as the one found in ACR.
Auto Lens Correction allows you to choose a specific lens. I was sad to see none of my Sony FE lenses are present in the list. Though you can also do manual Fisheye Distortion and Chromatic Aberration corrections. It's nice to see Vignette Removal and Vignetting Effects as separate adjustments.
Regional Adjustment Tools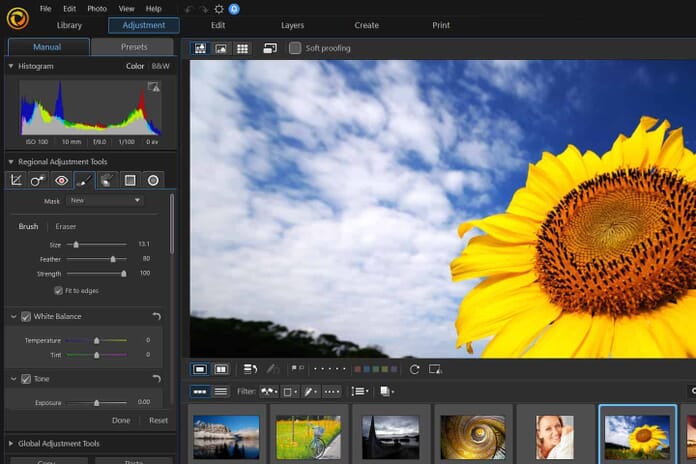 Also called selective editing, this is for advanced photographers who want to further fine-tune certain parts of their photograph. These tools include Crop and straighten, Spot removal, Red Eye removal, Adjustment brush, Selection brush, Gradient mask, and Radial filter.
Adjustment brush holds most (but not all, sadly) sliders found in the Global Adjustment Tools. The brush itself can be adjusted for size, feather, and strength.
Selection brush is similar to the brush except the AI will make automatic, quick-selection of areas you click on. Also, we now see the "Invert selection" button, too.
Gradient mask introduces a rotate-able straight line gradient with an adjustable feather, while Radial Filter is the same things except its a circular mask.
Related Article: Best Photo Editing Software for Windows
PhotoDirector 10 Review: Edit Module
The Edit module in PhotoDirector 10 is where you find some powerful tools that set this photo editing app apart from the rest.
People Beautifier
This panel will have everything you need to make people, well, more pretty. You'll be able to fix issues with faces, skin and overall body shape. These tools will be especially interesting for creating stunning portrait photos.
Personally, I've never seen a universal photo editing app that offers dedicated, in-depth tools like these for fixing people's face, skin and body.
You'll find the following tabs within this module:
Face Shaper will let you adjust the general shape of the face, making it thinner or thicker.
Shine Remover can remove unwanted or excessive shine from the face.
Eye Tools offer Eye enlargement, Eye Bag Remover, and Eye Blinger.
Wrinkle Remover is a guided clone-stamp that works really well for removing wrinkles
Tooth Brush is a brush tool that lets you whiten teeth.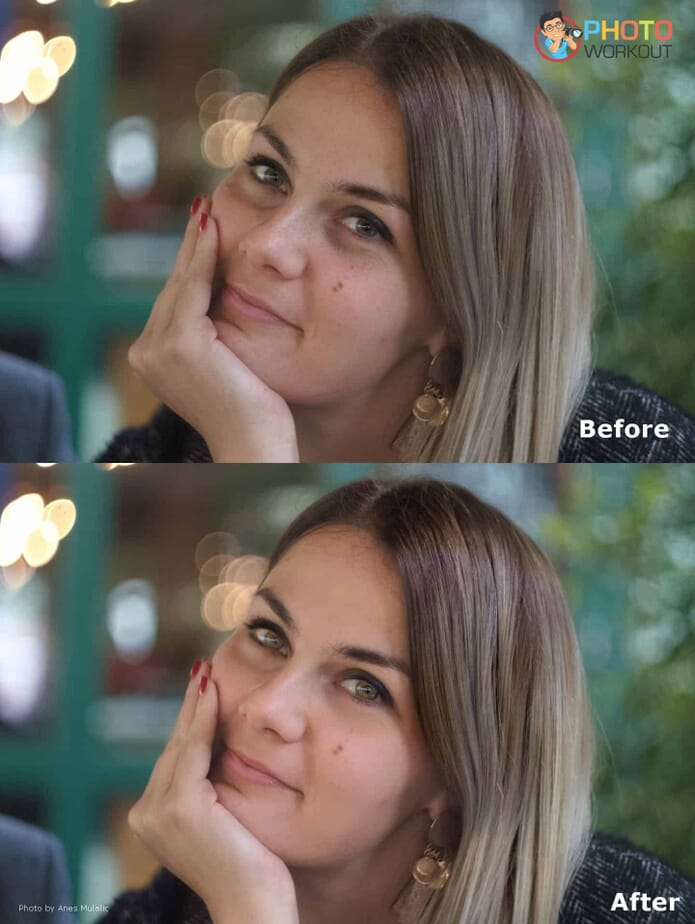 The Skin Tools
Skin Smoother is a non-destructive brush that allows you to smooth-over specific areas of skin. You can also fine-tune the adjustments using the "Fine Tune detail" checkbox.
Skin Tone lets you use the Dropper tool to pick a skin area and create a mask. Brush tools allow you to fine-tune the skin with Cleaner and Recover brushes, while you can also select the desired color of the foundation.
360° Photo Editor
In this panel, you'll find various tools that will help you perfect your 360-degree panoramas. I didn't have any 360° photos to try it out but these are the available tools:
Straighten
Tripod Removal
Adjustment
Little Planet
360°-to-Panorama
Photo Effects
PhotoDirector 10 Photo Effects panel offers the following tools:
AI Style Transfer
Color Effects
Blur Tools
Grain Effect
Overlay
I'd say these are fairly self-explanatory, except for the AI Style Transfer. This Effect uses AI machine learning algorithms to transform your images into completely different styles of art. As you'll see, it's much more than simply slapping an overlay effect like those found in apps like Instagram.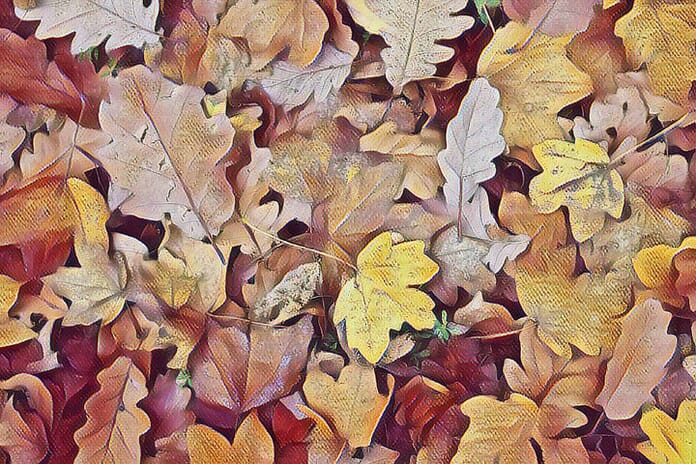 You can create some really abstract, post-apocalyptic looking images. There are also presets for turning your photos oil paintings, watercolor paintings, etc. Its very fun and produces some really interesting results.
Object Removal
Smart Patch is basically the same tool as the Winkle Remover. Works just as well even if it's
Content-Aware Removal is a tool that lets you select an object in an image and remove it seamlessly. The AI will analyze the image and try to reconstruct the area where the object was removed.
Extract or Compose
Background Removal lets you click on a background area you'd like to remove and does the selection automatically. You can further fine the selection by using the Fine Tune Edges brush, or use the Smart Lasso tool for AI-assisted manual selection.
Photo Composer allows you to import and combine multiple images.
Content-Aware Move
Content-Aware Clone
Photo Merge
Bracket HDR lets you merge up to 5 different exposures together to great a photo with a greater (High) dynamic range. Inside the panel, you'll find an option to remove ghosting (very important when merging images that have moving subjects in them, also called "ghosts"). Furthermore, there a whole set of sliders that let you further adjust the HDR image – Glow, Edge, Detail, and
Panorama
Face Swap
Multi-Exposure is another new addition that came with PhotoDirector 10. It's a tool that allows you to combine multiple shots of the same scene that has a moving subject, e.g. a skateboarder moving through the frame. The result is called "motion trail effect" and works rather well.
Related Article: Aurora HDR 2019 Review
PhotoDirector 10 Review: Layers Module
At the first sight of seeing the Layers Module, I was thinking "why are Layers a separate module?" As it turns out, there's more to this Module than meets the eye.
On the top of the left sidebar you'll find four buttons:
Add new layer which lets you add an empty layer, a photo layer or a solid color layer.
View available layer options where you can add basic actions such as duplicate, copy and cut layers, but also add clipping masks, group and merge layers, etc.
Add adjustment layer allow for adding basic adjustment layers such as Exposure, Brightness, Contrast, Levels, HSL, Vibrance, etc. Again, this seems somewhat redundant as we already have full-blown adjustment layers available in the Adjustment Module.
Add mask
The Layer module has another sidebar to the left. This is where you can add text and shapes (rectangles, ellipses, etc.) which you can pain with a solid color or gradients.
This module really adds another dimension to depth PhotoDirector 10's photography and design capabilities. You can create photo collages, memes, picture-in-picture effects or anything else you can think of.
Related Article: Photomatix 6 Review
PhotoDirector 10 Review: Create Module
As if all the previous stuff wasn't enough, the Create Module lets you create slideshows, GIFs and animated images (Motion Stills™).
Slideshow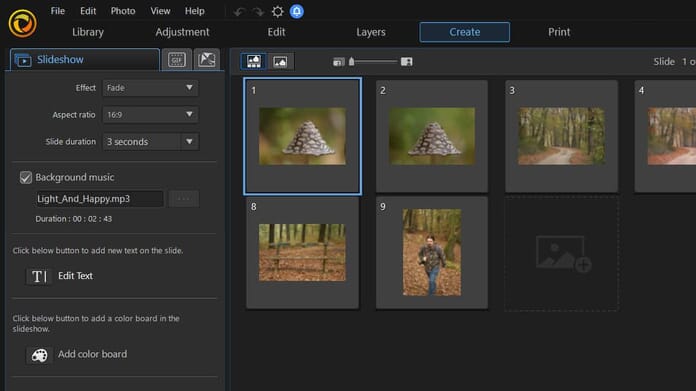 The slideshow panel lets you use photos from the library and combine them into a slideshow. You can customize it by adding different fade transitions between images and selecting the desired aspect ratio (16:9 or 4:3). Furthermore, you can add background music, text layers on any slide, and import color boards.
Related Post: Best Slideshow Maker
GIF
Creating GIFs is really easy with PhotoDirector. Simply drag-and-drop a selection of photos from the library, adjust the speed and add some text if you wish, hit play and enjoy the show.
Motion Stills™
This tool combines a set of images with identical dimensions in order to animate a part of the photo.
PhotoDirector 10 Review: Print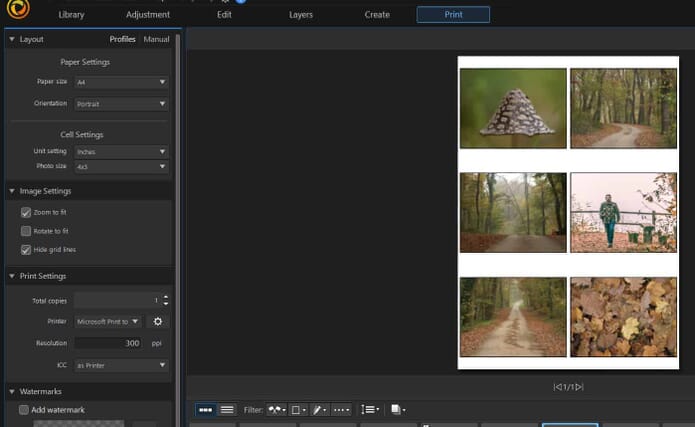 The Print module is a great way to prepare your photos for print, especially for when you want to print a series of photos together, like for a school yearbook or similar shoot.
These are the available settings within the module:
Layout Settings lets you choose between various paper sizes (A4, A5, Letter, Tabloid, etc.) and Orientation (Portrait or Landscape) while adjusting Cell settings allows users to create a layout with a specific number of rows and columns.
Image Settings has three options: Zoom to fit, Rotate to fit and Hide grid lines.
Print setting is where you finally choose the number of copies you want to print, printer selection and resolution.
Watermarks let you choose a previously created watermark for image protection.
Related Article: Review of the Best Professional Photo Printing Services
Conclusion: PhotoDirector 10 Review
A Versatile Application with a Plethora of Tools
Photo Director 10 is a versatile, multi-purpose piece of software with an impressive set of photo editing, digital art, graphic design, and image animation tools.
Photo cataloging
Raw image processing
Face, skin & teeth touch-up tools
Layers and masking
Adjustment brushes
HDR & multi-exposure support
360-degree images, panoramas, and GIFs
Shapes and Typography Tools
Soft-proofing
Tethered shooting
These are just a few of many other features in PhotoDirector 10.
There's a Learning Curve
General UI and ease of use could use some more love from the UI/UX team. There's a bit of a learning curve involved until you learn how saving, exporting and switching between modules work.
I've also found myself annoyed by the frequent prompts from the application, "advising" you to "finish working in module X before moving to module Y".
Still, it can be well worth the investment
Depending on your role as a photographer, the PhotoDirector 10 can be well worth both the time and money investment.
Perfect for a Jack-of-All-Trades type of role
I can see this application being used by, say, wedding a photographer for editing large batches of images; a fashing photographer shooting in a studio, or a graphic designer slash photographer, jack-of-all-trades type of role at a small local company.