PhotoDirector 9 Review
For the past decade, if not longer, Photoshop and Lightroom have been the go-to editing software for photographers, be they hobbyists, casual artists or full-time professionals. However, a new piece of software has quietly become a favored alternative to the Adobe's Photoshop/Lightroom, meant to be an all-in-one editing, organizing, and photo enhancing tool: PhotoDirector 9.
The creator of PhotoDirector is a Taiwanese software company that has been around for a while, but this latest version of their "Director" software seems to be a perfect mix of entry-level tools for novice enthusiasts.
PhotoDirector 9 vs. Adobe CC Photography Plan (Lightroom and Photoshop)
Let us compare PhotoDirector 9 vs. Photoshop/Lightroom below, highlighting the pros and cons of each, so that any photographer can make the most informed photo software decision.
Bit first, if you don't know the difference between Lightroom and Photoshop you may want to watch this video made by Tony Northrup:
Ease of Use: PhotoDirector 9 vs. LR/PS:
It's important to note that throughout this PhotoDirector 9 review, there will be two answers, as we compare two different existing software (Photoshop and Lightroom) that frequently bought together (see: Adobe CC Photography Plan).
The Ease of Use question is perhaps the perfect example of this. PhotoDirector 9 is easy to use in some respects and very difficult to learn in other respects.
For a novice photographer and photo editor PhotoDirector is smooth and intuitive to use (compared to Photoshop that may feel overwhelming). Install it (you can get a free trial here), import your pictures (or use the demo pictures) and start playing around.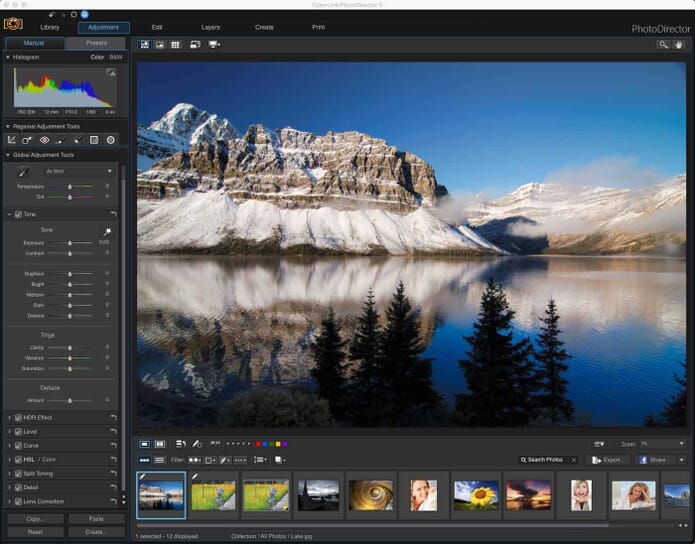 There will be some head scratching, sure, but you'll probably end up with something you think looks good and improved from the photo you originally shot. Therefore, it's satisfying and feels like money well spent off the bat.
However, when you want to do more advanced things and learn more about what you can do with a photo editing program like PhotoDirector 9 or Lightroom, everything suddenly becomes a lot more complicated.
Learning by Doing (Photoshop Tutorials make it easy)

A lot of features will have to be found by chance or by trial and error because every advanced photo editing technique can be accomplished through PhotoDirector 9, just as it can with Lightroom or Photoshop.
Like any high-end software that has the potential to accomplish a lot of things, there is a learning curve. It's tough to say which curve is longer between PhotoDirector 9 and Lightroom/Photoshop, but ultimately both can achieve the highest levels of photo editing, coloring and enhancing.
What we like about Photoshop is its new built-in step-by-step tutorial, which makes it possible to learn the software functions like removing or cloning much faster and intuitively then it used to be.
These built-in learning guides are not available in PhotoDirector 9, but you can follow the Cyberlink photo editing tutorials on their website.
So both Photoshop and PhotoDirector provide a wide range of free and useful learning tools.
Whereas the Photoshop built-in tutorials focus more on learning the basics (changing of colors, removing or duplicating objects, etc.), the Cyberlink tutorials will dive into some quite creative photo editing techniques like motion stills, multiple exposures, and GIF creation hands on.
Related Post: On1 Photo Raw Review (New 2019 Features) Get Trial & Coupon
Speed and Stability

Adobe Photoshop Lightroom is known for its speed and stability, but PhotoDirector 9 can run as reliably in many respects. Crashing isn't something that happens with the software very often either, and this usually has to do with the computer you are on and what type of processing power it has.
PhotoDirector 9: What's Missing
However, when you try comparing it directly to a program like Lightroom, you'll quickly see places that PhotoDirector 9 isn't as efficient. PhotoDirector has fewer lens correction profiles (you can see supported lenses here) and the support of RAW files is not as good as it is with Adobe (you can see RAW supported cameras here).
There are also other small details that affect the programs' overall speed and stability:
no camera calibration,
no automatic perspective corrections and
no support for editors or external plug-ins.
This hurts it amongst experienced photographers and photo editors in the long run, as it offers a lot of fun tools to play around with, but nothing that takes it to the level of Photoshop or Lightroom.
Related Post: Best Desktops & Best Laptops for Photo Editing
Available Editing Tools

Featured Video: PhotoDirector 9 by Cyberlink (Brief Overview of what you can do)
PhotoDirector 9 has a simple array of handy editing tools, though they can get a little confusing at times.
You can find most of the editing tools in the adjustment module, which is more or less the same thing as Lightroom's Develop module or Layers in Photoshop.
The editing tools operate almost identically across all applications, though the PhotoDirector 9 tools don't have quite as much range when it comes to adjusting the image compared to Lightroom/Photoshop.
The gradient mask, radial filter, adjustment brush, crop tool, spot removal and red-eye adjustment tools, among others, are often available, just in a different location.
Both PhotoDirector and Photoshop have a selection mask (not available in Lightroom).
Where PhotoDirector takes it to the next level and eclipses Lightroom and Photoshop is when it comes to its "Edit Mode".

Here users will enter a world of tiny adjustment, one that's pixel-based and is not possible in a program like Lightroom, and only doable in Photoshop alongside Lightroom. With PhotoDirector 9 pixel-based editing is not only possible but easy.
Extra Tools

Another thing that differentiates PhotoDirector 9 from Lightroom and Photoshop are the additional tools it throws in, in part to just make it stand apart and allow artists a new thing to play with. Specifically, the 360 Photo Editor, which works with 360-degree images which are now much easier to shoot.
Related Post: Ricoh Theta S Review (Camera for 360 Degree Images and Videos)
Removal tools like "Photo Merge" add frames and watermarks and PhotoDirector also has a people beautifier tool that is a more detailed version of what people do to portraits on Instagram.
The Color Splash filter is also worth noting since it makes it quite easy to create a black and white image that is very selective in its darks and lights.
While these are tools that most people probably won't use very often, it's still useful to have them and you can use them to make an otherwise basic photo into something wholly unique.
Another extra tool by PhotoDirector 9 is the little planet tool. You can see it in action here.
Photo Sharing and Storing Options
There are some unique features on PhotoDirector 9 that comes to photo sharing and storing. All the photos that you work within PhotoDirector 9 can be shared via social networks, as long as they are compressed and exported correctly.
Videos that you shoot on a smartphone can be imported, and frames from videos can be combined and made into a panorama photo or excellent stills.
You can also create animated GIF files from your video clips or stills.
There is even a perfect group shot, that picks the best expressions from everyone in the shot out of five frames and builds the "perfect" one.
For storage, PhotoDirector 9 is regularly saving your work, to ensure you don't lose anything in the off-chance the program does crash, or you want to revert to an earlier version.
Price
Here's where the real difference between the two types of software comes into play, and what indeed makes people gravitate between the two: price.
The money you pay will always sway people one way or the other, especially between two photo editing programs that are almost equally powerful, with some aspects better than the other on different fronts.
For Adobe Photoshop and Lightroom, you pay through a monthly subscription plan. You can choose to pay $29.99 a month and cancel anytime or $19.99 a month for a year commitment. There is also an option to make a years payment upfront at $239.88. While the monthly cost may seem low, it also means you don't own the software outright and are continually paying to rent it.
For PhotoDirector 9, there are two different versions of the software. The entry level is the Deluxe version, which is $59.99 to purchase. The Ultra, which has all the bells and whistles, is $169.99. But you own the software, without any future fees. We recommend you download the free trial and if you like the software you can buy it here and get a 10% discount (use coupon code: PHD10).
Which raises the question — how serious are you about photo editing and photography in general? Is it something you want to pay for on a monthly basis going forward, or something you want to make a one-time investment in?
Who is  PhotoDirector 9 for?
As this review has compared Photoshop and Lightroom to PhotoDirector 9, it's important to conclude who the software is ultimately meant for.
And while PhotoDirector has intuitive aspects that are similar to Photoshop/Lightroom, it falls somewhere in the middle of the two programs, useful for the casual photographer who can do some post editing work but not quite enough for the very high-end professional who has clients that pay very big bills for their photographic talents.
A semi-professional photographer would probably find PhotoDirector 9 an ideal program for their work — and ultimately cost them less in overhead.
Related Post: Best HDR Software 2018