PhotoDirector 11 was a popular photo editing program. Cyberlink continues this trend with the release of PhotoDirector 12 and most recently PhotoDirector 13 (as a lifetime license) or PhotoDirector 365 (as a subscription).
This updated program offers numerous updates and improvements while still offering all the standard features you would come to expect. In this article, we put the latest release to the test to share an in-depth PhotoDirector review.
We know that choosing photo editing software is often difficult. So in this review, we provide you everything you need to know about the latest PhotoDirector software.
Read on to help you decide if this software is something you might want to try out.
If you want to give PhotoDirector a try, get the free trial by clicking the link below:
When you buy through links on our site, we may earn a commission at no cost to you. We evaluate products independently. Commissions do not affect our evaluations.
What's New in PhotoDirector?
The latest version of PhotoDirector sees a huge selection of additional content and features. This includes many LUT packs, new tools, greater support for different file types, and improved layer management. We have summarized the new features below:
A great selection of new LUTs
Various background music packs
Seasonal sales poster templates
Improved styles
AI person segmentation
Improved layer management and layer properties
Non-destructive layer editing
Improved customizable hotkeys for a quicker workflow
Access to stock photos via Shutterstock
New image effects such as light rays and text warp
A new photo animation feature
Support for Canon's CR3 RAW format
As you can see, much has changed in PhotoDirector 12. Overall, users are presented with a much larger content library including themed LUTs, and, more interestingly, access to professional stock photos via a collaboration with Shutterstock.
Related Post: Luminar NEO Review
One of the biggest changes for photographers is support for Canon's CR3 RAW file format. This is a relatively new file format, but it is used on Canon's newer mirrorless systems. Having support for the CR3 file format is a big plus and shows that PhotoDirector intends to stay up-to-date with camera developments.
It also appears that Cyberlink has taken measures to improve usability through non-destructive editing. For example, the layer management system is improved with new features. You can also undo changes made to different layers in a non-destructive manner.
PhotoDirector also adds several interesting new tools including photo animations, particle dispersion, light rays, and the photo glitch effect. This gives users improved creativity and allows them to create some unique artwork and stylistic photos.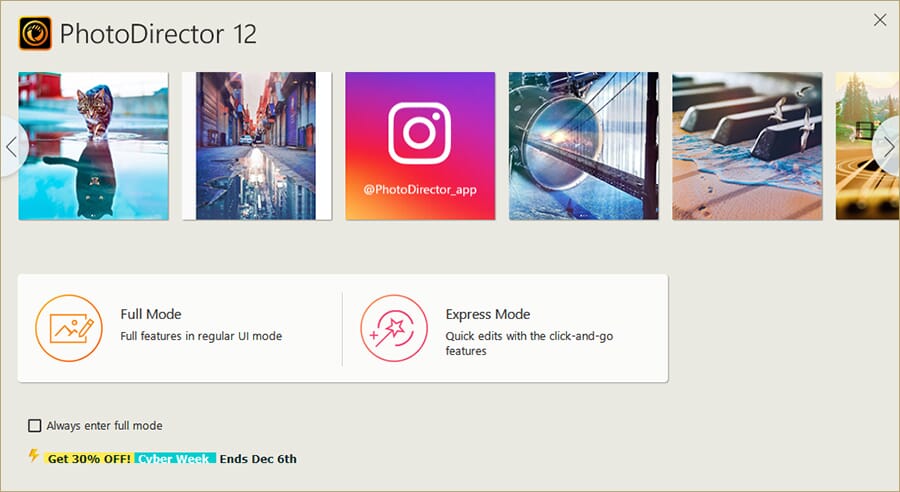 Price & Availability
Like most software companies, Cyberlink is moving towards a subscription-based service. You can still purchase PhotoDirector 12 outright with a one-off license, but the subscription service does seem like a great alternative. The following are the current price plans available:
PhotoDirector 12 Ultra – $54.99
PhotoDirector 12 & PowerDirector 19 Bundle – $139.99
PhotoDirector 365 – $2.92/month
Director Suite 365 – $5.83/month
Generally, Cyberlink has its pricing spot on. If you just want to purchase PhotoDirector 12 as a one-off license, the cost is very reasonable. Even the subscription service is affordable and at a price point much lower than what competitors like Adobe are offering.
The basic PhotoDirector 365 subscription gives you full access to PhotoDirector 12. It also gives 50GB of cloud storage, and continual product updates as new features are released. You also get full access to the plugins, background music, and the Shutterstock library. For less than $3.00/month, this is a great value subscription.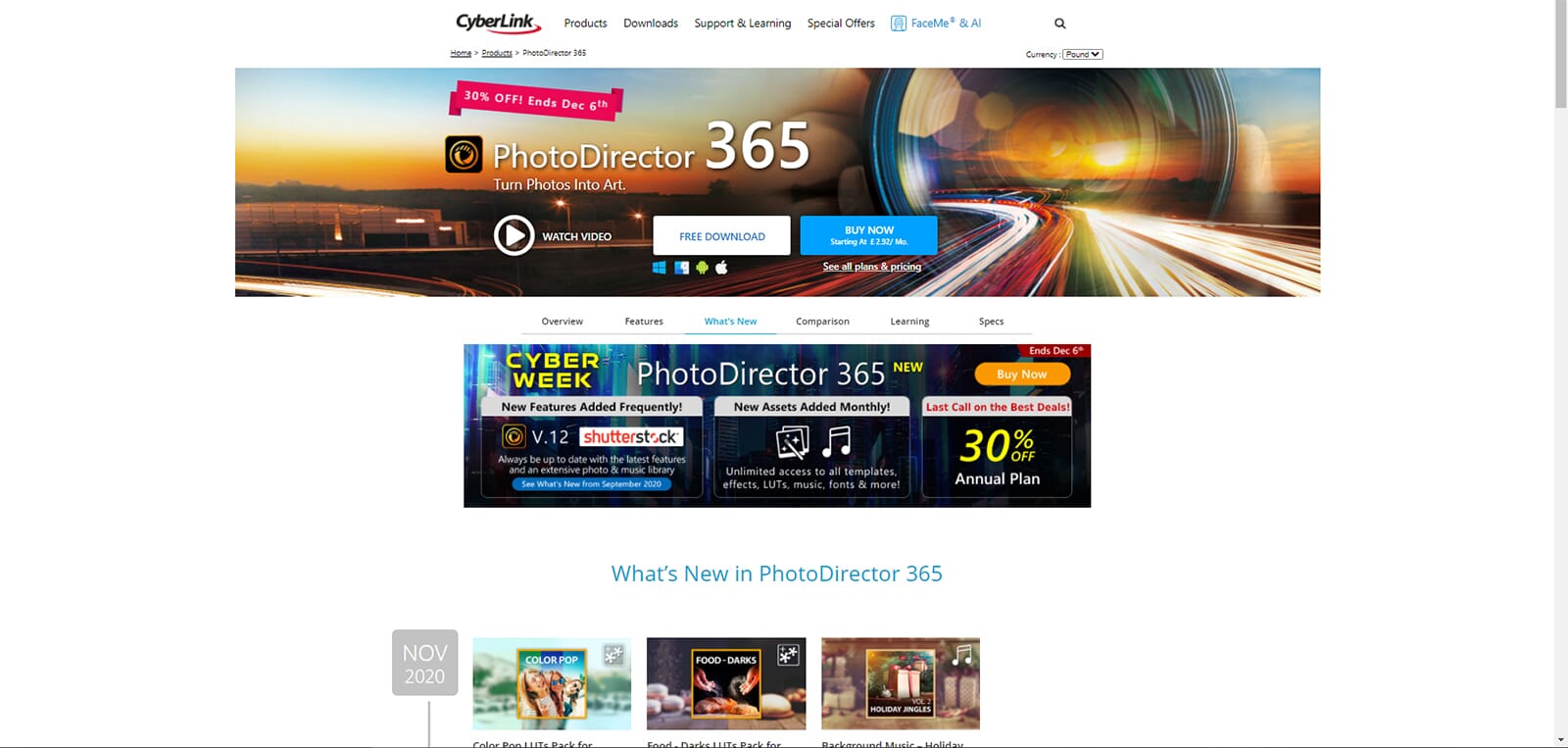 PhotoDirector Review
Now onto our actual PhotoDirector 12 review. We have split this into several categories; performance, photo management, adjustments, transformation, slideshow creator, and print tools.
Performance and Usability
Cyberlink continues to improve the performance of PhotoDirector 12, and it is a stable platform that doesn't require a super-powerful PC to run. The latest version still requires less-powerful specs than other software like ON1 Photo RAW. You can see the minimum system requirements below:
Operating System: Microsoft Windows 10 / macOS 10.13
Processor: Intel Core I-series or AMD Phenom or better
Graphics: 128MB VGA
Memory: 4GB
Storage: 2GB
When testing this program, we found no issues. We easily moved through the different menus and tools and the editing process was smooth with no lag or delay, even when loading large images. The tools and overall layout are also easy to navigate – this is an extremely user-friendly program. We quickly understood how to use the tools and navigate through the different screens.
As part of our PhotoDirector test, we looked at the import and export features. The import dialogue box is advanced and has a range of features. Different parameters and functions are applied during the import process, if required. For example, users can rename files during import.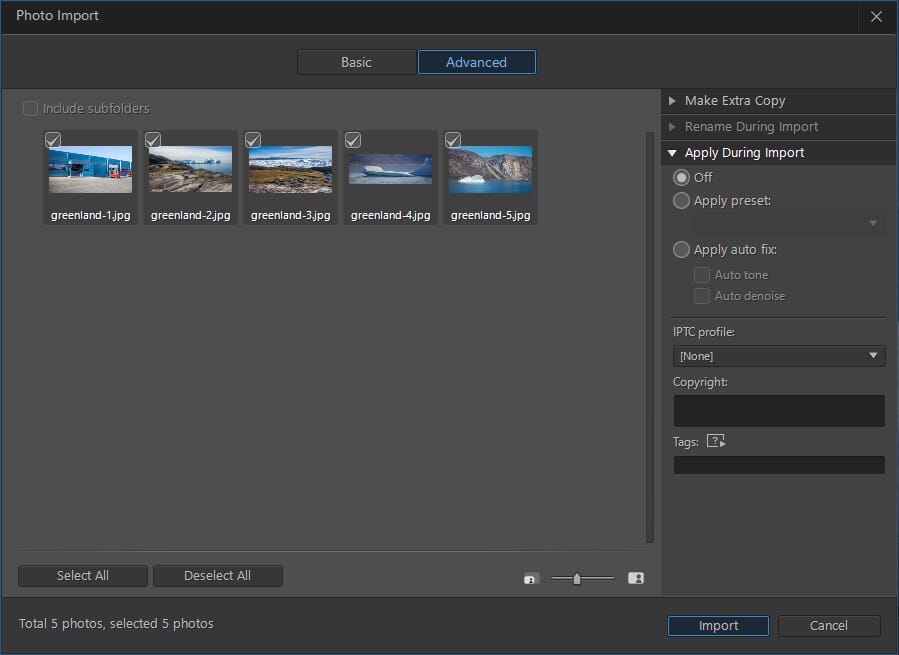 The export process features similar options. Users can export files into a range of different formats including JPEG and PNG. In addition to this, different options are available such as resizing and adding watermarks. The following screenshot shows an example export screen: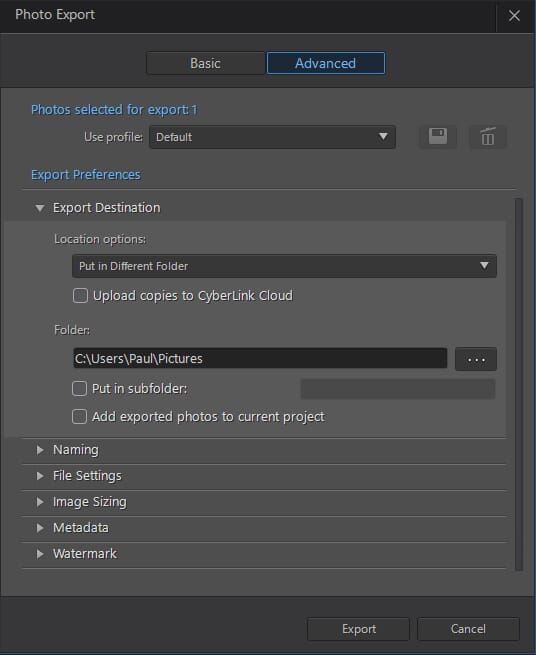 Library Layout & Photo Management
Let's look at the PhotoDirector photo management features.
PhotoDirector offers both image management, and editing functionality. The photo management technology is extensive. And when it comes to organization, users have access to plenty of filters, sorting options, as well as detailed metadata.
If you have large volumes of photos, this program can be used to easily manage and organize your images.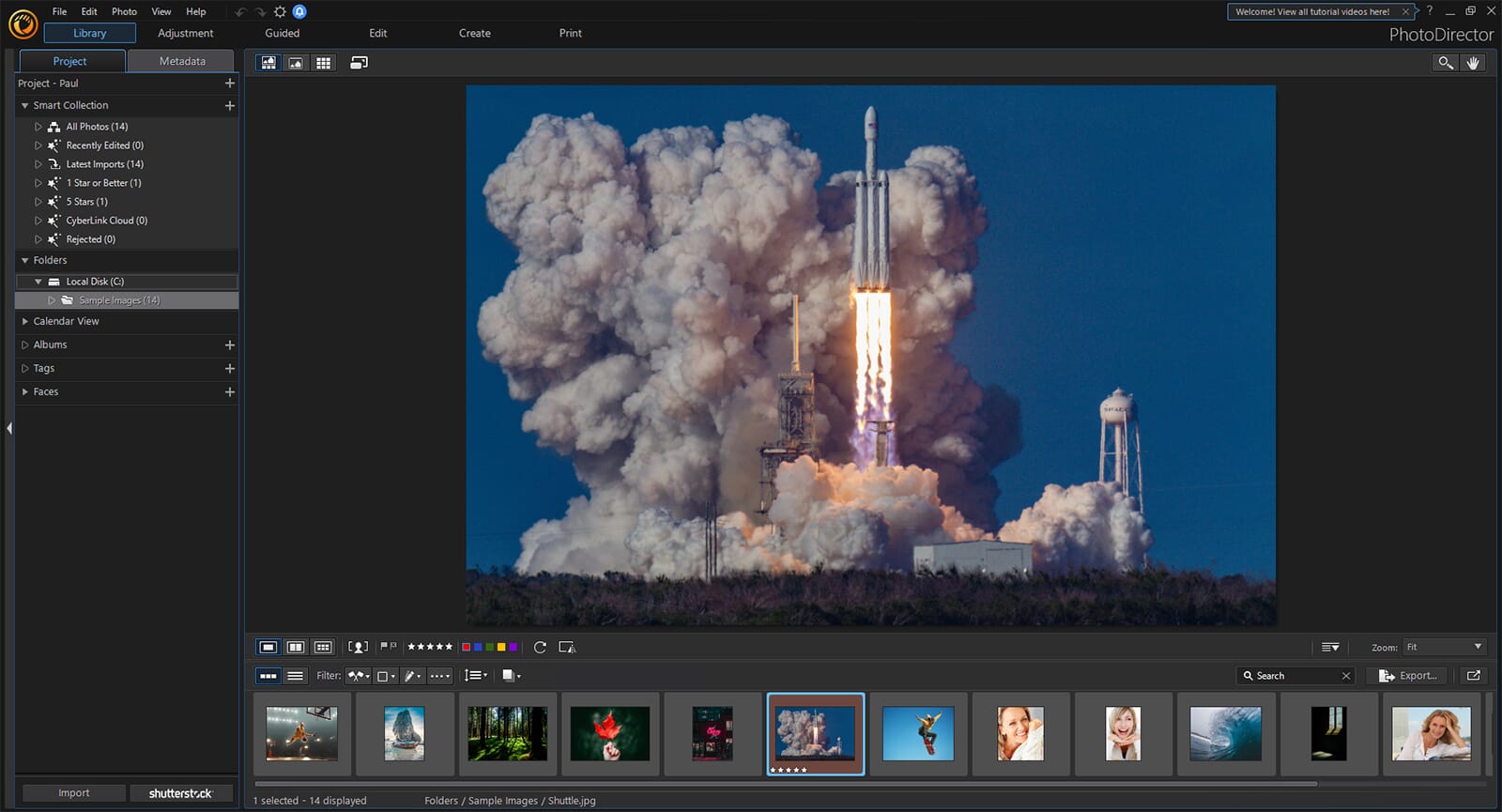 The full folder structure offered by PhotoDirector 12 is impressive. Users create collections, smart collections, and albums. You can also utilize different tags that are available to search for – if you have added metadata tags to your images, PhotoDirector 12 allows you to search for them.
This brings us to the next point, filtering and sorting. This program has a range of advanced search functionality and filters. Basic filter options include colors, star ratings, flag picks, and tags.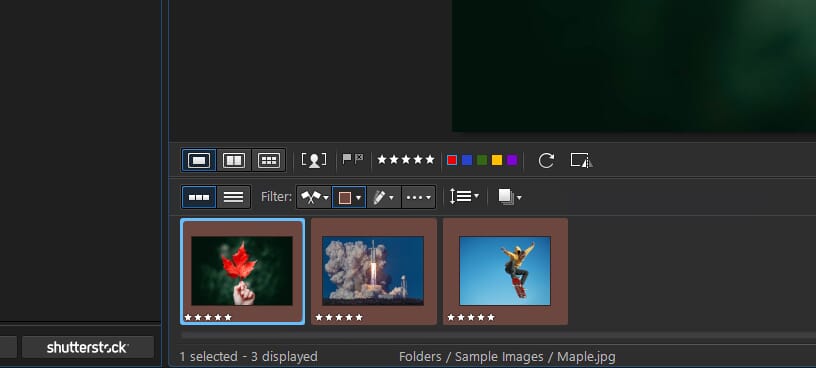 The metadata offered is extensive. Users can enter a plethora of metadata about their RAW images. Examples of metadata include job title, creator, focal length, caption, dimensions, and capture date. You can also create metadata profiles to quickly enter metadata in multiple images.
Overall, the photo management features of this program are one of the strongest elements of PhotoDirector 12. This program really does enable users to manage photos effectively and with great control.
Adjustment Layout & Basic Editing Tools
The basic image adjustments are made in the adjustments tab. In the adjustment screen, advanced adjustments to tone, color, brightness, and other aspects of RAW photos can be made.
The different parameters are changed using sliders. We thought the process was quick – the preview pane updated in real-time as you dragged the sliders without any delay. The following are some of the available tools:
White balance
Exposure
Contrast
Midtones
Clarity
Saturation
The below screenshot shows the basic adjustments layout: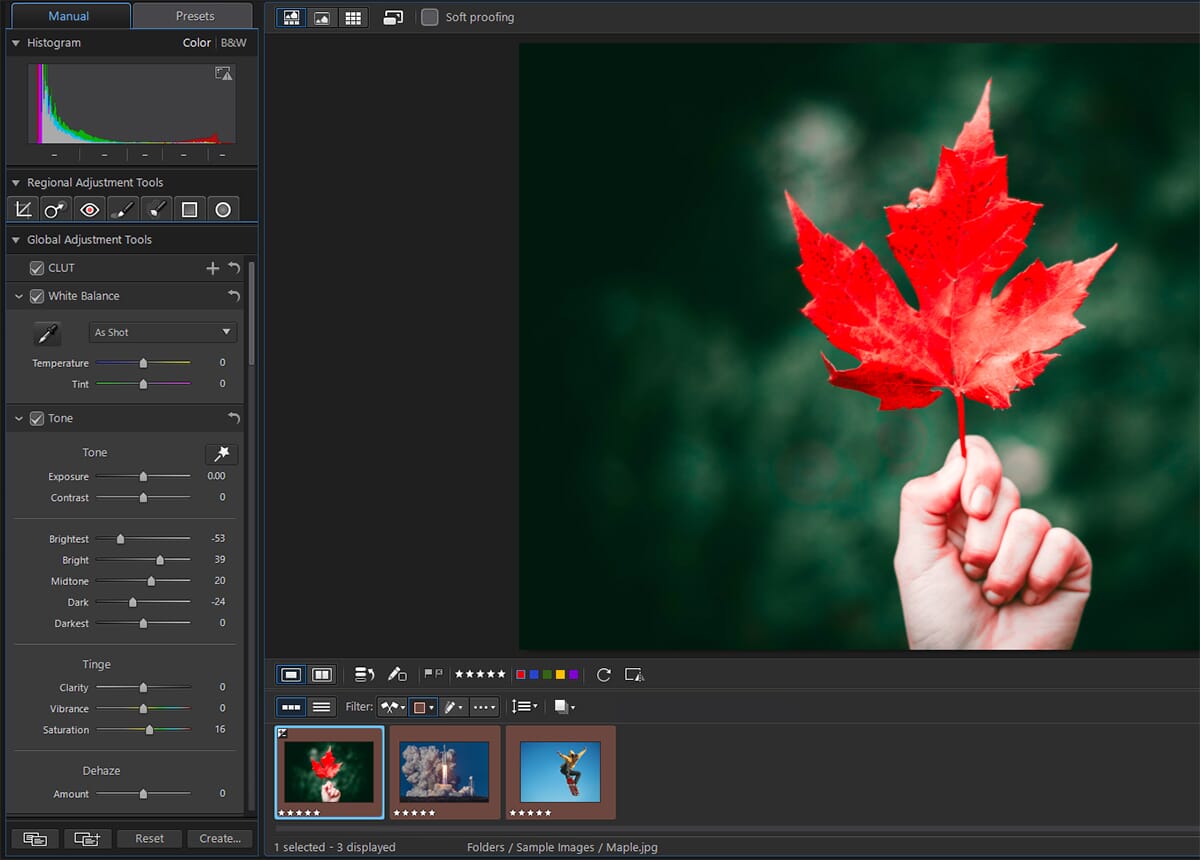 Aside from manual editing, the adjustment screen also contains presets. These presets are pre-designed to emulate different styles. The presets offer creative and artistic options. There is a large selection of categories such as scenery, portrait, split toning, and black and white.
Within each category, there is a selection of individual presets. Users can apply these presets with a single click. Once applied, the preset can be changed using the manual adjustment screen.
We like the different presets – there is a great range to choose from. The quality and amount are not as extensive as some other editing programs, but there is enough to create fantastic artistic shots: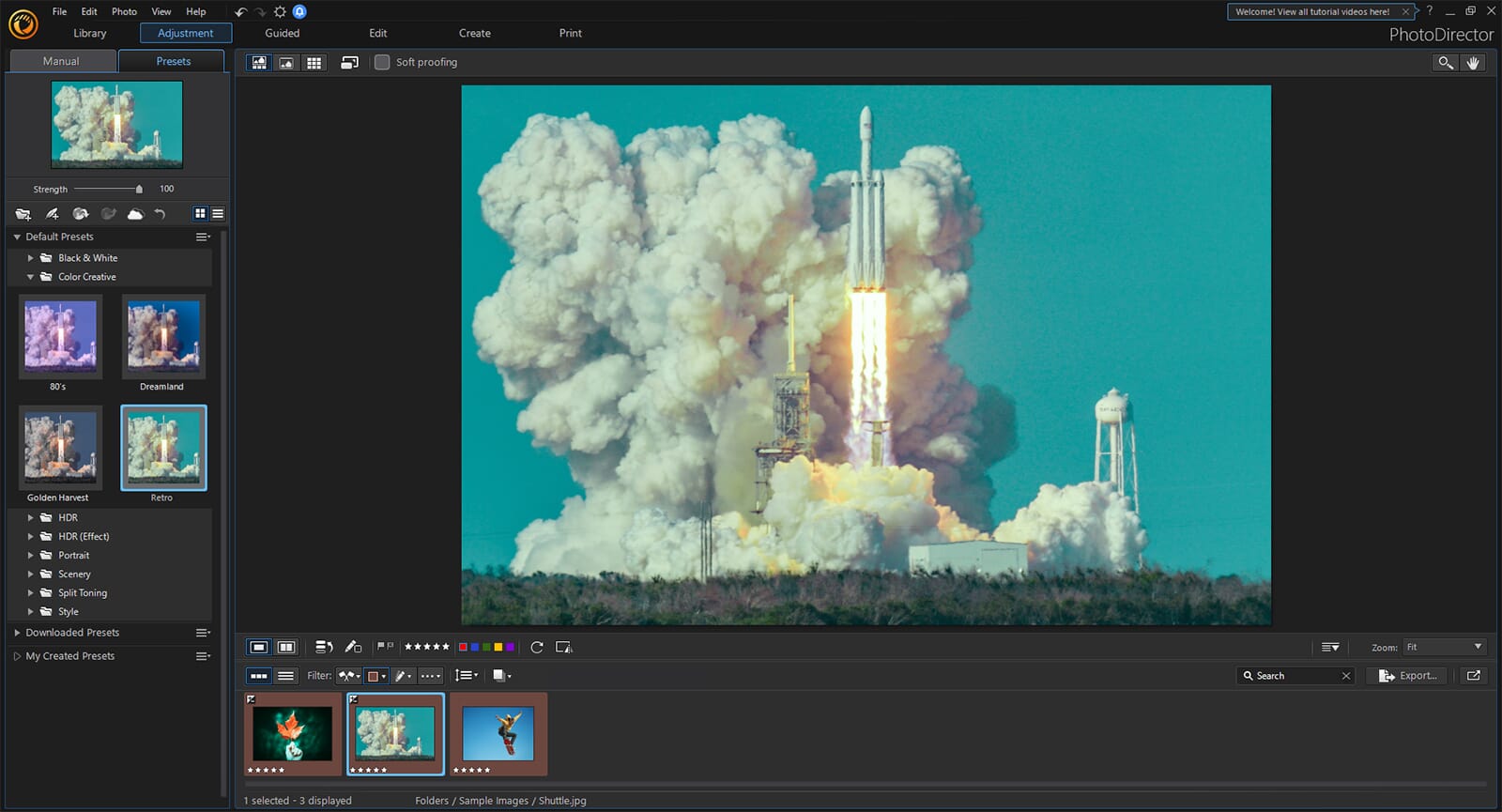 You can also create custom presets from the editing settings you have applied to a photo. This can greatly speed up the editing process if you have a batch of similar photos, for example. There is a simple button called "Create preset from current adjustments". You can save the preset, and even create a folder structure with different preset categories.
Edit Layout & Transformation Tools
PhotoDirector 12 takes a staggered approach to the editing process. It splits the editing into adjustments and transformations. First, the adjustments are made to the basic image parameters. Then the transformation tools are used – these are found in the edit layout.
We feel this gives the editing process structure and it is easy to follow. The edit screen contains basic tools such as crop, rotate, scale, and distort. Whilst also providing tools, you would expect from a raster graphics program such as Photoshop.
These tools include an eraser, text tool, gradients, fill tool, and a magic wand. Essentially, users can add different elements to their images, such as text overlays and graphics. Each tool has a tooltip when you hover over it – the functions are self-explanatory and easy to use.
Related Post: Building Your Lightroom Workflow
In the edit screen, you can also add new layers to create complex photos and graphics. The layer management system has been improved upon from PhotoDirector 11. You now have more freedom to edit the layers and create complex layer systems featuring masks, overlays, and more.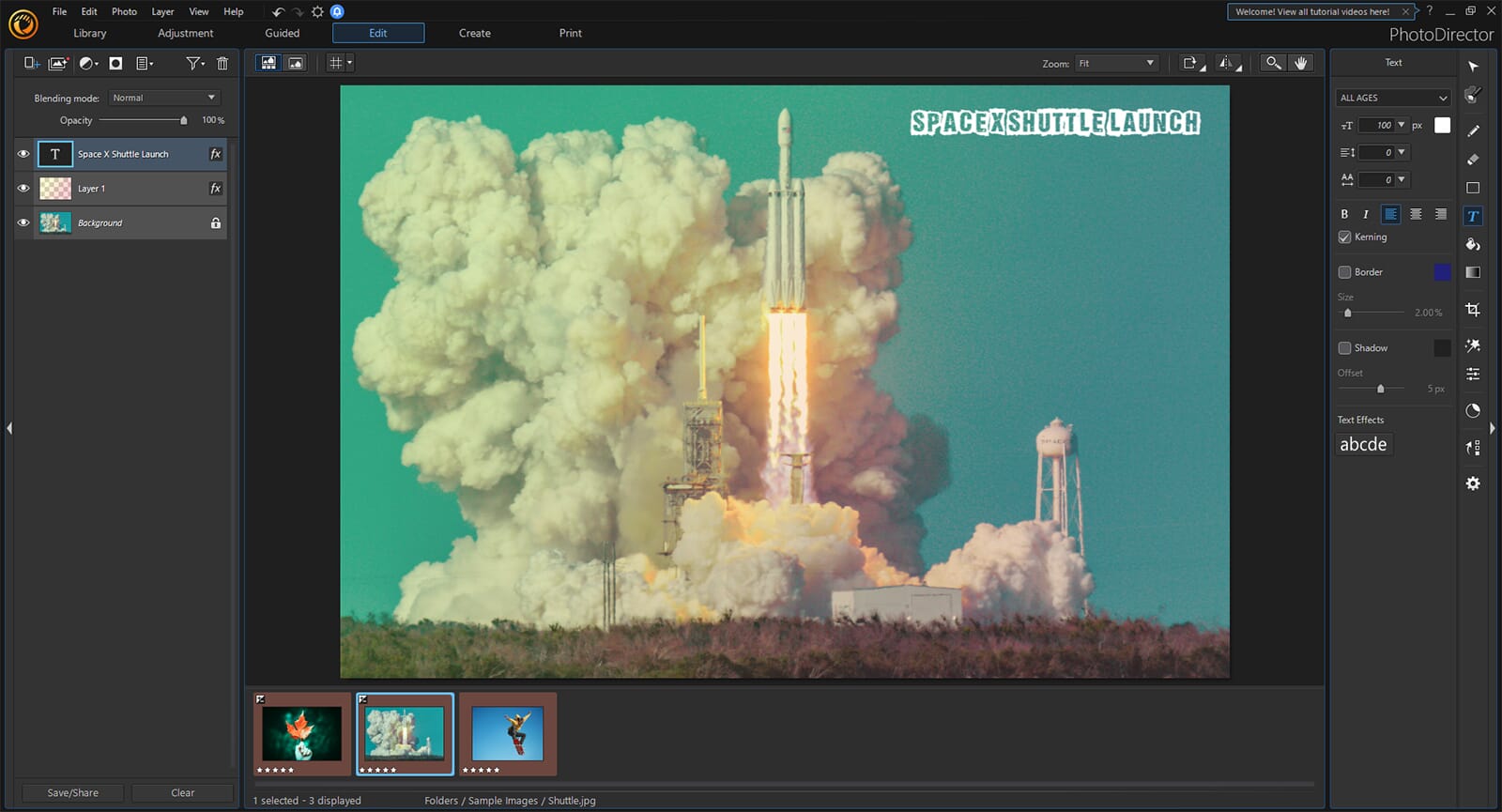 You can filter the layers by their type, and also easily group, delete, merge, and rename layers. The layer management system is now easily on par with programs like Photoshop, if not better.
Guided View – Step-By-Step Editing
If you are a beginner in the world of photo editing and graphics, PhotoDirector 12 has a useful "Guided" tab. This tab contains a host of tools and walkthroughs for different image styles and editing techniques. For example, it has a "people beautifier" section, which helps you automatically improve the quality of portrait photos.

The section we like the most, however, is the photo effects section. Here, Cyberlink has added several new photo effects like light rays and the glitch effect. These are fantastic modern photo effects, and they are incredibly easy to use. You can see an example of the light rays effect below: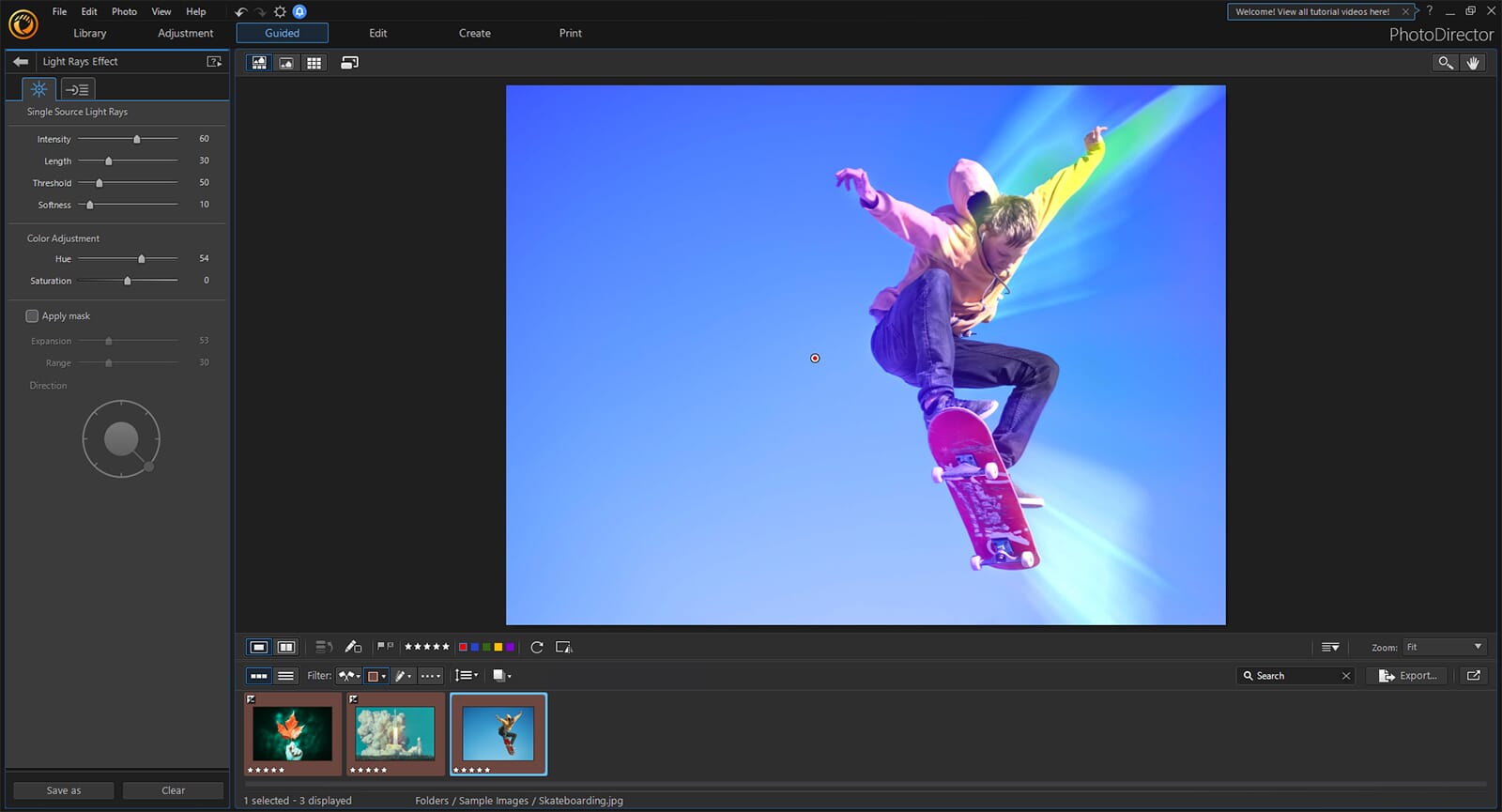 In the guided animation section, PhotoDirector 12 adds a cool dispersion effect. This breaks your image into particles and disperses them in a pattern. You can create some remarkable effects with this, and you can also create an animated version of the dispersion effect. In the example below, you can see the dispersion effect applied to the skateboarder: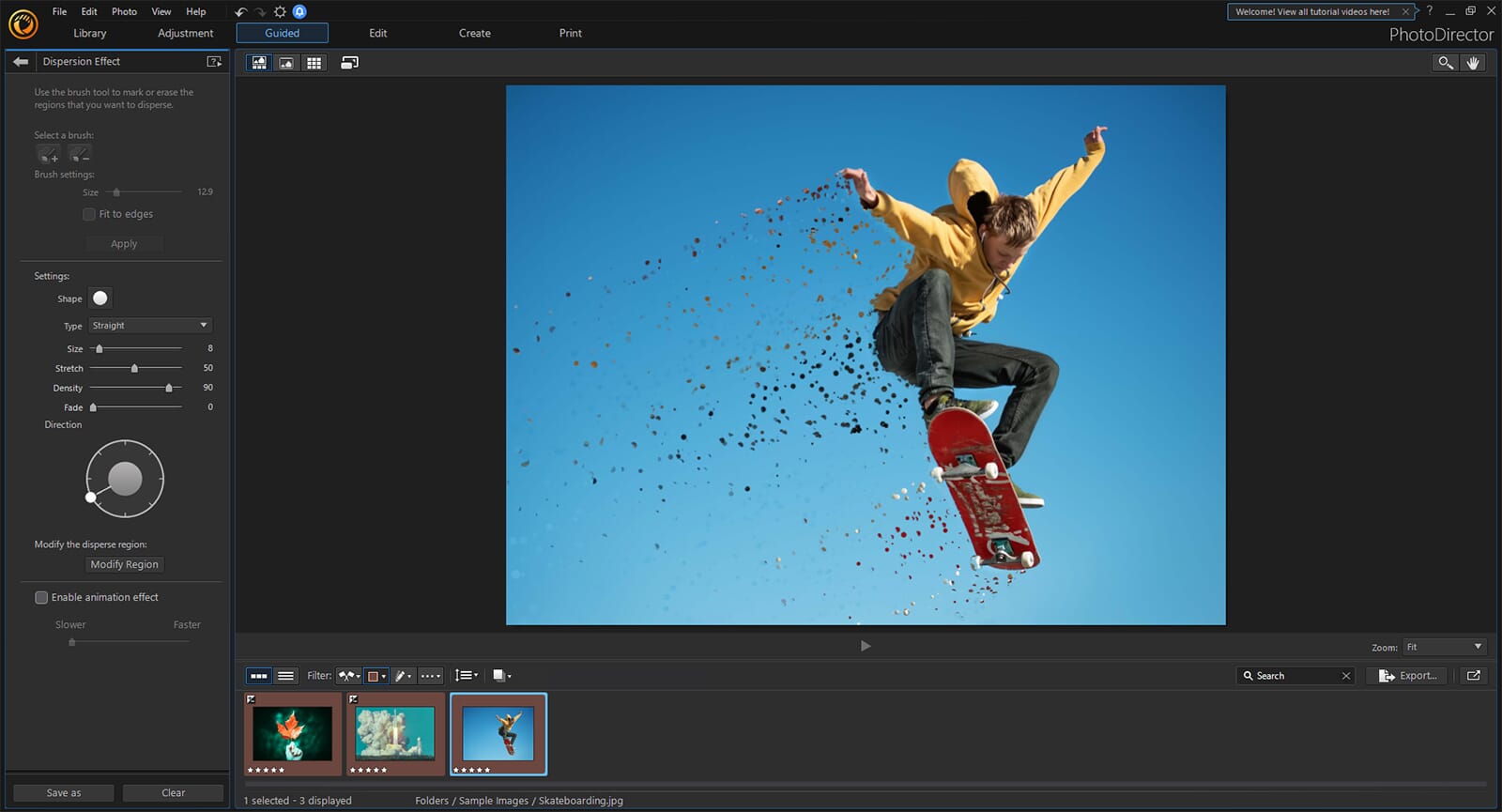 Slideshow Creator
A fantastic feature of PhotoDirector 12 is the "create" mode. This gives users the ability to create image slideshows from their personal catalog.
The layout is easy to use – the left-hand pane contains the main settings of the slideshow such as transition effects, aspect ratio, and the duration of each slide. You can also select background music – PhotoDirector 12 has a range of pre-loaded background tracks. Users can also upload their own music.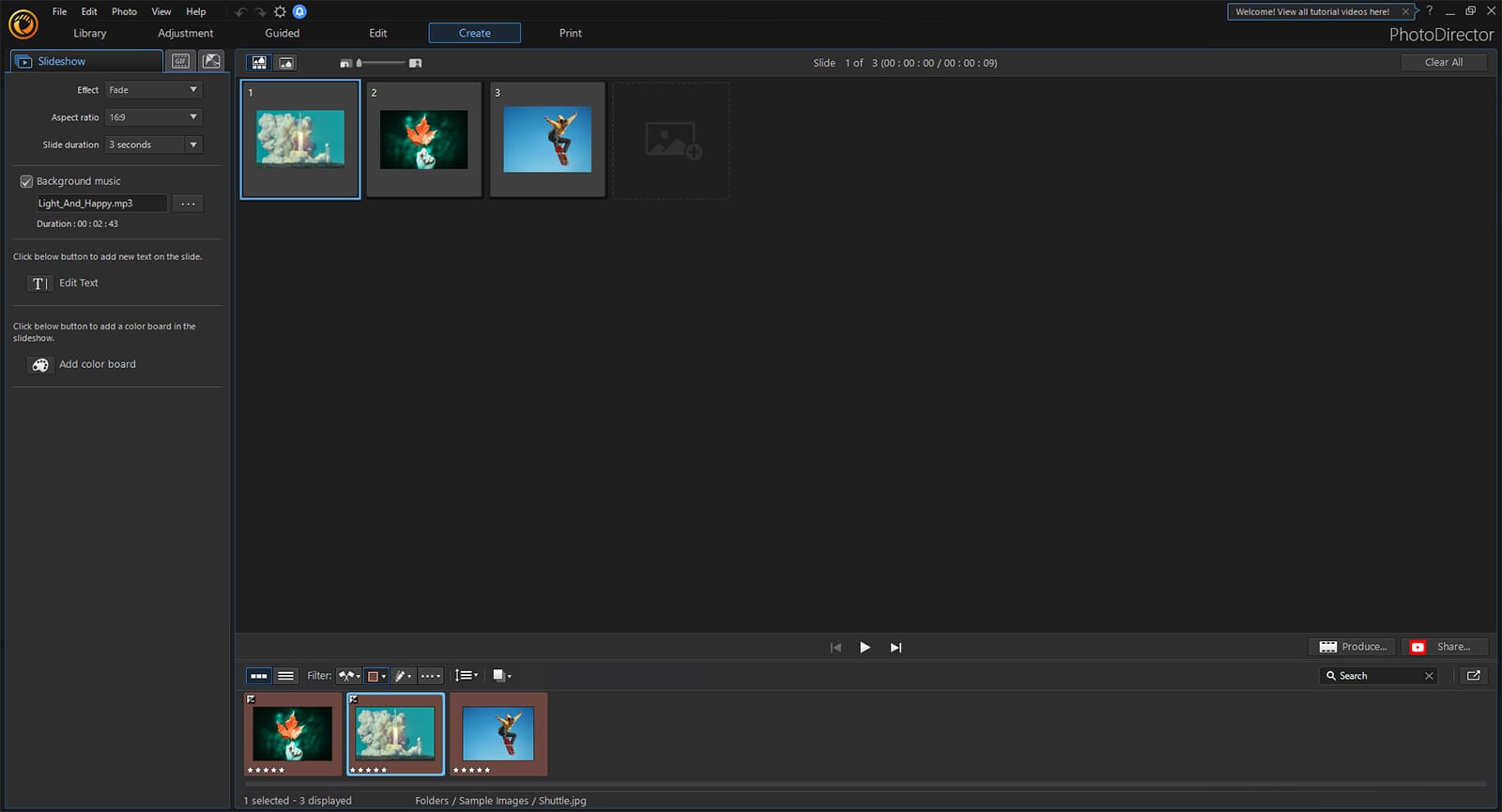 In the right-hand pane, the different image slides are displayed as thumbnails. There is a preview pane beneath that shows the timeline of the slideshow. We understand that there isn't a large selection of transitions to choose from, but the text effects look fresh, and creating a slideshow is unbelievably easy – everything is self-explanatory.
Print Tools
We really like the print tools available in PhotoDirector 12. We especially liked the flexibility that they provide. PhotoDirector 12 provides basic printing tools – this allows users to print their photos on standard paper.
There is also a range of preset options that allow the printing of photos on different sized paper and formats. The following print options are available to change:
Paper size
Orientation
Unit settings
Photo size
Watermarks
Resolution
As illustrated by the screenshot below, a preview is shown of the different print sizes available. We like the preset options available – if you want to print photos for an album, the process is quick and easy.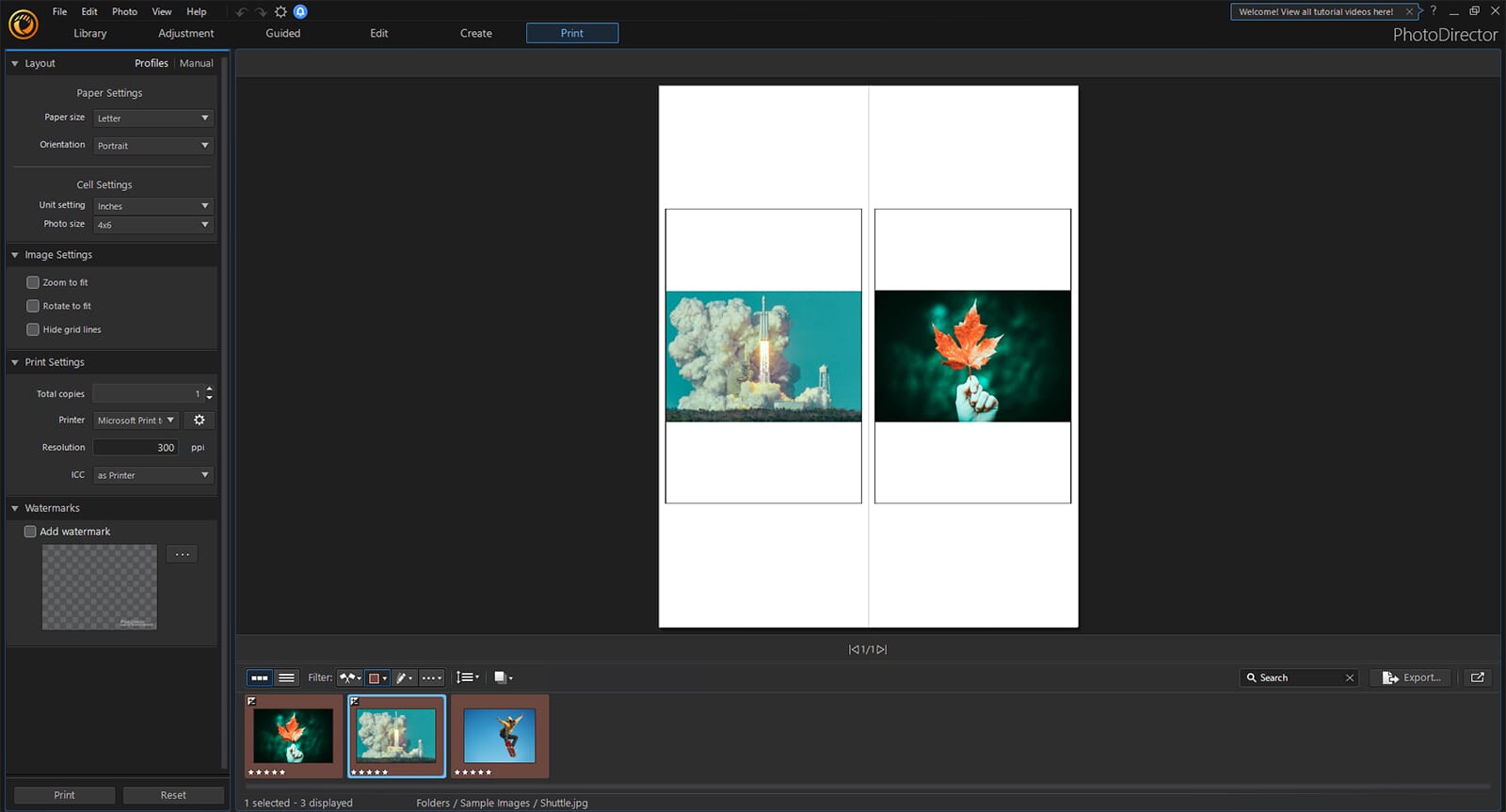 PhotoDirector: The Final Verdict
PhotoDirector 12 Review
Name: PhotoDirector 12
Description: Get to the heart of creative photo editing, fast. With powerful AI tools, eye-catching visual effects, advanced color controls and intuitive layer editing, you can create breathtaking compositions and artistic masterpieces in a snap.
Offer price: 99.99
Currency: USD
Operating System: Windows, Mac
Application Category: Multimedia
Author: CyberLink
Photo Editing Features

Presets

Performance & Usability

Price (Lifetime)

Library Layout & Photo Management

Extra Functionalities (Slideshows, Print Functions)
PhotoDirector 11 Review Summary
Photo editing software similar to Photoshop and Lightroom. AI tools and Express Layer Templates allow fast editing on your Windows or Mac.
PhotoDirector is another improvement on previous versions. We like the subscription-based service and feel this is excellent value for money. It is much cheaper than competitors, and the 50GB of cloud storage is a great addition.
The performance and usability of PhotoDirector remain decent too. It does not require an ultra-powerful computer, and the tools and different tabs are relatively easy to use.
For photo editing, this software has it all – you can easily edit your RAW images to a high degree of accuracy. With the support for CR3, this software continues to provide support for the latest camera technology.
In short, PhotoDirector builds upon the success of previous versions and adds a host of new features and a much larger content library. Whilst some may not care for features like background music and LUTs, these features certainly add greater depth to the program and make it interesting and fun to use.
Pros
Excellent performance and usability
Logical layout for different editing processes
Fantastic slideshow maker
Myriad of useful print options
Advanced editing tools for RAW files
Some fantastic photo effects
Cons
Pre-sets are basic compared to other editing programs