A first-person view (FPV) drone puts you directly in the pilot's seat, where you view a live feed from the drone camera. In fact, an FPV drone is essential for filming because you can see exactly what the camera is recording, and you can enjoy greater control over the footage you're capturing. Piloting an FPV drone using either goggles or a remote control with a display screen is also tons of fun!
If FPV recording sounds like something you would enjoy, then you'll love our list of the best FPV drones for filming, which includes high-end models for professional filmmaking and budget drones for beginners.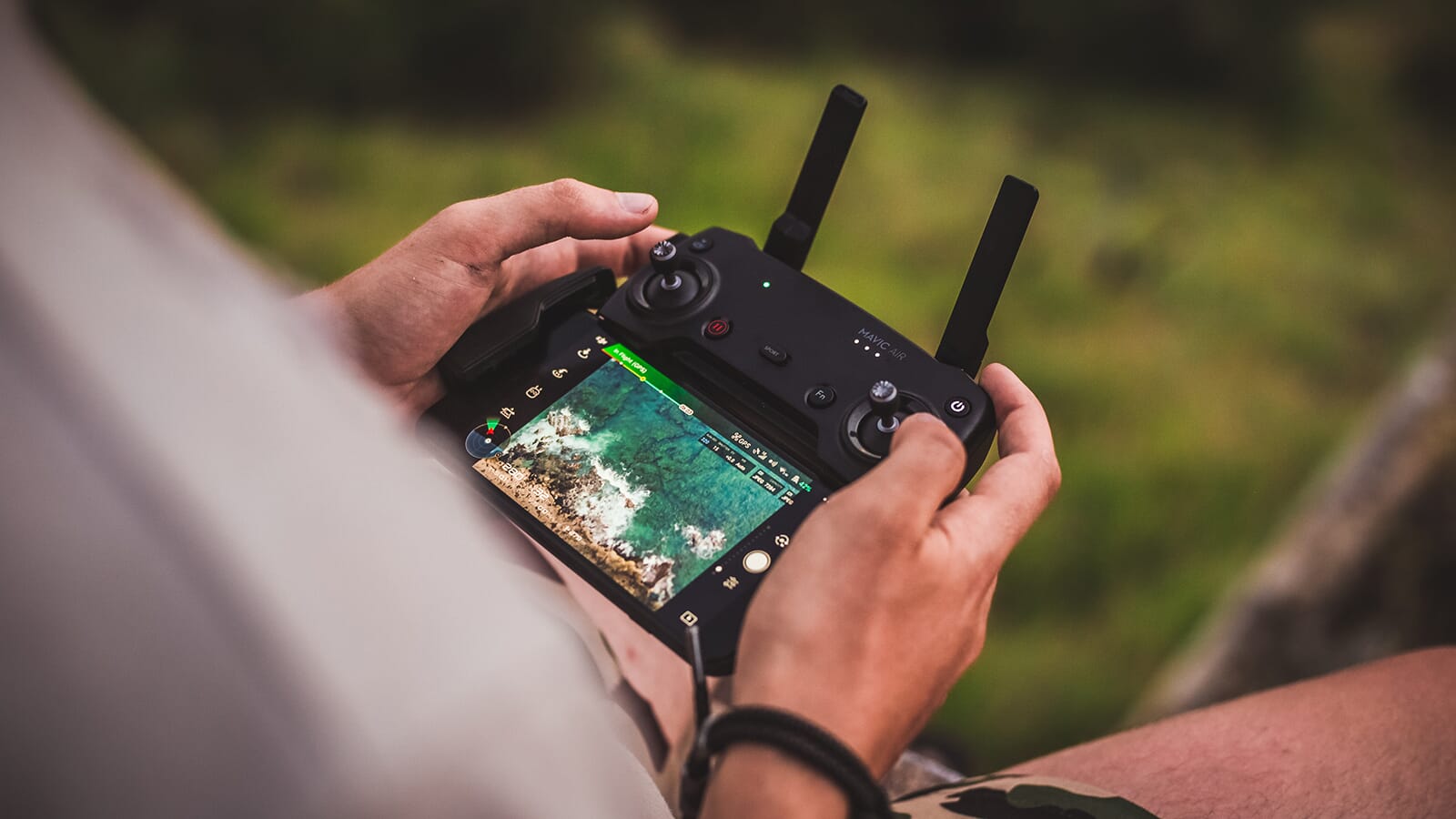 When you buy through links on our site, we may earn a commission at no cost to you. We evaluate products independently. Commissions do not affect our evaluations.
1. DJI FPV Combo
Our Pick
Great for an immersive filming experience
The DJI FPV Combo has excellent FPV goggles and uses the Ocusync 3.0 transmission system for smooth FPV playback.
Pros
Includes the DJI FPV Goggles V2
Excellent transmission range up to 6.2 mi/10 km
Durable and compact design
One of the best FPV drones for filming is the DJI FPV Combo. It's a newer product from DJI and is specifically made for high-end FPV drone piloting and videography.
The DJI FPV has a unique design compared to other DJI drones but is still compact. The camera can record up to 4K at 60 fps (and it can record 1080p at 120 fps, too). You can expect sharp footage with brilliant colors and contrast.
The FPV experience is where this drone shines. It uses the Ocusync 3.0 transmission system, which works for up to 6.2 mi/10 km. It also provides superior video feedback with minimum lag. And the FPV experience is enhanced with the (included) DJI FPV Goggles; these have a wide 150-degree field of view and are comfortable to wear.
We also like the advanced safety features offered by this drone, including a smart return-to-home function, a low battery return-to-home function, and an advanced array of obstacle sensors. This means you can safely use the drone for filming while flying at high speeds.
2. Parrot Anafi
Also Great
Great for budget travel
The Parrot Anafi is a great drone for travel videos. It includes FPV goggles, a high-quality FPV controller, and a backpack for storage.
Pros
Includes FPV goggles
Includes a backpack for storage and launching
Quick USB-C charging
Cons
Battery life is limited compared to other options
If you want a midrange FPV drone with great flight capabilities, the Parrot Anafi is a solid option. It's perfect for FPV filming thanks to its included cockpit glasses (though note that the glasses are available in the FPV drone set, which is more expensive than the standalone drone).
You can use either the Skycontroller 3 or the FPV goggles for FPV flight. The FPV goggles provide the most immersive FPV experience, but the Skycontroller 3 is great for filming. It also has a 2.4 mi/4 km transmission range.
The Parrot Anafi has a 4K HDR camera that can be angled 180 degrees on its vertical axis. The recording quality is fantastic, and you can expect smooth footage with excellent contrast. Piloting this drone should prove easy due to the range of advanced flight features and settings.
You can also use the Parrot Anafi as a travel video drone. It comes with a backpack that serves as a storage unit and a launchpad.
3. Autel EVO II Pro
Great for safe FPV flight
The Autel EVO II Pro has some amazing sensors that make flight control simple; it also has a controller with built-in OLED screen.
Pros
Remote control has built-in FPV functionality
Can record 4K at 120 fps for super slow-motion footage
The basic bundle includes two spare batteries
Autel Robotics has created an amazing FPV drone, the No products found.. It's a powerful drone with a heap of features that make it perfect for high-end filming.
The camera is superb, and the one-inch sensor can record video at a whopping 5.5K/60p. More interestingly, the Autel EVO II Pro is one of the few drones that can also record 4K/120p footage, which is perfect for slow-motion footage. The aperture of the lens is also adjustable from f/2.8 to f/11; this allows you to experiment with different shot types and depth of field effects.
We love that this drone has a remote control with a built-in OLED display, which means you can film without a smartphone on hand. The controller is amazing to use and the FPV system has a maximum transmission distance of 5.6 mi/9 km.
The Autel EVO II Pro also has an impressive array of sensors, including 12 computer-vision sensors and two sonar sensors. In other words, the drone should never crash!
4. DJI Inspire 2
Great for professional cinematography
The DJI Inspire 2 is the ultimate FPV drone for professional filmmaking due to its amazing camera options, durable build, and top-notch flight controls.
Pros
Excellent 4.3 mi/7 km transmission range
Durable metal composite exterior
Optional camera upgrades for superior video quality
If you want a drone for professional cinematography, the DJI Inspire 2 is one of the best options you can get. It's an outstanding drone in every respect and is built for high-end recording.
The DJI Inspire 2 has an advanced CineCore 2.0 image-processing system that allows you to record in 6K CinemaDNG format for high-quality editing. You can also upgrade the DJI Inspire by selecting either the X7 or X5S cameras. Both of these are cinema-grade drone cameras that will take your recording to the next level.
This drone has a vision-sensing, two-axis FPV camera with an excellent transmission range of up to 4.3 mi/7 km. We also like the robust design of the DJI Inspire 2; the body is made from a magnesium-aluminum composite and boasts carbon fiber arms.
The drone also features an array of intelligent flight modes, including a simple TapFly control via the FPV screen and an ActiveTrack mode to follow moving objects like cars.
5. DJI Mavic 2 Pro
Great for low-light recording
The DJI Mavic 2 Pro features a high-quality Hasselblad camera and an excellent FPV transmission range.
Pros
Premium Hasselblad 4K camera
Compact design with foldable legs
Amazing remote control for FPV flight
Cons
Relatively expensive
Another great FPV drone is the DJI Mavic 2 Pro, a high-end model with an impressively compact design. If your goal is to record high-quality travel footage, this drone is a great choice.
You get an extensive range of equipment in the starter kit, including the drone, a battery, a remote controller, spare propellers, a battery charger, a power cable, and a range of connector cables.
This drone also features a maximum video transmission range of 5 mi/8 km, which gives you excellent flexibility when recording. You can watch from an FPV perspective with the smartphone-attached controller. Alternatively, if you want the best-possible FPV experience, you can buy the DJI Smart Controller.
The video quality of the Mavic 2 Pro is fantastic thanks to the Hasselblad L1D-20c camera. It can record in 4K HD, and it does a great job with low-light recording. Finally, the drone's battery provides a maximum flight time of up to 31 minutes.
6. Holy Stone HS720E
Best for beginners
The Holy Stone HS720E is the perfect beginner drone. It's lightweight, compact, affordable, and has excellent flight controls for first-time users.
Pros
4K recording
Built-in EIS to improve recording stability
Includes a comprehensive starter kit
Cons
Not the longest FPV transmission distance
Holy Stone has a great range of budget drones for beginners, and one of the best choices is the Holy Stone HS720E. It's perfect for videographers just getting started with drone recording.
This drone boasts a camera that can record 4K footage at 30 fps; it can also record 1080p footage at 60 fps, which gives you the option for slow-motion footage. And it's complemented by electronic image stabilization technology that improves video smoothness and reduces motion blur.
Like most FPV drones, the Holy Stone HS720E has a smartphone-ready remote control. You watch a live feed through your smartphone and pilot the drone using the remote. Unfortunately, the FPV setup has a maximum transmission distance of 1640 ft/0.5 km.
The drone is very stable thanks to an air-pressure altitude control system, which is helpful for beginners. Drone newbies will also appreciate some of the automated flight features like the return-home option.
7. Ruko F11 Pro
Great for beginners
The Ruko F11 Pro is a beginner-friendly drone that has some great flight controls for those learning to pilot for the first time.
Pros
High-quality 4K sensor
Decent battery life of up to 30 minutes
A great range of intelligent flight features
Cons
The FPV transmission range is not as long as other drones
One of the best FPV drones for filming on a budget is the Ruko F11 Pro, an inexpensive drone that still offers great specs and FPV controls. For less than $300, you get a drone that can record in 4K and has an array of useful features for filming.
The 4K UHD camera boasts a 120-degree field-of-view lens. It captures epic wide-angle footage and is great for doing gorgeous aerial landscape shots. The upgraded battery also means that you can record footage for up to 30 minutes of flight.
First-timers will love the range of beginner flight settings, which let you learn how to pilot the drone at your own pace. There are also plenty of intelligent flight options, including a Follow-Me mode and a mode that commands the drone to fly around a point of interest.
The drone has a maximum control range of 1640 ft/ 0.5 km. This is not as much as other FPV drones, but it still gives you decent flexibility when filming.
8. DJI Air 2S
Great for urban filmmaking
The DJI Air 2S has an advanced obstacle sensor array, which makes it great for FPV recording in urban areas and smaller spaces.
Pros
FPV transmission range of up to 7.5 mi/12 km
High-quality sensor offering 5.4K recording
Compact, foldable design
Cons
Much heavier than the DJI Mini 2
DJI has a never-ending array of drones, and one of the best for FPV recording is the DJI Air 2S. It offers a well-priced package that's perfect for those who are looking to step up from a beginner model (but who don't want to spend thousands on a professional drone).
The video capabilities of this drone are great; it packs a one-inch sensor capable of recording 5.4K/30p footage and 4K/60p footage. This means that you can record slow-motion footage at 60 fps. The drone also has a range of automated flying features to help improve your filmmaking flexibility.
The DJI Air 2S uses Ocusync 3.0 for FPV flight, which is DJI's image transmission technology, and which features a transmission range of 7.5 mi/12 km. The FPV feed is transmitted to your smartphone (and the setup is compatible with most modern smartphones, including Apple iPhones and Samsung Galaxy phones).
We also like the array of obstacle sensors that are spread in four directions. These help you fly the drone in smaller spaces and widen the scope of its filmmaking potential.
9. DJI Mini 2
Great for travel adventures
The DJI Mini 2 is an incredibly compact drone that's perfect for filming your travel adventures thanks to its fantastic camera and 6.2 mi/10 km transmission range.
Pros
Lightweight and compact drone
3-axis motorized gimbal for improved stabilization
Great battery life of up to 31 minutes
Cons
Not as robust as other DJI drones
Not all DJI FPV drones are super expensive. If you want a budget option but like the DJI brand, the Mini 2 is a great starter option. This drone is also perfect for filming on the go due to its incredibly small size and weight.
The drone weighs only 0.54 lb/249 g, and it has completely foldable arms and blades. In other words, you can fold it away and store it neatly in the included storage bag. And you can easily carry this FPV drone with you when traveling or exploring outdoors.
The remote control has a slot to attach smartphones, and it uses the latest Ocusync 2.0 transmission (which offers an FPV transmission distance of up to 6.2 mi/10 km).
The DJI Mini 2 has a 4K camera capable of recording at 30 fps, and it also uses a three-axis motorized gimbal to improve stabilization. This means you can easily record smooth footage – and footage quality is further improved by excellent wind resistance.
10. PowerVision PowerRay
Great for underwater filming
The PowerVision PowerRay is a superb drone for immersive FPV underwater filming up to depths of 98 ft/30 m.
Pros
Great diving depth of up to 98 ft/30 m
Long-lasting battery life
Sleek and stylish design for smooth water movement
Cons
Limited transmission range due to the tether cable
Our last pick is something completely different: the PowerVision PowerRay, an FPV drone specifically designed for underwater filming! PowerVision has a range of great underwater drones, but the PowerRay is the one that offers full underwater immersion.
The PowerRay looks looks fantastic – in fact, it's shaped like a stingray, which makes it streamlined and able to travel through the water with ease. It's also fully waterproof and can be safely used to a depth of 98 ft/30 m. The only downside is that the drone remains connected to the base station via a cable (though this can stretch up to 165 ft/50 m).
The PowerRay features a 4K UHD camera, which provides fantastic underwater video that boasts smooth footage and great clarity.
The FPV experience comes from a remote control with a smartphone attachment. Connect your smartphone to the drone, and you can enjoy an immersive underwater FPV-filming session. There is also an optional set of FPV goggles you can purchase.
Get a Drone and Start Filming!
You have a great selection of FPV drones to choose from, including budget options for beginners and high-end models for serious filmmakers. But which option is right for you?
If you are buying your first drone and don't want to spend a fortune, something like the Holy Stone HS720E, the Ruko F11 Pro, or the DJI Mini 2 is a great option.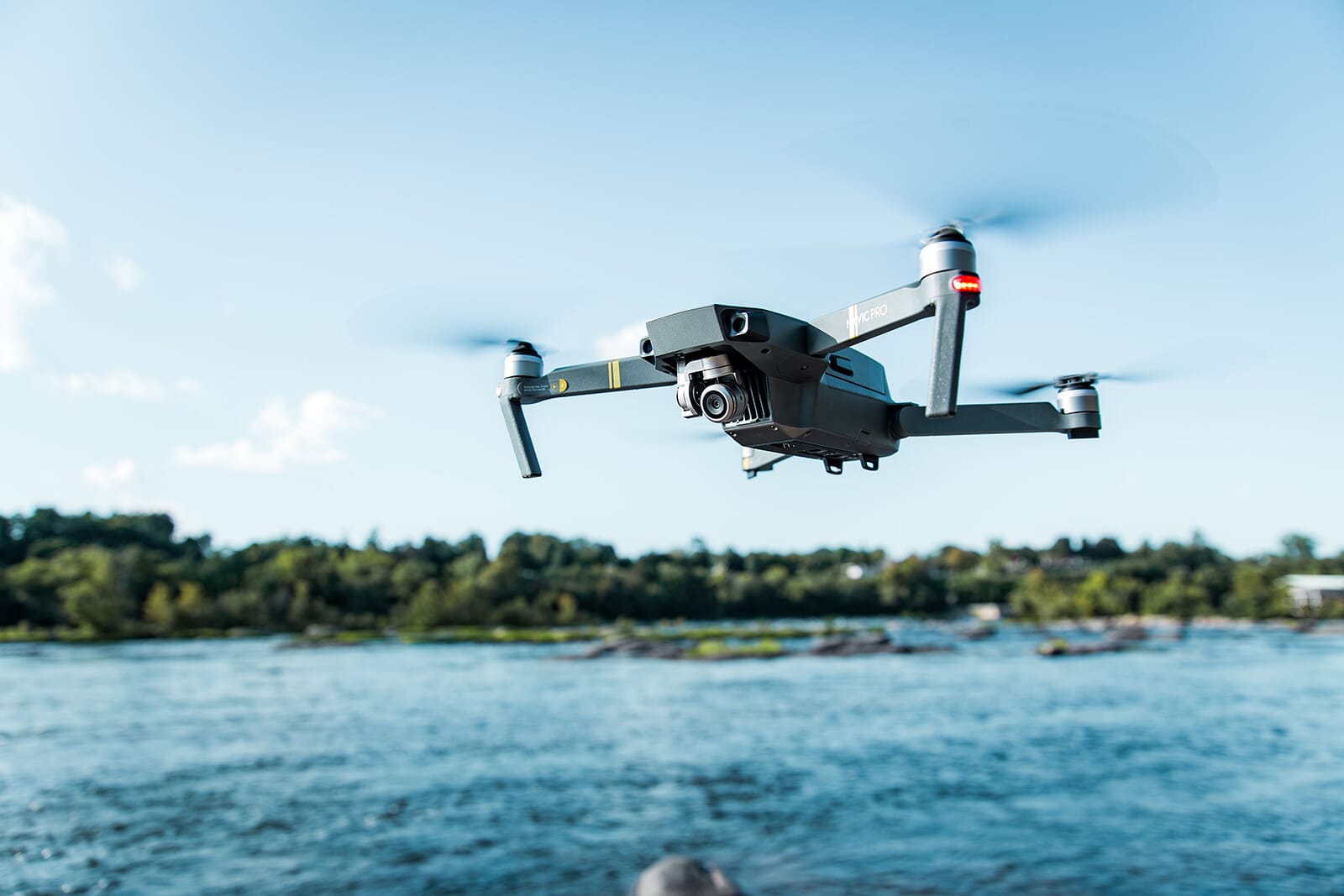 If you want the best-quality camera and FPV experience, however, drones like the DJI FPV Combo, the DJI Inspire 2, and the No products found. offer superior performance and specs.
---
As an Amazon Associate, we earn from qualifying purchases. Certain content was provided "as is" from Amazon daily and is subject to change or removal at any time.