If you're anything like me, then you know how difficult it can be to judge aerial footage from a little display screen on a remote. Fortunately, this isn't your only option; FPV goggles will place you directly in the pilot's seat so you can see the world from the perspective of your drone.
With a first-person view drone, the filming experience is so much more immersive, and this makes it easier to nail plenty of amazing aerial shots. Plus, flying an FPV drone isn't just useful; it's a blast, and it really does offer a fresh sense of what a drone can do for videographers.
Unfortunately, not every drone with a top-notch camera offers FPV capabilities, and finding a good option – one that combines quality and functionality – can be tough. Fortunately, I've spent hours researching FPV products, and below, I've listed the four best FPV drones for filming. Note that I've included budget-friendly choices for kids and beginners as well as premium options boasting high-res cameras and next-gen features for serious hobbyists and professionals.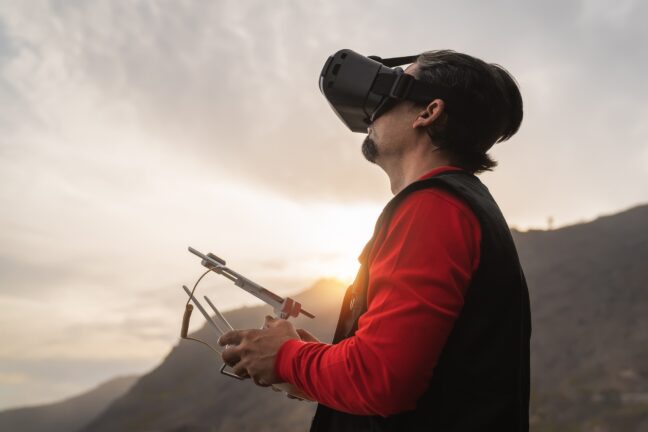 The Top 4 FPV Drones for Filming:
When you buy through links on our site, we may earn a commission at no cost to you. We evaluate products independently. Commissions do not affect our evaluations.
1. DJI Avata
Our Pick
Great for action footage
The DJI Avata boasts immersive FPV 4K/60p recording for dynamic filming. Pair it with the DJI FPV Goggles V2 and the DJI Motion Controller for the best experience.
Pros
Excellent transmission distance
DJI Goggles V2 and DJI Motion Controller included
4K/60p recording quality
Image stabilization
Cons
It can be quite noisy when flying
My favorite FPV drone for filming has to be the DJI Avata. This model clearly outstrips the competition when it comes to ease of use, and you can start flying and recording right off the bat. The package comes with FPV goggles, a remote control, a battery, and spare parts.
The camera offers 4K/60p recording, which makes it one of the best FPV drones for cinematography. The 60 FPS footage can be slowed to 30 FPS to produce a slight slow-motion effect, a technique many filmmakers adore. Thanks to the RockSteady and HorizonSteady stabilization, the footage is buttery smooth without any jitter even during sharp turns or while tracking objects. It's like having the power of a budget mirrorless camera but in a drone!
The DJI Motion Controller and DJI FPV Goggles V2 are especially impressive. Pair them up, and you're in for an immersive first-person view experience that'll easily take your filmmaking to the next level. The goggles are top-notch and boast a crystal-clear display and a dependable transmission so you can dive right into the action and feel the intensity of your footage as you shoot.
Then factor in the agility and precision offered by the DJI Motion Controller. Not only does it offer nimble speed control, but it also responds to wrist movements to steer the drone. This makes the Avata perfect for capturing both intense action sequences and mesmerizing aerial shots, whether you're recording across vast landscapes or in cramped urban settings.
Finally, the drone provides a transmission distance of up to 6.2 mi (10 km) and beams a live HD feed to your FPV goggles. And thanks to the solid 18-minute battery life, it's easier to capture more involved footage, even if the unit can't compete with the best still photography drones on flight time.
2. DJI FPV
Also Great
Great for 4K video
The DJI FPV offers 4K/60p recording, and thanks to its RockSteady image stabilization system, capturing smooth and crisp videos is a breeze.
Pros
Up to 6.2 mi (10 km) transmission
High-quality DJI FPV Goggles V2
Various safety features
Cons
Must be registered to fly
Short flight time
If you're after a drone that offers outstanding video quality and cinematic prowess, the DJI FPV stands out. It's great for filming and even slightly outpaces the Avata in terms of raw functionality. While it's generally used as a racing drone, the 4K/60p recording capabilities and ultra-wide lens allow for some truly breathtaking aerial shots.
The DJI FPV comes with RockSteady stabilization so you can ensure that every clip is smooth. In my experience, the difference between having DJI's image stabilization on or off is astonishing – when it's active, whether you're zipping the drone around or trying intricate maneuvers, maintaining a steady shot is extremely simple. And to enhance your footage even further, you can run it through some drone video editing software, which will allow you to explore color grades, tonal adjustments, and more.
Unlike traditional filmmaking drones, the DJI FPV offers a transmission range of up to 6.2 mi (10 km). This makes it a prime pick for travel videographers and landscape cinematographers aiming for those jaw-dropping scenes shot from afar.
The drone pairs perfectly with the DJI FPV Goggles V2. These goggles not only deliver in terms of quality but also rank high for comfort. Unlike some goggles that can cause discomfort or excessive sweating, DJI's goggles will ensure you remain at ease; they're definitely what I would want to be wearing if I were in for a long day of filming! The OcuSync 3.0 transmission system guarantees clear, real-time FPV footage, eliminating worries about lag or delays that might compromise safety.
For added peace of mind, this drone is packed with safety features that make piloting a lot simpler. These include smart and low-battery return-to-home functionality as well as forward and downward obstacle sensors to prevent crashes.
3. GEPRC CineLog35 HD
Great for flexible recording
If you want to go beyond built-in drone cameras, the GEPRC CineLog35 HD will let you capture aerial footage with a variety of action cams.
Pros
Versatile camera mount
Durable construction with prop protection guards
Various receivers for FPV goggle compatibility
Stable flight
Cons
Limited flight time of just 12 minutes
Doesn't include a remote
I like drones with built-in cameras, but I get it: Not everyone wants to be constrained by these more limited models. If you're feeling frustrated with your basic FPV drone options, consider the GEPRC CineLog35 HD instead; the drone is tailor-made for customization and lets you attach your camera of choice. The catch is that it won't be ready to film straight out of the box. You'll need to invest in a separate camera.
Fortunately, you do have a lot of options. The CineLog35 HD can accommodate a slew of leading action cameras like the GoPro HERO9 Black, the GoPro HERO10 Black, and the Insta360 GO 2. That means you'll be able to enjoy top-notch stabilization along with the impressive recording quality and diverse recording modes that high-end action cameras offer.
What I really appreciate about this drone, however, is its durability and safety features. To my mind, it's a great choice for action filmmaking as well as any recording across challenging terrain. The model comes with a propeller guard, which is invaluable since propellers are usually the first to break in a mishap. And it flies with minimal vibrations, so you can capture great video in a variety of scenarios.
For FPV enthusiasts, this drone syncs well with an array of FPV goggles, including those with built-in screens, and you get a variety of receiver options. The biggest downside is this drone's flight time. At just 12 minutes, you'll need extra batteries and might have to take breaks during extended filming sequences, but if customization is important to you, it's worth the added hassle.
4. Ryze Tello
Great for beginners
The Ryze Tello's straightforward controls and hassle-free launch mean you can dive into FPV flying and understand drone filming in no time.
Pros
Incredibly lightweight and compact
Can be launched by throwing it from your hand
Compatible with smartphone FPV goggles
Can perform aerial stunts
Cons
Only offers 720p recording quality
Limited battery life
Shorter transmission distance
Not every videographer needs an expensive, flexible, top-of-the-line drone. Most drones cost a lot and come with a significant learning curve, but there are actually FPV drones ideal for youngsters learning drone piloting and novices hoping to try some drone filmmaking without breaking the bank. The Ryze Tello is my favorite of these models, thanks to its affordability, user-friendly controls, and commendable FPV capabilities.
This drone's portability is outstanding. Though it might seem a tad delicate, the design is conveniently palm-sized, making it easy to carry around – even with FPV goggles. And you can launch the drone by tossing it from your hand. It may sound counterintuitive, but trust me, it works!
On the video front, the drone sports a 5 MP camera. It delivers 720p video quality, and while it won't give you pro-grade footage, it's decent for social media posts and will give you a taste of how drone cameras work so you can play with different recording perspectives.
Once it's been charged, the Tello gives you a flight time of 13 minutes and has a transmission range of up to 328 ft (100 m). These specs aren't spectacular, but they'll work great if you're hoping to get your bearings with some fun flying at your local park. For the FPV experience, the drone pairs well with smartphone FPV goggles (where your phone acts as the screen), and the FPV feed is also in 720p for a rather immersive flight experience.
Keep in mind that this drone is more for novices, so it won't work great for professional filming. And if you're a videography beginner, it might be better to start with a budget filmmaking camera before upgrading to a drone. But it's a blast to use, an excellent starting point for budding FPV drone pilots, and ultra-cheap, too!
Record Epic Footage with One of the Best FPV Drones for Filming!
Of all these FPV drones, the DJI Avata is my top pick. This multifaceted drone promises a thrilling FPV flying experience, and with the DJI goggles and motion controller, your footage will look sophisticated and smooth at the same time.
However, if you're all about flexibility and dream of attaching your own camera to a drone, then the GEPRC CineLog35 HD is the better pick. With its outstanding design and impressive motor, this drone promises stellar stability when supporting cameras like the GoPro HERO10 Black.
Lastly, if the kids are eager to dip their toes into drone piloting or you're a newbie wanting to get a feel for flying and filming, the Ryze Tello is a solid start. It might not boast the best recording capabilities, but it's cheap, and it'll teach you FPV flight and camera control basics so you'll have no problem upgrading down the line.
---
Disclosure/Disclaimer: As an Amazon Associate, we earn from qualifying purchases. Certain content was provided "as is" from Amazon and is subject to change or removal at any time. Product prices and availability: Amazon prices are updated daily or are accurate as of the date/time indicated and are subject to change. Any price and availability information displayed on Amazon.com at the time of purchase will apply to the purchase of this product.