If you've got your hands on a Nikon D5600, you're off to a great start in getting stunning photos. With the right lens, you're going to have a great shooting experience! Whatever your interests, we've put together a list of the best Nikon D5600 lenses to make expanding your kit just that little easier!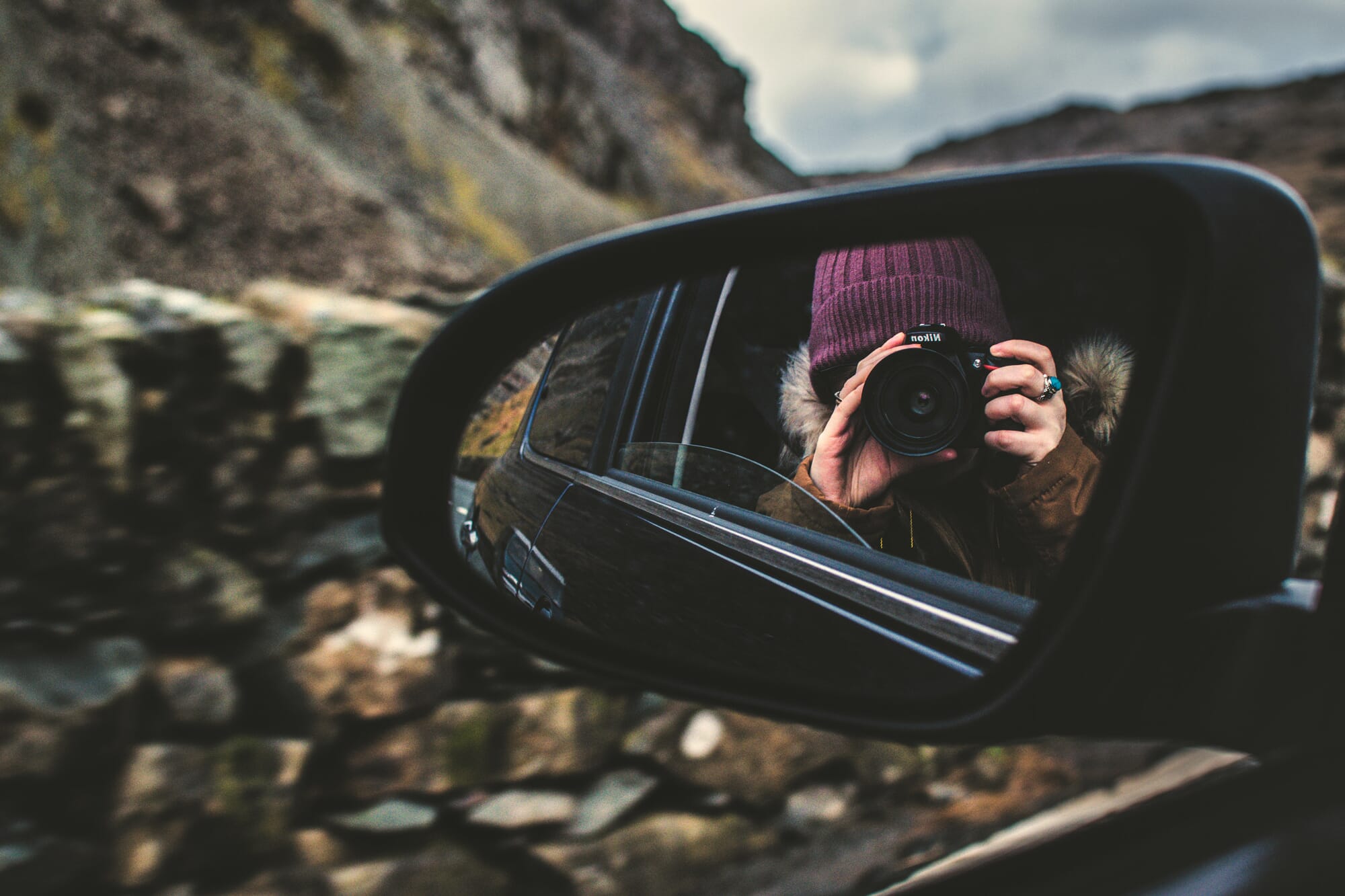 When you buy through links on our site, we may earn a commission at no cost to you. We evaluate products independently. Commissions do not affect our evaluations.
Nikon D5600 Prime Lenses
1. Nikon AF-S DX NIKKOR 35mm f/1.8G Lens
OUR PICK
A great 35mm fast all-purpose prime lens
Inexpensive, with a fast f/1.8 maximum aperture
Pros
Excellent image quality
Inexpensive
great autofocus speed and accuracy
Impressive handling of ghosting/lens flare
Cons
Not great at handling chromatic aberrations
If you are looking for a good, all-around prime lens for landscape, street, or even portrait photography, then the Nikon AF-S DX NIKKOR 35mm f/1.8G is one of the best lenses for the Nikon D5600.
It's an inexpensive and lightweight lens that's even good for shooting in lower light conditions thanks to the f/1.8 maximum aperture. It's also great for isolating your subjects from the background at close range.
Image quality is excellent, and part of that is due to the single Extra Dispersion (ED) element that is usually found on Nikkor's high-end lenses. This element boosts sharpness and contrast to help give clear, beautiful images.
Autofocus operation is fast and accurate. The silent wave motor makes the AF almost silent while working, which is a good thing if you want to shoot candid photos without drawing attention to yourself.
If you are a big fan of good bokeh, then this lens might disappoint. As with most wide-angle lenses, the 35mm f/1.8G doesn't produce pleasing bokeh, but that's a small downside.
The 35mm f/1.8G comes with Super Integrated Coating (SIC). This works to reduce problems with lens flare and ghosting in your images, so this isn't really an issue with this lens. What you may find, however, is that it doesn't handle chromatic aberration so well, even at smaller apertures. Thankfully, most of this should be easily fixable in image editing software like Lightroom.
2. Nikon AF S NIKKOR 85mm f/1.8G Fixed Lens
A great prime lens for portraits
Excellent images and good bokeh make this a good portrait lens
Pros
Impressive image quality
Good bokeh
Accurate autofocus
Light and compact
Cons
Not weather-sealed
If you're a serious portrait photographer, you ought to have an 85mm prime lens like the Nikon AF S NIKKOR 85mm f/1.8G in your arsenal.
It makes it onto our best lens for the Nikon D5600 list because it produces fabulous images and it's relatively inexpensive compared to some other primes, especially the Nikon 85mm f/1.4G.
Image quality is impressive, with good sharpness, contrast, and color reproduction, which is the sign of a good portrait lens. The 7-blade diaphragm is rounded, which makes the bokeh quality very good. For a portrait lens, you're going to want creamy bokeh and that is exactly what this lens provides.
The autofocus isn't the fastest to lock on target, but it's extremely accurate when it does get there! One other bonus of this lens is the non-rotating front lens element which doesn't extend or rotate when using autofocus. This is important if you want to use circular filters or a filter holder with this lens, and it also makes it less likely that the lens element will get damaged.
The 85mm f/1.8G is a lightweight, compact, yet durable lens. With all that being said, it isn't water or dust sealed. You'll have to take care not to let dust or water get into the lens if you do a lot of outdoor shooting.
Nikon D5600 Macro Lenses
3. Nikon AF-S DX Micro-NIKKOR 40mm f/2.8G Lens
Inexpensive macro prime lens
Affordable, yet capable macro prime lens
Pros
Budget price
Excellent sharpness
Good bokeh
Great for large to medium-size macro photography
Cons
Not great for shooting very small subjects
The Nikon AF-S DX Micro-NIKKOR 40mm f/2.8G is a good choice not just for macro photography, but also for portraits and street photography. This bundle comes with a lot of extra goodies, too – including a 4-piece close-up macro filter kit, a 3-piece UV, CPL, an FL filter kit, and a UV lens filter.
It's a great budget lens and one that also delivers the goods. The 7 semi-rounded diaphragm blades produce pleasing bokeh, and the sharpness is impressive. It also comes with a focus limiter switch to increase the autofocus speed, and 3 focus modes with autofocus override.
For some reason, Nikon calls their macro lenses 'micro', but they do exactly the same thing. The 40mm f/2.8G offers a 1:1 life-size maximum magnification along with a 6.4″ (16.2 cm) minimum focusing distance to allow you to get extra close.
This is also a good choice for portrait photography. Because macro lenses tend to have excellent clarity, sharpness, and colors, as well as good bokeh, many portrait photographers choose to use them. It's not much good for landscape photography, though, so you may want a different lens.
The 40mm f/2.8G is impressive when photographing food, flowers, and other macro subjects, but it's not so good when it comes to very small items or insects. This is because the lens tends to block a lot of light from the subject at very close distances. Unless the light is coming from the side, you can end up with the lens casting big shadows.
4. Sigma 105mm F2.8 EX DG OS HSM Macro Lens
Mid-range macro or portrait lens
Sharp and well-built, this lens is good value for money
Pros
Excellent sharpness
Optical stabilization
Compatible with Sigma's macro extension tubes
Deals with chromatic aberration well
Cons
autofocus can be slow in low light
Next up in the best lens for Nikon D5600 list is the popular Sigma 105mm F2.8 EX DG OS HSM Macro.
Although it's at a mid-range price point, the 105mm is a high-quality lens. It's very capable of producing outstandingly sharp macro and portrait images. It focuses down to a 1:1 magnification ratio, and the closest working distance is 12.3″ (31.2 cm).
It's also compatible with Sigma's 1.4X and 2.0X extension tubes, so you can get even closer to your subject. The lens itself has two Special Low Dispersion (SLD) elements near the front, and they help to correct chromatic aberrations and field curvature. The two floating lens groups that move independently in the lens also help to avoid chromatic aberration.
The image stabilization system claims to give you a four-stop advantage. This means you should, in practice, be able to shoot handheld in light conditions that are up to four stops darker than you normally would be able to shoot handholding your camera.
Sharpness is excellent, as is the bokeh and the overall image quality. This makes the 105mm a good choice for portrait photos as well as macro photographers.
The autofocus on the Sigma 105mm has a tendency to hunt for focus in low light, but once locked on is very accurate. The only other downside is the rather hefty size and weight of this lens. Apart from that, it's a great macro or portrait lens at a good price.
Nikon D5600 Portrait Lenses
5. Nikon AF-S Nikkor 50mm f/1.8G
A fabulous portrait lens for beginners
Excellent image quality and good value for money
Pros
Excellent image quality
Relatively inexpensive
Solidly built
low levels of chromatic aberration
Cons
Barrel distortion quite strong
Every portrait photographer should have a few prime lenses at the ready. The best place you to start is with a solid mid-range prime lens – or a "nifty fifty" as these 50mm lenses are known.
Nikkor provides an excellent option with the Nikon AF-S Nikkor 50mm f/1.8G! It's a very compact and inexpensive model.
Though it may not have the focal length capabilities of a zoom lens, it compensates with pin-sharp focus, excellent overall optics, and blazing speed.
The 50mm f/1.8G is not the cheapest 50mm prime out there. However, it's still very affordable and offers great value for money. Build quality is excellent, with a metal lens mount instead of the usual plastic. And at only 6.5 oz (185 g) it's very lightweight and easy to carry around all day.
The Silent Wave focusing motor helps with smooth, fast, and almost silent autofocusing, and the rounded diaphragm blades produce a nice, smooth bokeh. The front filter thread doesn't rotate, which makes it perfect to use with circular and graduated filters.
The 50mm f/1.8G handles chromatic aberration and lens flare very well. However, it does suffer from a fair bit of barrel distortion. This can be easily corrected in post-processing though.
This lens is a great choice for portraiture or street photography, and the optical quality is fantastic for a lens at this price point.
6. Lensbaby Velvet 85mm f/1.8
Great manual focus lens for portraits or macro
Fabulous creative lens for both sharpness and soft focus
Pros
Produces a soft glow effect at wider apertures
Great for portraits and macro
All metal design
Great bokeh effect
Cons
A very niche lens
No autofocus
Note: This lens is manual focus only
And now for something completely different in our best lens for Nikon D5600 listing! The Lensbaby Velvet 85mm f/1.8 won't be for everyone, but for those portrait and macro photographers who are looking for a creative alternative to traditional lenses, the Lensbaby Velvet 85 may be just what they're looking for.
Lensbaby lenses are very niche, and those who crave optical sharpness above all probably won't 'get' the Velvet 85. You get a soft glow effect when you shoot at the widest apertures. This makes for some stunning old-school style soft-focus portraits, but you also get great center sharpness when you stop the lens down.
It has a solidly built metal body, which many modern lenses don't, so it's very robust. For macro fans, the lens allows for a 1:2 magnification for great close-ups, and the minimum focusing distance is 9.5 in (24.1 cm).
Some may find the manual focus only to be a downside. But a lot of macro photographers like to use manual focus for their images. It's probably not a lens that will suit beginners, but for more experienced portrait and macro shooters, there's a lot to love in the Velvet 85.
Using the whole aperture range gives you the flexibility to shoot close-ups of flowers with an ethereal glow, yet also hone in on the smallest of details for a crisp look.
Nikon D5600 Landscape Lenses
7. Nikon AF-S DX NIKKOR 10-24mm f/3.5-4.5G ED
Capable ultra-wide angle zoom
Overall image quality is excellent
Pros
Great center sharpness
Vignetting is minimal for an ultra-wide lens
Solidly built
Lightweight
Cons
Lens flare can be an issue when shooting into the light
This next entry onto our best lens for Nikon D5600 list is the ultra-wide angle Nikon AF-S DX NIKKOR 10-24mm f/3.5-4.5G ED zoom lens.
This is a great lens for shooting landscapes or real-estate with. It has a minimum focusing distance of 9.4 in (24 cm), so it's perfectly suited to use in tight spaces. It's lightweight, yet solidly built, and the front element doesn't rotate during focusing. This makes it ideal for use with polarizing and graduated lens filters.
Sharpness is excellent in the center of the images at 10 mm and the maximum aperture. However, there is some corner softness when shooting at these settings. That softness disappears completely after f/5.6 where the whole frame becomes entirely sharp.
At 24 mm and the maximum aperture, you will find the corner softness quite pronounced. That does drop off as you stop down the lens, though.
Vignetting is often a problem with ultra-wide-angle lenses. In actuality, light falloff towards the corners of the frame is incredibly low with the NIKKOR 10-24mm, which is a big bonus.
It does suffer from lens flare when shooting into the light, but this is a common issue with ultra-wides. So is the barrel distortion, but compared to similar lenses the NIKKOR 10-24mm performs pretty well in this respect.
It's not as cheap as some third-party lenses of similar focal lengths, but it's still great value for money.
8. Tokina Opera 16-28mm F2.8 Lens
High-quality third party wide-angle zoom
Good image quality and sturdy build at around half the price of competing lenses
Pros
Fast f/2.8 aperture
Impressive center sharpness
Overall image quality is very good
Great value for money
Cons
Autofocus is slow and noisy
No filter attachment thread
The Tokina Opera 16-28mm F2.8 Lens is the second lens in Tokina's Opera lineup. Tokina has a good reputation for producing impressive wide-angle lenses, and the Opera 16-28mm certainly lives up to it.
It's a fast lens at f/2.8 and is considerably cheaper than the Sigma 14-24mm f/2.8 Art, and the Tamron 15-30mm f/2.8 G2. While those two lenses do have a slight edge on the Tokina mode when it comes to overall image quality, it still gives them a good run for the money and is great value.
The Tokina Opera 16-28mm is solidly built, with a metal lens mounting plate that is weather-sealed. The bulbous front of the lens is protected by a permanently fixed hood. However, one of the downsides is that there's no thread for attaching circular filters! Many landscape photographers use filters like polarizing and ND, so this might be a drawback unless you use rectangular filters with a filter holder on the lens barrel.
The autofocus can be achingly slow, and although it has a Silent DC motor, it's anything but! However, autofocus accuracy is excellent.
Center sharpness is excellent at the 16mm end of the range when shooting at f/2.8, but at longer zoom settings you need to stop down to f/4 to get similarly good center sharpness. Overall image quality is good, with nice contrast and color rendition. Vignetting is kept to a minimum, but chromatic aberrations can creep in with this lens.
Nikon D5600 Budget Lenses
9. Nikon AF-S DX NIKKOR 18-105mm f/3.5-5.6G ED VR
BEST BUDGET
Good all purpose lens at a nice price
Very good value for money zoom lens
Pros
Vibration reduction
Relatively inexpensive
Good image quality
Cons
Autofocus can be quite slow
When it comes to buying the best lens for Nikon D5600 on a budget, you want to get a mid-range zoom like the Nikon AF-S DX NIKKOR 18-105mm f/3.5-5.6G ED VR.
The NIKKOR 18-105mm has a good general-purpose mid-zoom focal range. You can take landscapes, group shots, and street photos on the wider end, going up to portraiture, food, and product photography towards the 105mm end.
While budget and kit lenses are often not that spectacular when it comes to image quality, the NIKKOR 18-105mm is pleasantly surprising in this respect. Images are of excellent quality and sharpness at 18mm and optimum apertures through the range.
The Vibration Reduction (VR) feature makes up somewhat for the slow maximum aperture of f/3.5, allowing you to make the most of low light conditions by giving you up to three stops of compensation.
The minimum focusing distance on the NIKKOR 18-105mm is 1.5 ft (45.7 cm) at all focal distances. That is good for creating a shallow depth of field, regardless of the slow minimum aperture, so you can get some great close-ups with this lens.
The downside to this lens is the slow autofocus, but apart from that, it's a decent lens that offers a lot for the price.
10. Tamron AF 18-200mm F/3.5-6.3 Di-II VC
A bargain all-purpose zoom
Inexpensive, lightweight, and versatile
Pros
Vibration Compensation system
Lightweight
Good image quality
Great value for money
Cons
Fairly strong barrel distortion at the wider end
Last but by no means least in our best lens for Nikon D5600 list comes the Tamron AF 18-200mm f/3.5-6.3 Di-II VC.
This lens can be found at a bargain-basement price, and the 18-200mm focal range makes it versatile enough to use for everything from landscapes and group photos to portraits and nature images.
Build quality isn't great (which is what you expect in a budget lens), but the Tamron 18-200mm is nice and lightweight, so you can happily carry it around on a long day's shoot.
It does benefit from Tamron's Vibration Compensation image stabilizing system, which makes up somewhat for the slow minimum aperture of f/3.5. This system uses the movement of a group of lens elements to control any camera shake.
While a budget zoom lens can't be expected to produce the greatest image quality, the Tamron 18-20mm does pretty well for a lens at this price point and more than holds its own against the competition. The barrel distortion is quite pronounced but can be simply fixed with image editing software.
Conclusion: Which is the Best Lens for Nikon D5600?
Everyone perceives and records their surroundings a bit differently. Each of us has a unique style and taste and has different lens requirements according to the type of photography we like to do.
Ultimately, the best lens for Nikon D5600 is the one that suits your budget and your needs. Our top pick of the Nikon AF-S DX NIKKOR 35mm f/1.8G, and the budget choice of the Nikon AF-S DX NIKKOR 18-105mm f/3.5-5.6G ED VR are just two of the many options available to you.
---
As an Amazon Associate, we earn from qualifying purchases. Certain content was provided "as is" from Amazon daily and is subject to change or removal at any time.